If you're searching for an alternative treatment for knee or shoulder pain, look no further than Manhattan Orthopedic Care. Our experienced team can help you find relief and get back to living your life.
MRI Review – Why Is It Important?
The goal of the MRI review is to provide complete and detailed information about the patient's condition that will further enable the orthopedic doctor to form an accurate diagnosis and recommend proper treatment.
At Manhattan Orthopedic Care the MRI Review can be part of the initial appointment with Dr. Armin Tehrany or can be part of the appointment for a second opinion. Either way, the MRI Review is a crucial step in the diagnostic process.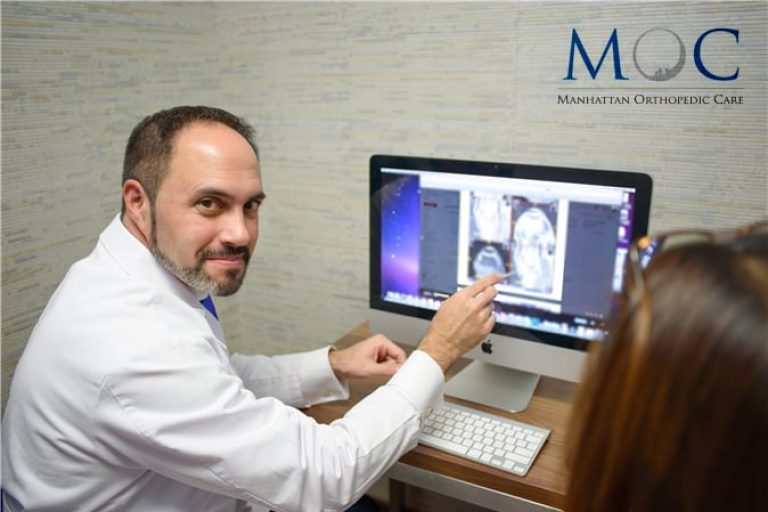 Dr. Armin Tehrany during an MRI Review
Dr. Tehrany's MRI Review Process
Dr. Tehrany needs to be familiar with all the important details related to the patient's condition or injury prior to recommending a treatment. The consultation will include a detailed health history assessment and thorough physical examination. An MRI review is always included.
Even though a diagnosis can be arrived at based on the patient's history and physical exam alone, the MRI scan helps with fully understanding the condition. The results provide further insight that assists in the process of identifying the best treatment recommendation.
What to Expect During Your MRI Review
Patient convenience is a top priority at Manhattan Orthopedic Care (MOC).
The MRI Review is a relatively simple process which can be included as part of the initial appointment with Dr. Tehrany or be completed separately.
Patients must bring their MRI scan to their appointment with Dr. Armin Tehrany. Scans must not be older than 12 months.An MRI scan (closed MRI, open MRI, MR Arthrogram) will be recommended for patients with an ol der MRI scan, or for those without one.
We assist with scheduling the MRI scan appointment to facilitate Dr. Tehrany's same-day policy to enable an immediate follow-up discussion.
During the MRI Review, Dr. Tehrany carefully analyzes the MRI scan images and reports. Afterward, he thoroughly explains the results to the patient and encourages his patients to ask questions and discuss the next steps.
Dr. Armin Tehrany Offers Second Opinion Appointments
Manhattan Orthopedic Care understands the importance for patients to feel confident with the diagnosis and treatment recommendations. Therefore, we offer a second opinion appointment with Dr. Armin Tehrany.
This provides patients who are doubtful of their diagnosis or treatment plans an opportunity to discuss their doubts and concerns with our trusted, top-rated, board-certified orthopedic surgeon, Dr. Tehrany.
When Should Patients Ask For A Second Opinion?
Requesting a second opinion is a common practice among patients unless their condition or injury is life-threatening and requires immediate emergency care.
Asking for a second opinion is necessary when:
Surgery is said to be the only treatment available
Told that there is no treatment available to improve their condition or address the injury
The patient is not comfortable with the impressions and diagnosis from the doctor
The physician fails to provide clear answers or detailed information about the patient's orthopedic injury or condition
The condition returns shortly after the course of treatment
Symptoms keep occurring, but the doctor can't find the cause
The patient feels their condition or injury is incorrectly diagnosed
The doctor does not understand why the treatment is not working
The Benefits Of Getting A Second Opinion
One of the greatest benefits of asking for a second opinion is that patients feel more confident to make a decision about the next steps they need to take for treatment and recovery
Other benefits of getting a second opinion include:
Confirmation of the diagnosis
It can remove all doubts and concerns the patient has regarding the diagnosis and the treatment plan
It can provide more exhaustive answers to patient's questions about the condition or the treatment
Why Choose Dr. Armin Tehrany for an MRI Review and Second Opinion?
At Manhattan Orthopedic Care, we open our doors to all patients who need to speak to an experienced and knowledgeable orthopedic doctor to confirm their diagnosis. Or to find a better, more suitable treatment.
We offer services to patients throughout Staten Island and greater NYC. Schedule your orthopedic consultation with us today!
Frequently Asked Questions About MRI Reviews
What if I'm unable to attend an in-person MRI review appointment?
We offer a phone review at a time most convenient for the patient in the event that they are unable to attend an in-person consultation.
Prior to the phone appointment, we will need the patient to send us a digital or print copy of their MRI scan. A teleconsultation is scheduled with Dr. Tehrany once the MRI scan is received. Results are reviewed and discussed, and treatment recommendations are made for the patient's consideration.
Will insurance cover a second opinion?
Oftentimes insurance covers a second opinion consult, but it is always best to first check with your insurance provider.