CBS News: Dr. Tehrany Discusses David Wright's Herniated Disc Neck Injury
MOC's very own top New York orthopedic specialist,
Dr. Armin Tehrany
, 
was asked by CBS News to extend his expert opinion on an injury suffered by the New York Mets captain and third baseman David Wright. The news of Wright's herniated disc was followed by an announcement that he will be heading to the disabled list and that he will miss six to eight weeks.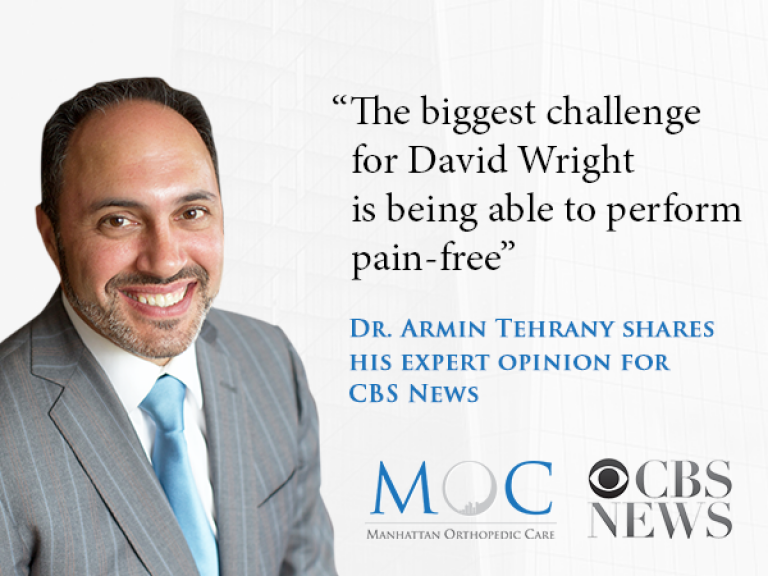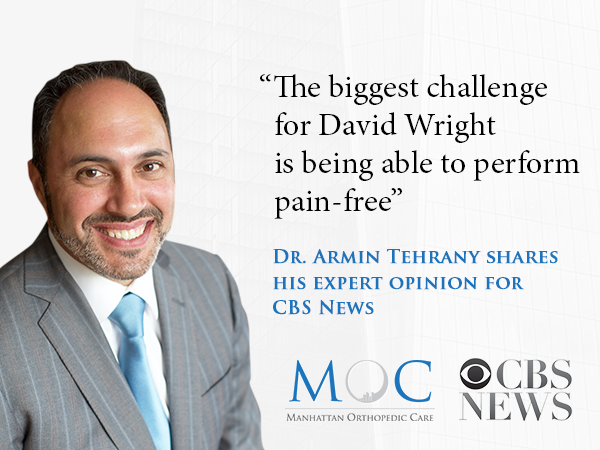 A herniated disc occurs when the inner core of a disc in the neck leaks out and presses on an adjacent nerve root. This injury is often caused by some sort of trauma to the neck.
Wright's doctors have been treating him conservatively, from oral anti-inflammatory medication to an injection in the neck, in an attempt to help him with his pain and mobility and get him back on the field, but with no success.
During the upcoming weeks, the 33-year-old baseball player "will undergo appropriate physiotherapy to protect the area. After the rest period, David will resume baseball activity," the Mets team said in a statement.
How long will the neck injury keep Wright away from the field?
In the CBS News segment, Dr. Tehrany shares his concerns about the proposed treatment and explains that, without surgery, Wright can get a little better, but not 100% well.
"

He has to make a decision with his surgeon, does he want to take the chance of having the neck fusion so that he can try to get himself up to 100%

," states Dr. Tehrany.
Dr. Tehrany, who has been recognized as a Top Doctor by the leading healthcare company Castle Connolly for three years in a row, and who has an extensive experience in the field of orthopedics, has previously worked with team physicians for the Jets, the Rangers, and the Islanders.
"

The biggest challenge for Wright is being able to perform pain-free

," explains Dr. Tehrany.
On the question of how long it will take for Wright to get back on the field, and will he actually be the same player, Dr. Tehrany responds that it can take anywhere from six to twelve months to get the body mechanics back together.
In addition to the herniated disc in the neck, in 2015 Wright has also missed four months because of spinal stenosis in his lower back.