New York Times: Castle Connolly Recognizes Dr. Armin Tehrany as a Top Doctor for 2016
Dr. Armin Tehrany
has been recognized and acknowledged as a
Top Regional Doctor by Castle Connolly
, a leading healthcare company in America that helps consumers and patients find the best healthcare service.
Dr. Armin Tehrany – Top Regional Doctor for 2016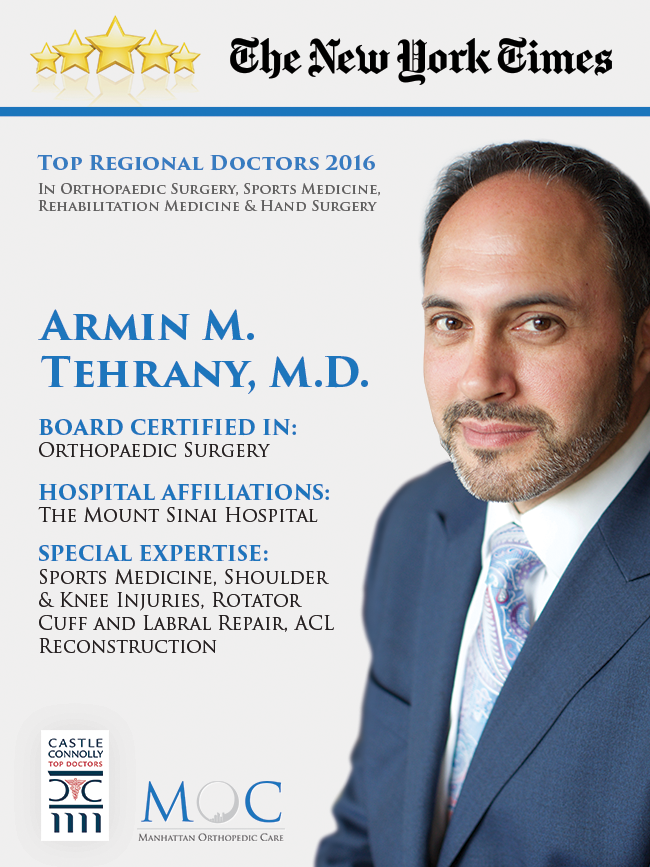 "

I am as excited as I was when I first received this wonderful recognition. I am  grateful to my colleagues and peers for voting for me. I am proud that my efforts to bring a significant difference to the field of orthopedic surgery are recognized by doctors who I truly respect . I welcome all of them to join me in my efforts to improve the orthopedic care we offer to our patients.

" says Dr. Tehrany.
Castle Connolly has been the most trusted source in America for identifying Top Doctors for more than two decades, due to its strict nomination and selection process. All physicians are nominated solely by other doctors. In order to receive a nomination from their colleagues and peers, physicians need to have impeccable credentials, exemplary patient reviews, and a solid, lengthy experience. Moreover, the inclusion in the Castle Connolly Top Doctors list requires a thorough review of physicians' educational background, training, board certifications, and their professional achievements.
"I have devoted my career to providing superior orthopedic care to patients. My efforts will always be focused on improving the available treatment options for knee and shoulder pain, as well as minimally-invasive surgery treatments for severe knee and shoulder conditions" adds Dr. Tehrany.
The physicians that are included in the Top Regional Doctor list are selected by a physician-led research team that carefully and very thoroughly reviews all of their credentials. For more information about Castle Connolly and the selection process, please visit their
official website
.