Dr. Armin Tehrany honored as NYU School of Medicine Alumni Association Board of Governors Member
Dr. Armin Tehrany
, has been selected by the Nominating Committee to serve on the
NYU School of Medicine Alumni Association Board of Governors
. His three-year term began with the new academic year, which started on September 1, 2014.
"I am so honored to be chosen for the Alumni Board of Governors at NYU School of Medicine. It has always been important for me to pay it forward as I am extremely proud of having been chosen to be a medical student at NYU. The institution continues to grow and it is important for alumni like myself to ensure the highest quality of medical student moving forward. I look forward to discussing the many future projects, including the medical school curriculum, which plans to change in the very near future." says Dr. Tehrany.
The Board of Governors meets at the School of Medicine for three dinner meetings each year, offering advice and guidance to Dean Robert Grossman on many issues affecting NYU Langone Medical Center and their student body. With direct broad alumni input, they plan to make their institution grow further in stature and strength. This prestigious appointment is one of the greatest acknowledgments for a doctor and Dr. Tehrany is truly humbled by the selection and he is heartily looking forward to participating this fall and beyond.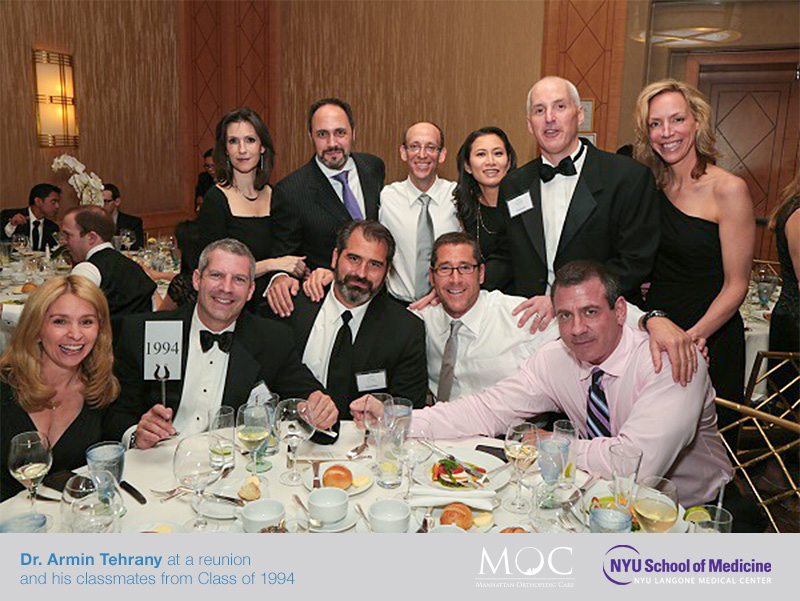 Dr. Armin Tehrany and his classmates at the Reunion Class Chairs 2014
The NYU School of Medicine Alumni Board of Governors is comprised of over 100 of the school's most active and generous alumni. New members are vetted and chosen by the nominating committee, a subset of Governors who meet annually. During each meeting, the Governors are updated on the latest happenings at the school. Meetings include an alumni affairs report from Dr. Anthony Grieco, Associate Dean for Alumni Relations, a fundraising update, an update from the current student body president, and a special presentation from a member of the school's leadership team. The most recent Board meeting, for example, featured a presentation focused on diversity at the school by Dr. Rhonda Acholonu, Associate Dean for Academic and Diversity Affairs.
"By staying informed, the Governors serve as ambassadors for our school. They keep in touch with their friends and classmates and many of them serve as chairs for their respective classes. The class chairs organize reunion activities, keep ongoing communications with their classmates and often spearhead fundraising campaigns within their class." adds Dr. Tehrany.
The majority of the board members live and work in the tri-state area. There are also regional members across the country, who help in the organization of alumni events in their areas. Congratulations, Dr. Tehrany! We believe that your contribution will be of a tremendous help for improving the NYU School of Medicine's work.