Dr. Tehrany Is Slightly More Optimistic About Ben Simmons' Injury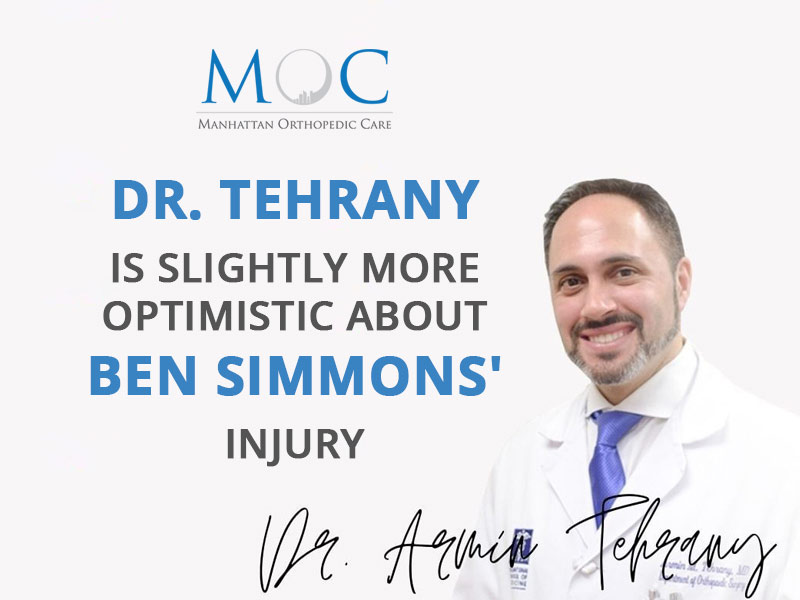 The
Manhattan Orthopedic Care
team continues to follow Ben Simmons' story in the media regarding his back injury and recovery predictions. More recently the
New York Post
quoted Dr. Tehrany's insight on the matter, referring to the challenge of back injuries. Since they can become chronic and difficult to manage. In light of Simmons' already receiving nerve treatment every day for his lower back during the 2019-20 rest period due to COVID restrictions. Having worked alongside team physicians for the Jets, Rangers and Islanders,
Dr. Tehrany
has seen many sports-related injuries at his Manhattan and Staten Island offices. With his experience, and observations of Ben's performance and past injuries, he still remains optimistic. Even though he predicts that Simmons will miss the regular season, he could participate in practice in time for the play-in or playoffs.
Read the New Post article where Dr. Tehrany is quoted here
Sports Medicine Care Can Improve Mobility
While Ben Simmons may be a newcomer to the Nets, what isn't new is the fact that back injuries are one of the most
common injuries
amongst basketball players. This high-impact sport sends many young patients to consult orthopedic surgeons for treatment and rehabilitative care. Mobility is important for athletes, and any injury that may negatively impact this requires orthopedic assessment, treatment, and rehabilitative intervention to ensure career longevity and continued quality of life.
Consult Our NYC Team
If you find yourself struggling with a sports-related injury, do
consult
Dr. Tehrany and his
orthopedic team
for their care and guidance. They treat patients throughout Staten Island, Manhattan, and the surrounding areas.