ACL tear
occurs. This knee condition can cause terrible knee pain and instability, which results in limited mobility and worst case, it requires putting all physical activities on hold.  This is problematic for everyone, especially for sports athletes and enthusiast.  An ACL tear is more difficult to recover from. That was the case with Kariuki Weru. We met Kariuki when he was referred to
Dr. Armin Tehrany
from his primary pediatrician.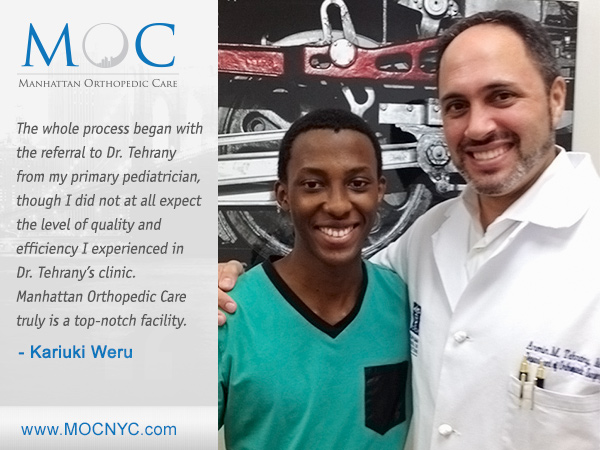 Dr. Tehrany's knowledge and experience helped him diagnose Kariuki in only 10 minutes. The ACL tear was treatable, but Kariuki's activities and trainings had to be put on hold since he suffered a partial ACL tear and he needed to be careful and stay still. Dr. Tehrany referred Kariuki further for a treatment in a world-class gym for high-level athletes called SportsLab NYC. His treatment went perfectly well. Dr. Tehrany was closely monitoring his recovering process, making sure that Kariuki was given the utmost care. Here is Kariuki's complete testimonial:
"I was a high school senior when I partially tore my ACL in my right knee, and possible my left as well during track practice. I was then referred to Dr. Tehrany by my primary pediatrician in MOC. In about ten minutes into the appointment, Dr. Tehrany had already determined that my meniscus or ACL could be injured. He then sent me to a medical imaging facility close to my home, for an MRI which was done swiftly. Within a couple days, I had my follow up appointment with Dr. Tehrany, who said that I have a partially torn ACL. At the time, this was not exactly thrilling news for it meant putting my athletics on hold. Though Dr. Tehrany remedied the sentiment by sending me to a world-class gym for high-level athletes called SportsLab NYC, where I got physical therapy from Andre Akira. Again, Dr. Tehrany made sure that the gym was not far at all from my house, and therefore the commute would not be grueling, and even if it was, the staff working in SportsLab NYC are very professional and personable to compensate for the journey a couple times over. The whole process began with the referral to Dr. Tehrany from my primary pediatrician, though I did not at all expect the level of quality and efficiency I experienced in Dr. Tehrany's clinic and also in SportsLab NYC. The latter two (against my preliminary prediction) truly are top-notch facilities."
We are happy that Kariuki is now well and back to his athletic activities, and eternally thankful for his kind words. 🙂 If you have any concern about any of your joints, feel free to
contact us to schedule your consultation with Dr. Tehrany
This patient was treated at the Manhattan Office.