SLAP tears
are among the most common shoulder injuries. A SLAP tear is a condition where the labrum in the shoulder joint becomes wholly or partially torn. Rakesh had been living a painful
labrum tear
for years. While he managed to alleviate the pain with physical therapy, the source of his pain was still overlooked.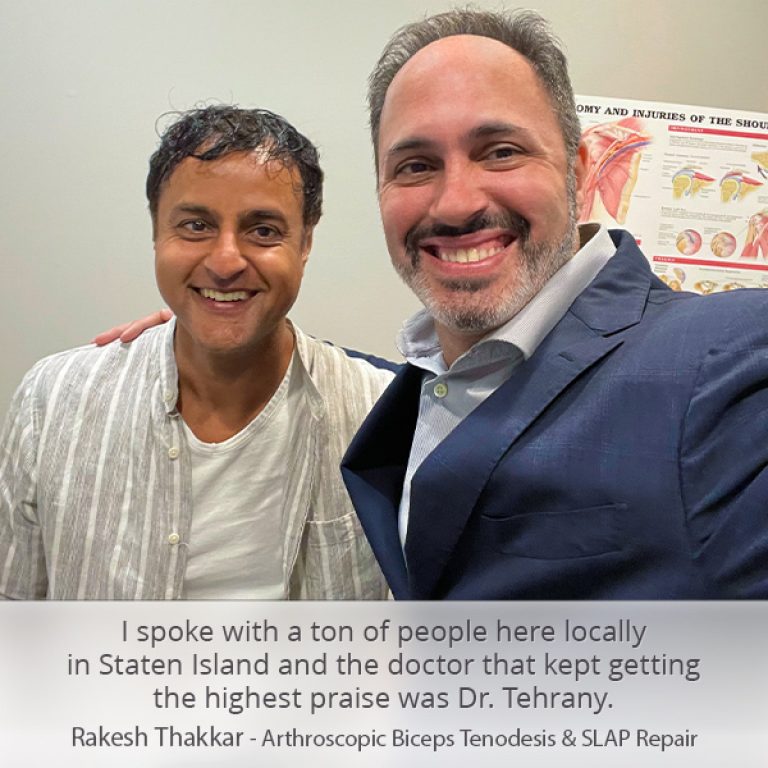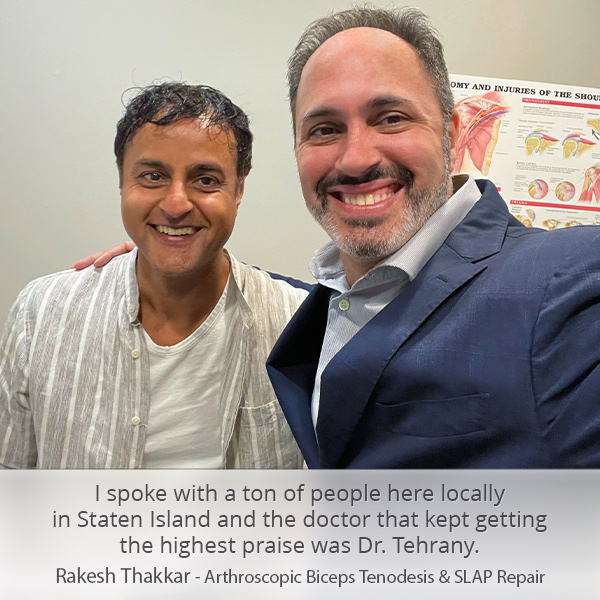 After living for so long with pain in his shoulder, Rakesh decided it was time to make a change for the better. He researched the field of orthopedics to find the best
shoulder specialist in New York
. Luckily, he heard about a shoulder expert with an office in State Island through good word of mouth. With no hesitation, Rakesh booked an appointment with
Dr. Armin Tehrany, one of New Yorks's top orthopedic doctors
. Not only that Dr. Tehran met Rakesh's high standards, but he exceeded his expectations with the exceptional care and treatment Dr. Tehrany and his team provided. After careful examination, Dr. Tehrany diagnosed Rakesh's shoulder with
SLAP tear
with AC derangement. The next step was to schedule the shoulder surgery that Rakesh was scared of. However, witnessing Dr. Tehrany's professionalism and expertise helped Rakesh feel confident in Dr. Tehrany's plan. Dr. Tehrany performed the surgery together with his
PA, Tim Lopresti
. During the surgery, they discovered evidence of a large SLAP and partial upper subscapularis tearing. Luckily, the subscapularis attachment was intact. Additionally, his subacromial bursoscopy revealed severe bursitis. To address all issues and fix Rakesh's problems, Dr. Tehrany and Tim performed several procedures during the surgery, including right shoulder arthroscopic
biceps tenodesis
,
debridement of SLAP
, and
partial subscapularis tear
,
subacromial
decompression
, and
distal clavicle excision
. After the surgery, Rakesh went through an extensive course of physical therapy. As a result of the successful shoulders surgery and the smooth recovery, Rakesh is back to his favorite sport – tennis enjoying the game with no pain and no problems at all. Happy that after several years he finally solved his painful problem, Rakesh wrote an honest review on Google.
I had a persistent shoulder injury for several years. In the past, I was able to feel better through physical therapy and acupuncture. I tried that same regimen this time around to no avail. Eventually, I decided to get an MRI and found out that I had a torn labrum. After much research, I decided to bite the bullet and go for surgery. I spoke with a ton of people here locally in Staten Island and the doctor that kept getting the highest praise was Dr. Tehrany. I scheduled an initial consultation with his office and felt really good about moving forward with the surgery. His team was super flexible about working with me and my insurance company to make financial arrangements that worked for everyone. I had the surgery in December and followed a course of physical therapy three times a week. I am happy to say I am back on the tennis court with almost all of my range of motion and my strength is coming back as well. The thing that is not coming back is the pain!! If you have a similar type of injury and have tried to fix it with physical therapy without success, I would highly recommend working with Dr. Tehrany. He and his team are the best, but I hope to never have to use them again. LOL!
This patient was treated at the Staten Island Office.