Alumni Football Gaining in Popularity Despite Injury Risk
New York Times
. The number of how many alumni football games are scheduled each year is unknown, but the
Alumni Football USA
, the largest companies that organize this games, has dates scheduled in 2013 for 170 games in 22 states.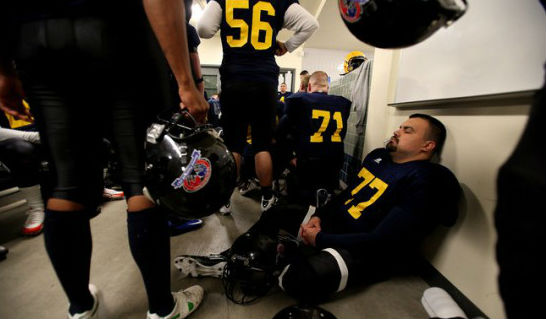 (Image courtesy of Jed Jacobsohn for The New York Times)
"Great idea! I am going to contact the organization today. I love reliving my prep school days playing sports. I think it is time for me to join an alumni soccer league. These organizations should require their players to have some kind of medical coverage in order to participate in case they get injured.", said Dr. Armin Tehrany, orthopedic specialist and leading orthopedic surgeon at Manhattan Orthopedic Care.
The problem for these games, for which the players pay from $75 to $125 dollars, is that there is a huge risk of injury. The rules in these games prohibit risky collisions, and there are doctors attending each game, but this is
football
. People can get hurt in a number of ways, especially elderly people who attend these games to stay fit, or those who are inactive and want to participate in order to lose some weight. Unfortunately, players are responsible for their own medical insurance, so any injury in this alumni football games is quite a serious issue.
"But at some point, you have to start thinking about your age and conditioning level. Do I think they are dangerous? I would say yes. If players aren't getting full pre-participation physicals and don't have insurance, they're playing Russian roulette with their health and their financial stability.", Jim Thornton, the president of the National Athletic Trainers' Association, said of the alumni games.