Dr. Armin Tehrany to Serve on the Board of Directors of the New York University Alumni Association (NYUAA)
Dr. Armin Tehrany
has been nominated and has accepted to serve on the Board of Directors of the Alumni Association of his alma mater New York University.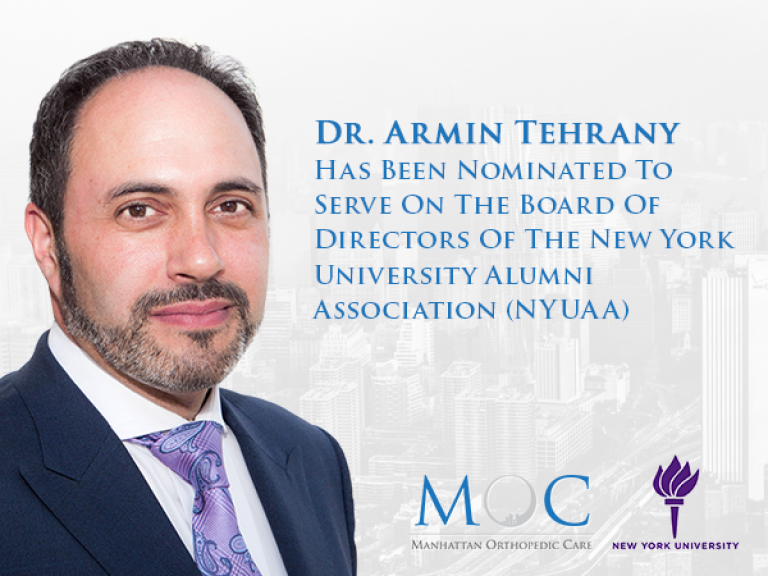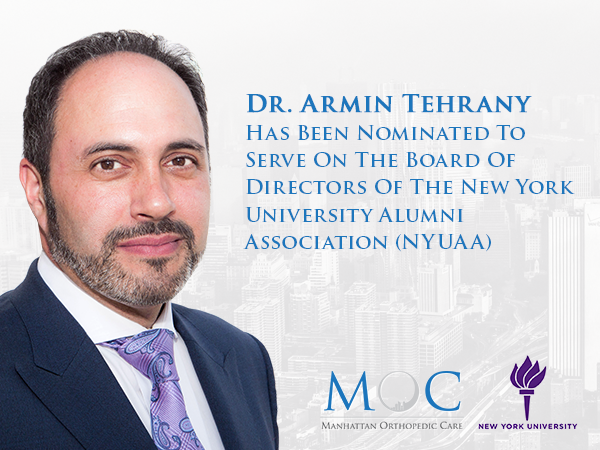 "I graduated from the NYU School of Medicine in 1994. Since then, I am proud to say that I have seen the reputation of NYU and its graduate schools continue to rise both nationally and internationally. I would wear my NYU School of Medicine T-shirt with pride and occasionally could start a conversation with someone that went to NYU as a result," says Dr. Tehrany.
The
New York University Alumni Association (NYUAA)
is an umbrella organization for all NYU alumni of every NYU school. This prestigious network has more than 470,000 members worldwide, and it supports an ongoing relationship between the esteemed University and its graduates, through a number of initiatives. Additionally, the association provides a vast array of alumni benefits.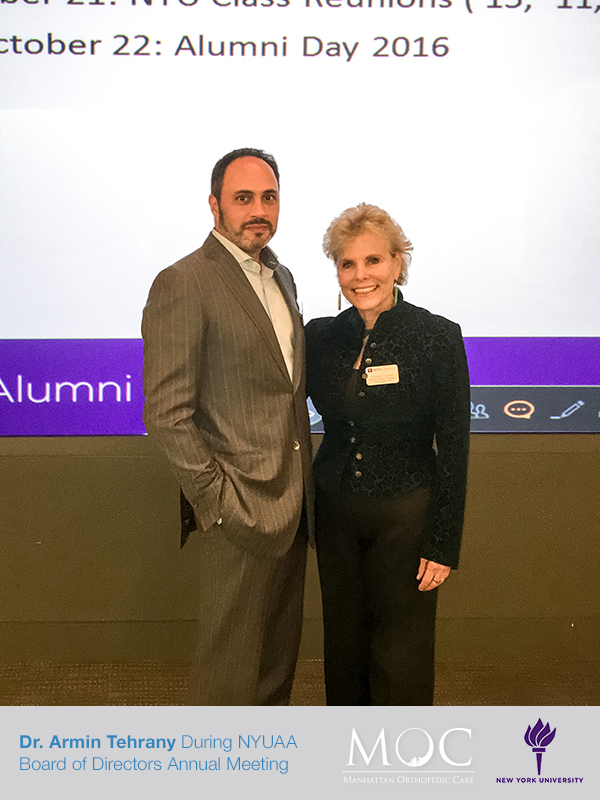 The leadership of the New York University Alumni Association is based on peer nomination and subsequent selection of qualified alumni candidates.  Dr. Tehrany's continuous support of the University, where he studied medicine, and the school which prepared him for an outstanding career as an orthopedic specialist, has led him to a distinguished seat on the Board of Directors – a position offered to the most exemplary alumni in their fields.
"A few years ago, during a spring break vacation abroad with the family, I bumped into a fellow NYU medical graduate that I knew. Our re-connection inspired me to become more involved with the school. I chaired our 20th reunion and the success of it made me want to serve at NYU in any way that I could. I was honored to be asked to serve on the Board of Governors of the medical school and do so proudly. Recently, Dr. Brian Levine, a member of the medical school board of Governors and a vice president of the NYU Alumni Association Board of Directors, asked if any of us would consider serving on the NYUAA board. I was touched by the offer and applied and was chosen to serve for the next three years," explains Dr. Tehrany.
With sincere joy and pride, Dr. Armin Tehrany further discusses his plans for the next three years, and his initiative for ongoing involvement with fellow NYU students:
"I plan to work hard to not only promote all of the schools, but specifically work with the undergraduates, medical students and film students. I recently became an executive producer for the upcoming historical drama 'The Birth of a Nation' and hope to work with students at the NYU Tisch School of the Arts and share my experience and good fortune with the movie's recent success at the Sundance Film Festival."
We're proud of our orthopedic surgeon and we have no doubt that he will be an impeccable example for NYU students, and a strong inspiration for all of their professional and personal endeavors.