NBC News: Dr. Tehrany advises the sports enthusiast how to avoid common exercise injuries
NBC News Digital
asked our very own
Dr. Armin Tehrany
to weigh in with his expert opinion. The story titled "
How to avoid common (and uncommon) exercise injuries
" highlights the most common injuries that occur in both high-intensity workout programs and more common forms of exercise such as running, weightlifting, and yoga. As an immensely experienced orthopedic doctor who has successfully treated numerous sports enthusiasts, Dr. Tehrany gladly accepted the opportunity to share educational and beneficial information and tips on preventing exercise injuries.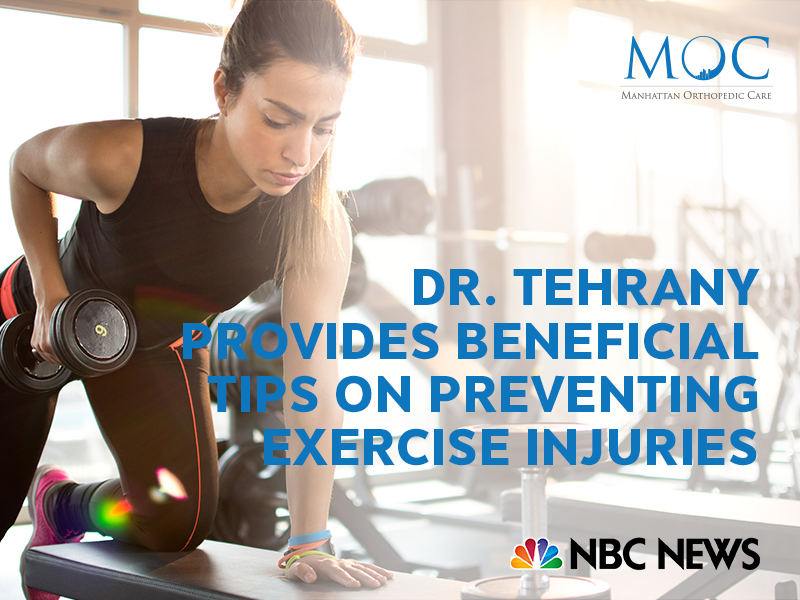 Running is considered as a common form of exercise, however, if performed incorrectly, it can lead to severe injuries. According to Dr. Tehrany, the meniscus tear is an extremely common and serious injury seen in runners.
"The reason [so many runners] get that tear is because they've done so much repetitive heavy impact activity that over time the meniscus cushion just wears out and tears," says Dr. Tehrany.
In order to prevent the meniscus tear, Dr. Tehrany recommends running in opposite directions and maintaining the perfect balance of strength and flexibility. On the question of how to prevent Yoga injuries, Dr. Tehrany explained that knowing and understanding the strength of the joints plays a vital role in achieving impeccable Yoga positions.
"It's important for people to understand that if they're loose-jointed naturally, some of the provocative yoga positions can cause the joints to sublux, which means to slip in and out, or even dislocate," explains Dr. Tehrany.
According to Dr. Tehrany, warming up the body prior to practicing Yoga significantly helps in handling the stretching and avoiding muscle and joint tightness. While swimming is generally a safe form of exercise, Dr. Tehrany says that it has its own form of risk for the body.
"The patients that are loose-jointed have a tendency to get an overuse injury to the rotator cuff, especially when they're doing the freestyle crawl or overhead stroke. Or, they run the risk that the shoulder may become unstable," Dr. Tehrany clarifies.
Another often overlooked issue is dehydration. According to Dr. Tehrany, the body works super hard while swimming, and if it not properly hydrates, it becomes extremely vulnerable and prone to severe injuries. In conclusion, Dr. Tehrany advises that regardless of the form of exercise, talking with a professional trainer can immensely help in preventing exercise injuries because they help the sports enthusiasts achieve and maintain a proper form while exercising.
"It's a great idea to even try to get one session with a trainer or one session with a physical therapist, especially a physical therapist if the person already has an ailment," concludes Dr. Tehrany.
The entire story is available at
NBCNews.com
.