Dr. Armin Tehrany
for over five years. He first visited
Manhattan Orthopedic Care
when he was 18 years old. While Ryan was playing college football, he suffered multiple injuries to his shoulder and knee that prevented him from thoroughly enjoying his game. Fortunately, Dr. Tehrany and his team always knew what treatment to provide to Ryan to help him get his strength back in no time.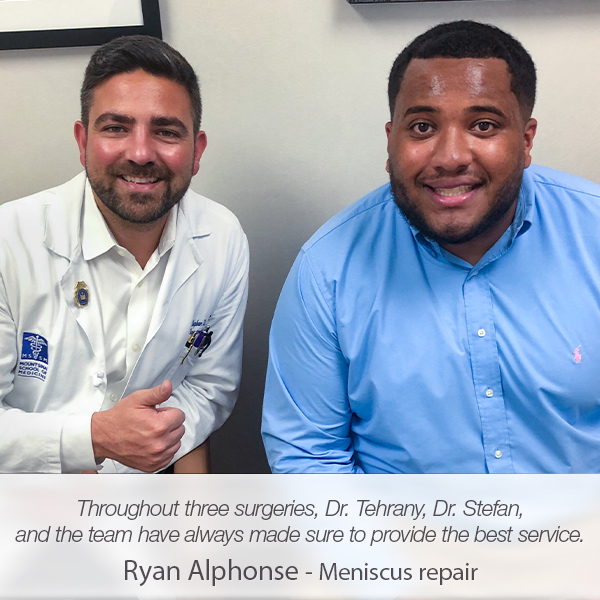 At the beginning of Ryan's last year of football, he suffered another shoulder injury, and the team doctors told him that he was going to miss the senior year. Once again, Ryan decided to trust Dr. Tehrany and his assistant, Dr. Stefan fully, and let them take care of his shoulder. After the treatment, Ryan's shoulder was ready to get back in the game just before the football season started. After so many successful treatments at Manhattan Orthopedic Care, Ryan had no doubt where to go for his knee pain. He had a new appointment with Dr. Tehrany, and he found out that he had a
lateral recurrent meniscus
tear.
Dr. Tehrany and Ryan mutually agreed to proceed with scheduling the meniscus repair surgery. During the knee surgery, Dr. Tehrany discovered several other issues that have also been causing pain and discomfort for Ryan. Dr. Tehrany and his assistant performed right knee lateral meniscus repair, chondroplasty, and synovectomy. The recovery was smooth and super comfortable for Ryan. He felt at peace while regaining his mobility and knee strength back. Excited to feel better than before, Ryan wrote a lovely review on Yelp, sharing beautiful words about Dr. Tehrany and his team. We can't express our gratitude for Ryan's trust. Throughout the years, he became our friend, and we are more than happy that he is feeling better and ready to enjoy football again.
"I would highly recommend Dr. Tehrany, Dr. Stefan, and staff to anyone. I have been a patient of theirs since I was 18 years old. Throughout my four years of college football, I have suffered multiple injuries to my shoulder and knee. Throughout three surgeries, Dr. Tehrany, Dr. Stefan, and team have always made sure to provide the best service. During my last year of football, my team doctor said I would need to miss my senior season due to an injury on my shoulder. The following day, I flew home to see Dr. Tehrany and Dr. Stefan, they diagnosed my injury, and I was at full health before preseason. I will always be grateful to the team at Manhattan Orthopedic Care as they have gone above and beyond to make sure I was able to complete my college career as a football player."
This patient was treated at the Manhattan Office.