When patients visit Manhattan Orthopedic Care, our primary goal is to make sure they feel comfortable, taken care of, and that their stay is stress-free. We accomplish this by providing complete and detailed information about their injuries, the appropriate surgical procedures, and the paths to full recovery. We strive to provide the utmost orthopedic care that will help patients heal as quickly and smoothly as possible.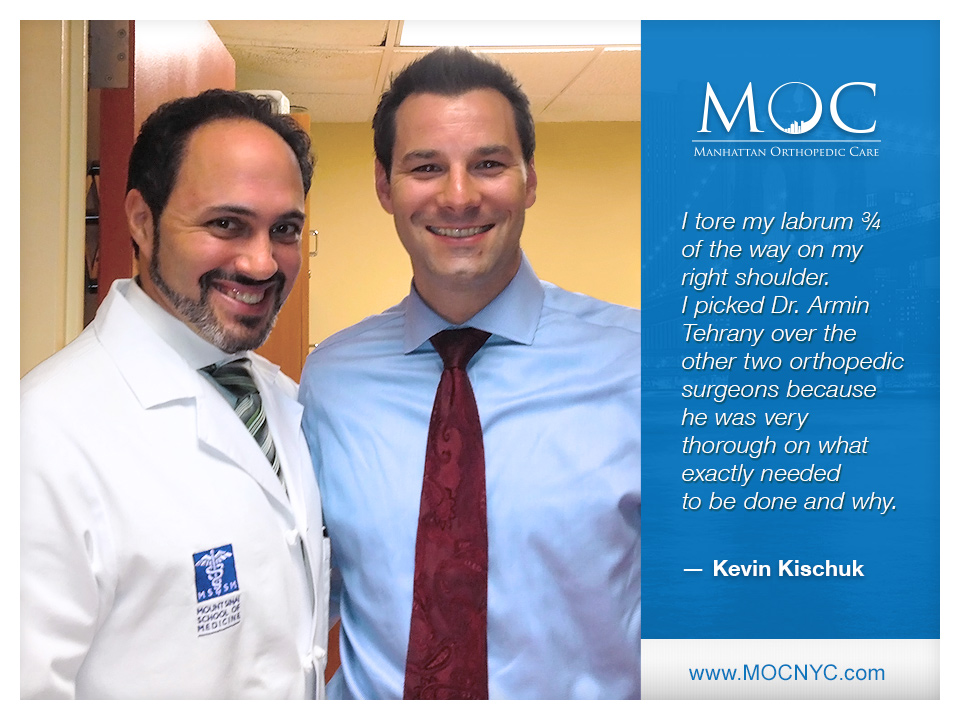 Kevin Kischuk visited
Manhattan Orthopedic Care
with a serious
shoulder injury
. He had a
torn labrum
in his shoulder, which caused unbearable discomfort. In his search for an
orthopedic surgeon,
he picked Dr. Armin Tehrany and his team because of the comprehensive, warmhearted care he was given at his first appointment with our team. From the very start, it was clear to Kevin that he needed a glenoid labrum tear surgery.
"I tore my labrum ¾ of the way on my right shoulder. I picked Dr. Armin Tehrany over the other two orthopedic surgeons because he was very thorough on what exactly needed to be done and why. I was referred to Dr. Tehrany from a friend, whose father is a doctor and spoke with Dr. Tehrany about his son prior to the surgery, so this obviously helped me make my decision. The overall surgery was, well surgery, but I was well prepared by Dr. Tehrany and his staff of what to expect before and after the surgery."
After the
glenoid labrum tear surger
y and the recovery process, Kevin started feeling even better than before he injured his shoulder. The soreness was gone, he felt strong and his movements went back to normal.
"One and half years after the surgery my shoulder is back to normal and stronger than my left. It was a very positive experience overall and there were regular checkups that helped monitor the progress. After a shoulder surgery, ensure to get a good physical therapist that spends time with you as it's just as important as the surgery itself. Thank you again Dr. Tehrany!  – Kevin Kischuk"
Thank you, Kevin, for your trust!
This patient was treated at the Manhattan Office.