The shoulder labrum tear is a common shoulder condition that occurs as a result of an injury or the aging process.
While labrum tear can be difficult to diagnose, often it can be efficiently treated with just a short period of restricted rest,  or with just physical therapy. However, in a severe shoulder injury, a labrum tear surgery might be the only available option.
Back in 2012, John Marshall, a charming young man, visited Manhattan Orthopedic Care for an appointment with Dr. Tehrany due to an exhausting pain in his right shoulder.  After a thorough examination and detailed evaluation of the MRI, Dr. Tehrany diagnosed John with a labrum tear in the shoulder.
After Dr. Tehrany had performed the surgery, John enjoyed a pain-free life once again.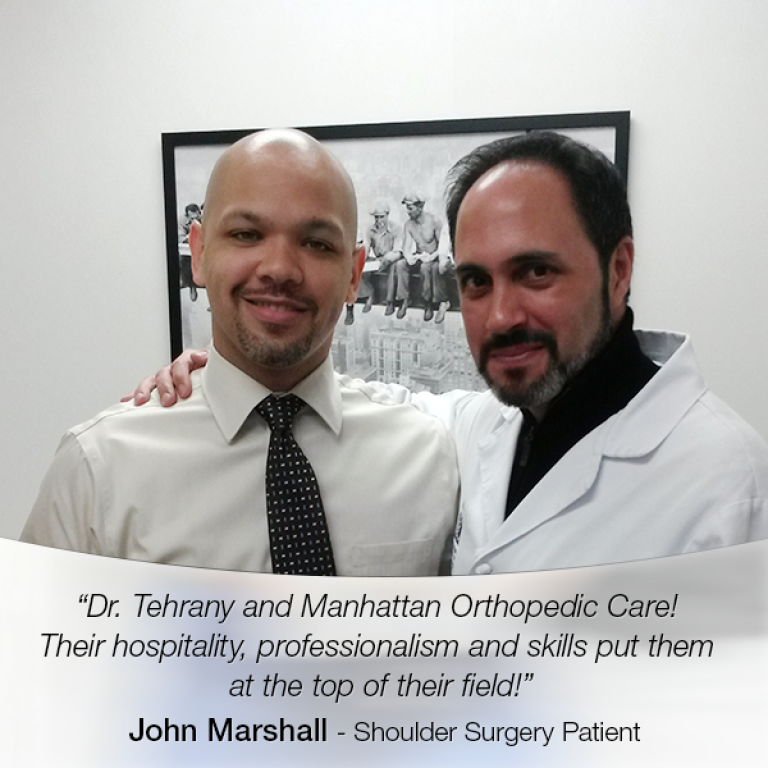 Unfortunately, one year later, John required another surgery, this time in his left shoulder, which also suffered a labral tear. Since his first surgery and recovery were successfully performed by Dr. Tehrany and the team at Manhattan Orthopedic Care, John had no doubts that Dr. Tehrany will take the lead for the second surgery too.
He decided based on the professionalism and the outstanding care Dr. Tehrany provided to John.
Now, a few years later, John's shoulders feel better than before the injury. According to John's review on Google, it's all due to Dr. Tehrany's exceptional skills and profound knowledge.
"Dr. Tehrany and his friendly, efficient staff treated me for a right labrum tear in December 2012 and then a left labrum tear in October 2013. Both times, I was treated kindly, fairly and was given an appropriate amount of information and range of options.

From the first appointment to my last follow-up, Dr. Tehrany and his team were with me along the way, guiding me through the surgical process and continually checking in and addressing any post-surgical concerns.

I consider my surgeries to be complete successes and highly recommend Dr. Tehrany and Manhattan Orthopedic Care. Their hospitality, professionalism, and skill put them at the top of their field.

John Marshall"