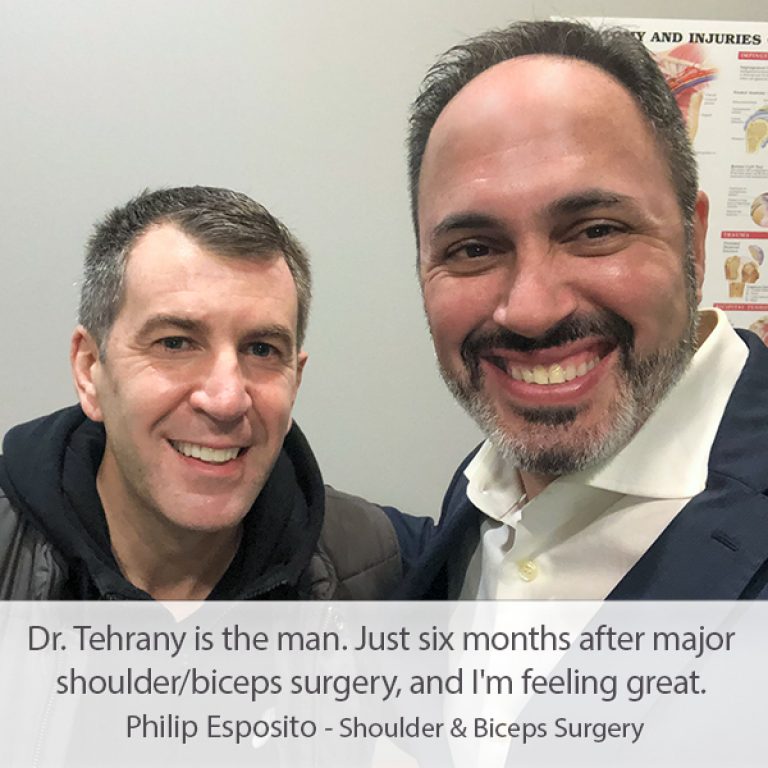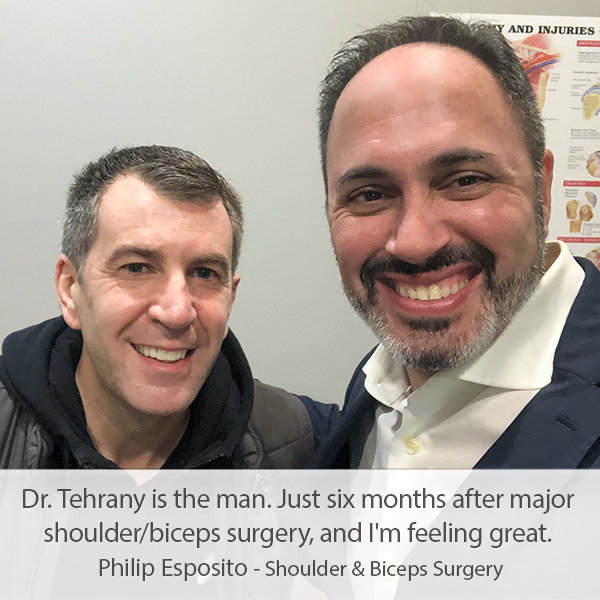 His search for a shoulder doctor led him to Dr. Armin Tehrany and Manhattan Orthopedic Care. Encouraged by the numerous five-stars review from happy patients, Philip scheduled an appointment at the Manhattan office. During the appointment, Dr. Tehrany performed a thorough examination of Philip's shoulder. The analysis of the scans and the physical evaluation revealed that Philip had several shoulder injuries that had occurred over time. According to the diagnosis, Philip had left shoulder full-thickness rotator cuff tear, biceps tenosynovitis, subacromial bursitis, and AC joint arthrosis. Despite the severity of Philip's condition, Dr. Tehrany found a surgical solution that could address all problems at once. They agreed to proceed with the shoulder surgery immediately. Dr. Tehrany performed four different procedures during the surgery. He first performed the biceps tenodesis. After he successfully addressed the issue, Dr. Tehrany continued with distal clavicle excision. Even though the AC joint was difficult to find due to the patient's anatomy, Dr. Tehrany successfully decompressed it, and the results were excellent. Next, Dr. Tehrany turned his attention to the arthroscopic rotator cuff repair portion of the surgery. After he achieved successful anatomic rotator cuff repair, Dr. Tehrany ended the procedure with a second gentle debridement. After the surgery, Philip wore a sling for six weeks. Now, six months after the surgery, Philip has his strength back and feels healthy and stable. Thrilled with the outstanding results, Philip shared his experience with a genuine Google review.
"Dr. Tehrany is the man. Just six months after major shoulder/biceps surgery, and feeling great. He takes his time and makes you feel comfortable about the entire process, from pre-surgery to follow -up visits. Great staff as well. Hopefully, you will never need surgery, but if you do, it's a no-brainer to go to Dr. Tehrant."
We are excited to see Philip happy again, and we are thankful he trusted us with his shoulder health.
This patient was treated at the Manhattan Office.