Dr. Armin Tehrany
because of an unbearable shoulder pain. During his appointment, Dr. Tehrany found out that Andrew had a torn labrum in three places. No wonder his pain was that exhausting!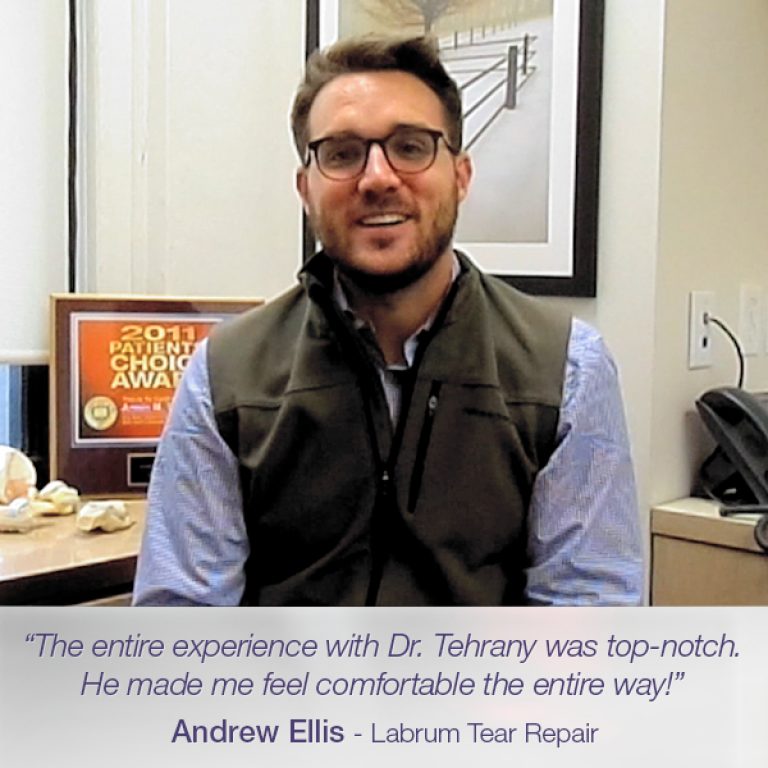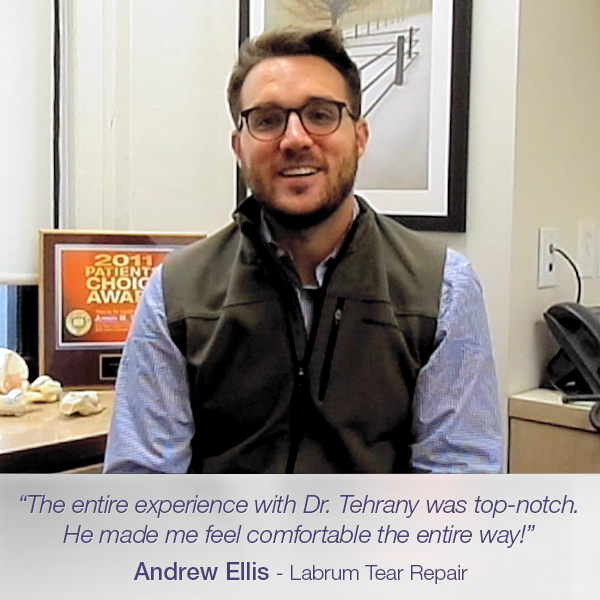 Being a college quarterback Andrew was used to always being active, energetic and in perfect shape. After college, he continued maintaining his shape, but he pushed a little bit too far. His pushy efforts resulted with a torn labrum.
Video transcription: "I'm Andrew Ellis, I'm 25 years old. I came originally to see Dr. Tehrany for a torn labrum in my right shoulder. So, I was a quarterback in college, I used my shoulder a lot throughout my athletic career. Post-college, I probably tried a little bit too hard to stay in shape and ended up tearing my shoulder in three places, I think it was. So, I came to see Dr. Tehrany. I found him just online. Excellent reviews all over the internet, so I figured I'd come see him. And he was close to my office, so it worked out really well. The entire experience with Dr. Tehrany and the staff was top-notch. From the initial consultation, to surgery preparation, to the surgery day, to the post-op, checking in and making themselves available for me if I had any questions – everything was top-notch. He made me feel comfortable the entire way!"
After discussing all treatments available for his
torn labrum
, Dr. Tehrany and Andrew agreed to a shoulder surgery. Andrew was taken care of in the most professional manner. The orthopedic staff at Manhattan Orthopedic Care made sure he was comfortable enough to go through the whole shoulder surgery process. Thank you, Andrew, for trusting us. We hope to see you again. Maybe in the gym? 🙂
This patient was treated at the Manhattan Office.