Multiple shoulder injuries can be painfully exhausting. They typically occur in people with repetitive overhead motions that put a huge stress on the shoulder.
Antonia Prescia visited Manhattan Orthopedic Care because of a troublesome shoulder condition. Dr. Armin Tehrany, one of the most sought-after orthopedic surgeons and shoulder specialists in New York, was able to identify the source of Antonia's pain during her first visit.
Antonia suffered a rotator cuff tear and a SLAP tear that led to a terrible stiffness and pain, and to a decreased shoulder strength. As a Spartan race competitor, Antonia felt devastated when Dr. Tehrany brought the unpleasant news for her shoulder injuries. However, after the appointment, Antonia strongly believed Dr. Tehrany to be the shoulder surgeon who will provide the finest care and the treatment her shoulder required.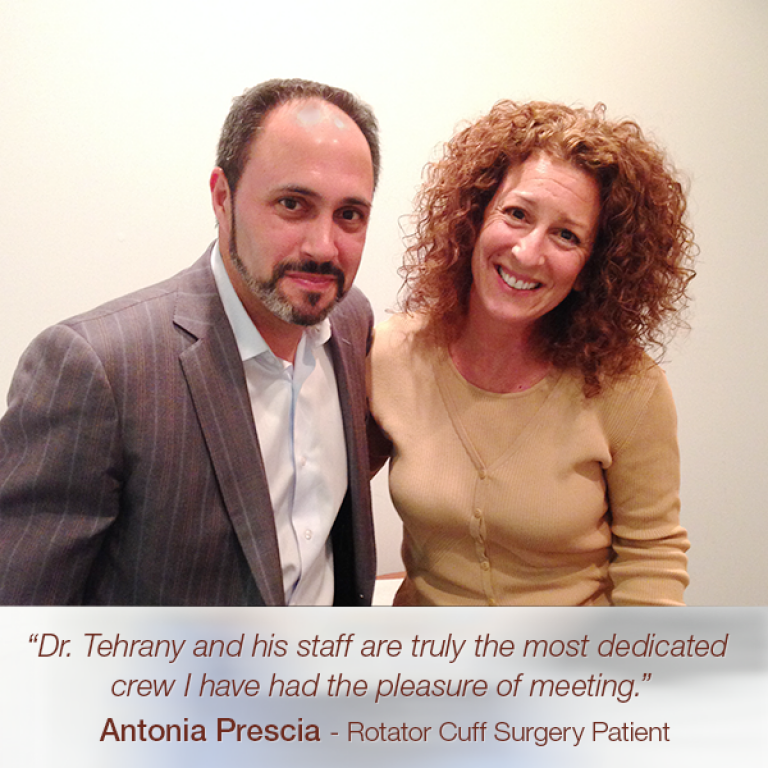 Dr. Tehrany performed both rotator cuff repair and SLAP tear repair with an ease and precision only a top orthopedic surgeon provides. During the entire surgical process, including the physical therapy and the recovery process, the team at Manhattan Orthopedic Care serviced Antonia with a superb patient care, ensuring she clearly understood every step of her treatment.
Feeling energized after the surgery, and exuberant that she can join the Spartan race with a full shoulder mobility and strength, Antonia wrote a lovely review on Yelp, sharing her pleasantly positive experience with Dr. Armin Tehrany and his team at Manhattan Orthopedic Care.
"I can't believe that it has been 2 years already and I have never felt better! Dr. Tehrany and his staff are truly the most dedicated crew I have had the pleasure of meeting!! From my initial visit to my surgery, the physical therapy, Dr. Tehrany was right there with me! I HIGHLY recommend him if you are in need of shoulder surgery."
Thank you, Antonia! We are happy to have met you! 🙂