arthroscopic synovectomy
is a surgical procedure to treat synovitis, injuries, and other conditions that affect the synovium. The synovium is a thin membrane that lines the inside of the knee joints. Normal synovium produces fluid that lubricates the joint and enables smooth movements. If the synovium grows too much, it then produces fluid in quantities more substantial than the knee joint needs. As a result of the enzyme that it contains, the synovium present in large amounts eats away the cartilage that is on the knee joint. Due to the loss of cartilage, the knee surface of the knee joint becomes damaged, which ultimately leads to pain and stiffness. The synovectomy can be partial or complete depending on the amount of damage to the synovium. Typical treatment includes medications, steroid injections, and rest. However, patients who don't respond well to non-surgical treatments require arthroscopic synovectomy to eliminate the pain.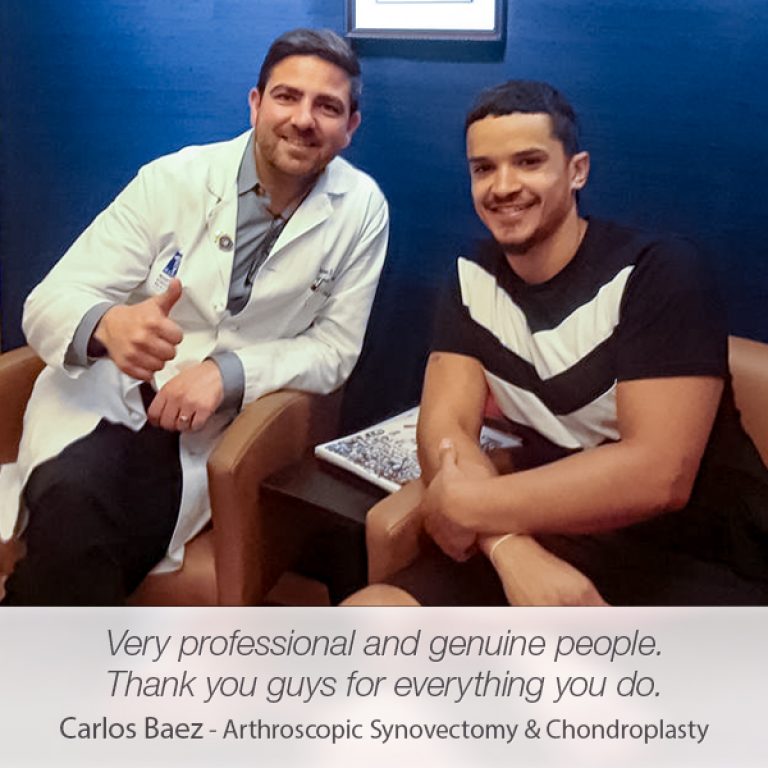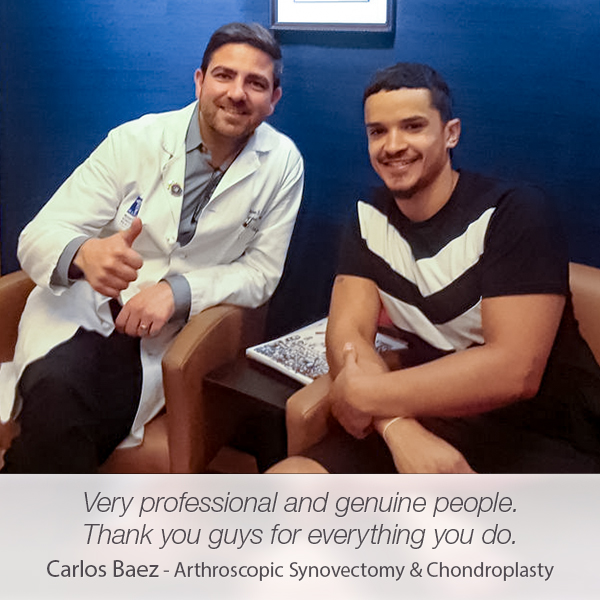 Unfortunately, Carlos suffered from
knee pain and swelling
for a long time. He visited
Manhattan Orthopedic Care
, hoping to receive a proper treatment that will enable him to enjoy a pain-free life again. And he wasn't disappointed.
Dr. Armin Tehrany
, one of the best knee specialists in New York, thoroughly examined Carlos's knee. According to the symptoms presented, he diagnosed Carlos with partial ACL Tear. Unfortunately, shortly into the surgery, Dr. Tehrany discovered a large amount of synovitis around the
ACL
area. As an experienced and skilled knee surgeon, Dr. Tehrany knew how to proceed to meet Carlos's expectations. He performed formal synovectomy and removed all synovitis. When Carlos visited
Manhattan Orthopedic Care
for his follow-up appointment, he couldn't share his excitement and happiness because he felt much better. Thankful for the professional care he received and the friendly demeanor presented by the entire team at Manhattan Orthopedic Care, Carlos wrote a lovely
Google review
.
"Doctor Tehrany and his staff are very welcoming. From the moment you step foot in the office, you feel comfortable. I highly recommend anyone to go there if you are seeking orthopedic care of any sort. Very professional and genuine people. Thank you guys for everything you do."
Thank you, Carlos, for trusting us with your knee health.
This patient was treated at the Manhattan Office.