The knee joint is the largest and most complex joint in our body. As a result of the support it provides to the entire body and its weight, the knee is extremely vulnerable and prone to painful injuries and conditions.
Moreover, the knee plays a vital role in performing everyday activities since it allows a flexible movement of the lower leg. Because of this highly important function, an injury to the knee can significantly impact the lifestyle and everyday activities.
The knee pain is one of the most common orthopedic condition seen among people of different age groups. Depending on the severity of the condition that causes the pain, a variety of knee treatments can be performed to wipe out the knee pain.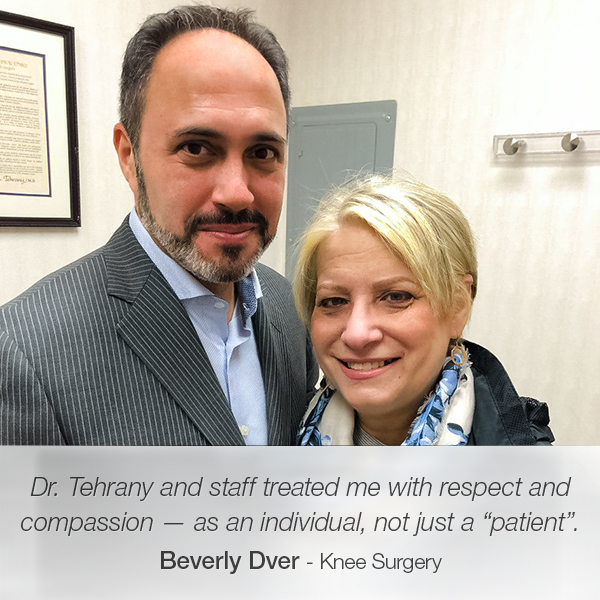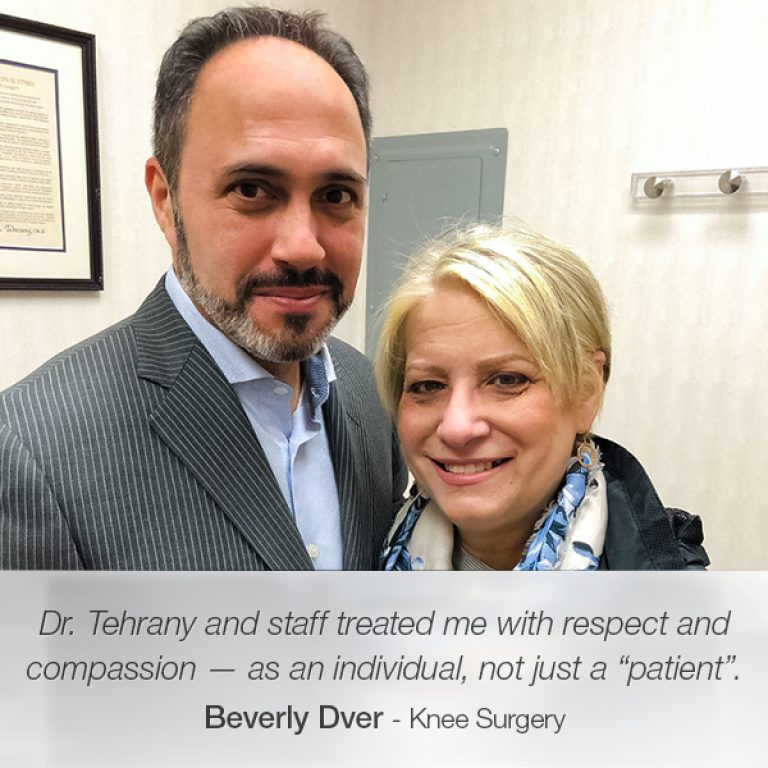 A skilled and knowledgeable orthopedic knee doctor can easily recommend the appropriate knee treatment and procedure that will enable the patient experience a full and smooth recovery.
Dr. Armin Tehrany, one of the top New York knee doctors, has a tremendous experience in successfully treating patients with a variety of knee orthopedic conditions and injuries. When Beverly Dver visited Manhattan Orthopedic Care, Dr. Tehrany welcomed her with nothing less than a superb care and absolute respect.
Beverly's knee condition required an immediate attention, which she was unconditionally given by every team member at Manhattan Orthopedic Care. As a result of the comfortable and soothing environment the staff created, Beverly experienced an easygoing treatment and recovery, and she left the facility with a big smile satisfied that she chose the best knee doctor to bring her back to a happy and pain-free life.
Impressed by the care and treatment she was provided with, Beverly wrote an endearing review on Google that has sincerely touched us, and motivated to continue with our efforts to provide fantastic care as we always do.
"I was lucky enough to find Dr. Tehrany online – and it was from reviews such as I'm writing now that I was convinced to go for an exam when I was experiencing severe pain in my knee. I can't say enough about the wonderful care I have received here.

Dr. Tehrany and his associates are extremely skilled, caring doctors – who were able to correctly diagnose and treat my knee. From diagnosis, through surgery, and follow up visits, I have been treated with respect and compassion — as an individual, not just a "patient.

And this culture of truly caring for people runs through the entire practice. So rare in today's medical world, where the "factory mentality" seems to be the norm.

I would wholeheartedly recommend Dr. Armin Tehrany to anyone who is looking for the best medical treatment – along with a caring, warm environment where you're treated as a human being, not just a number."