ACL Reconstruction
is a knee surgery performed to replace the torn ACL with a piece of tendon from another part of the knee. It is commonly performed to repair the complete ACL tear – a tear in one of the major ligaments in the knee. The
ACL injury
that requires an
ACL reconstruction
commonly occurs in sports that involve sudden stops and changes in direction, and sports that involve direct contact between the players that results in a mild or severe injury. The ACL reconstruction is an outpatient procedure that is usually performed through small incisions around the knee, however, in severe and complex ACL injuries, an open knee surgery may be the best way to address the ACL injury.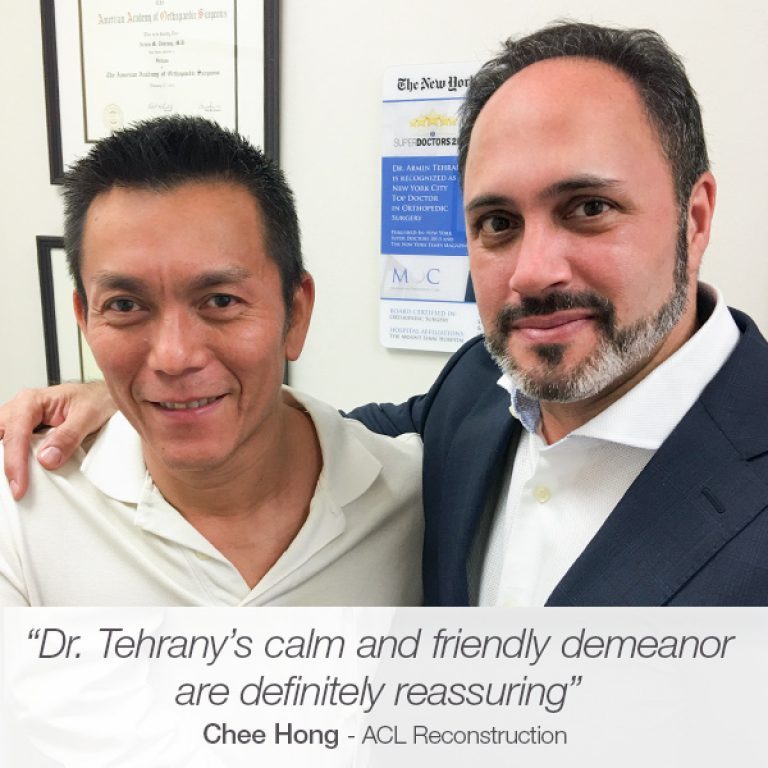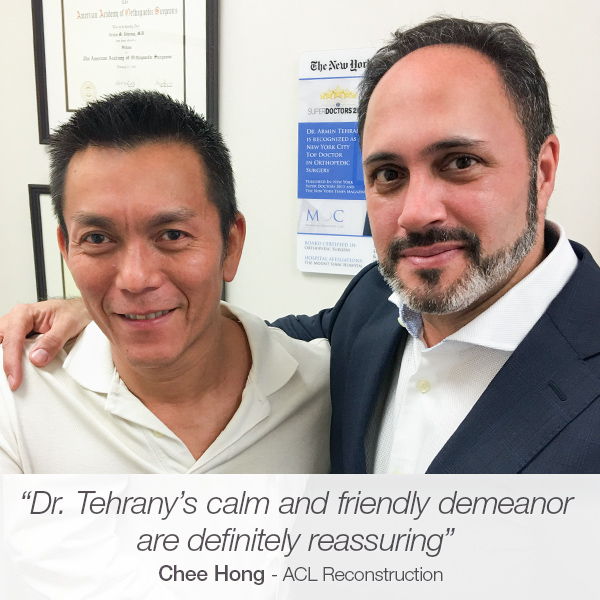 Chee Hong, an energetic sports enthusiast and active MMA fighter, visited Manhattan Orthopedic Care due to a severe ACL tear in his right knee. Dr. Tehrany was his third professional opinion, and after only a few minutes spent with Dr. Tehrany, Chee was assured that he found the right knee doctor.
"I was referred to Dr. Tehrany's office by my physical therapist after tearing my ACL practicing MMA for many years.
Dr. Tehrany was definitely one of the most professional orthopedic surgeons that I spoke to, compared to 2 other doctors that I visited prior to seeing him. Good smiles, serious answers. Being very active in the MMA and other sports myself, Dr. Tehrany takes my injury questions seriously and would examine and answer them thoroughly."
Understanding how stressful knee injuries are, especially in active sports players, Dr. Tehrany spent a quality time with Chee explaining the severity of his ACL injury and describing the flow of the recommended ACL surgery. During the conversation, Chee developed a complete confidence and trust in Dr. Tehrany's knowledge and skills because of the calm and thorough explanation of the surgical process. Moreover, he felt even more assured after Dr. Tehrany provided the details about Chee's expected recovery.
"Knowing that I had a lot of uncertainty with the surgery and post-surgery mobility and the chances of full recovery, he addresses all my concerns, and his calm and friendly demeanor is definitely reassuring."
Now, Chee is feeling even better than before he tore his ACL and we, the team at Manhattan Orthopedic Care, couldn't be happier about it.
This patient was treated at the Manhattan Office.