arthroscopic bankart repair
is a minimally invasive
orthopedic procedure
to anatomically and safely repair detached or torn anterior labrum. A healthy and stable shoulder is a significant source of mobility and stability to the arm. Throughout the wide range of shoulder activities, the arm is enabled to perform a variety of movements in different directions safely and smoothly. However, numerous movements that put an immense pressure on the shoulder can cause a tear in the glenoid labrum or the ligament that support the shoulder. When the
glenoid labrum
is torn, the shoulder loses its stability allowing the humeral head to dislocate from the glenoid. In such condition, the shoulder significantly loses its functionality and often, a tiresome pain occurs in the shoulder joint.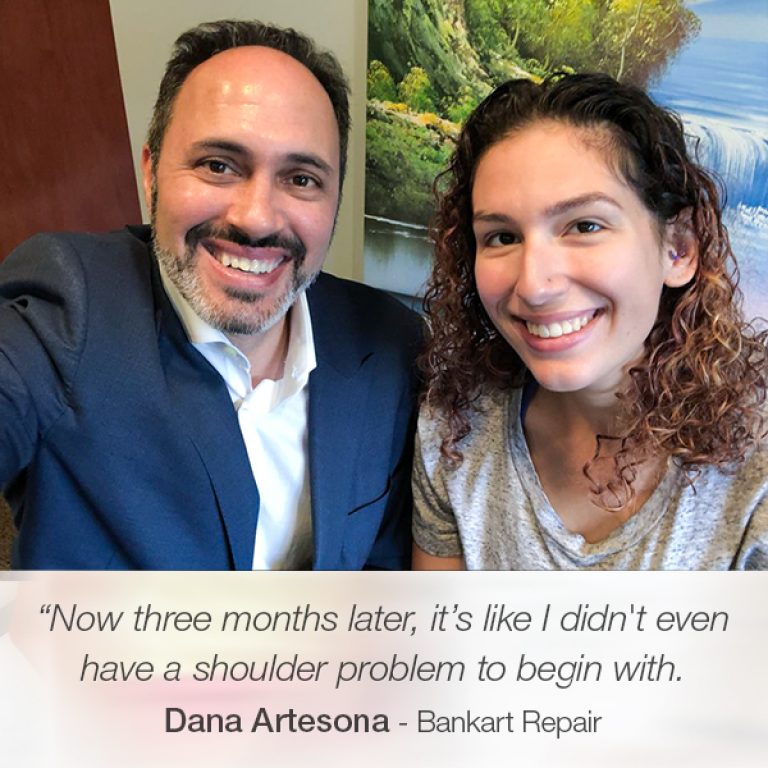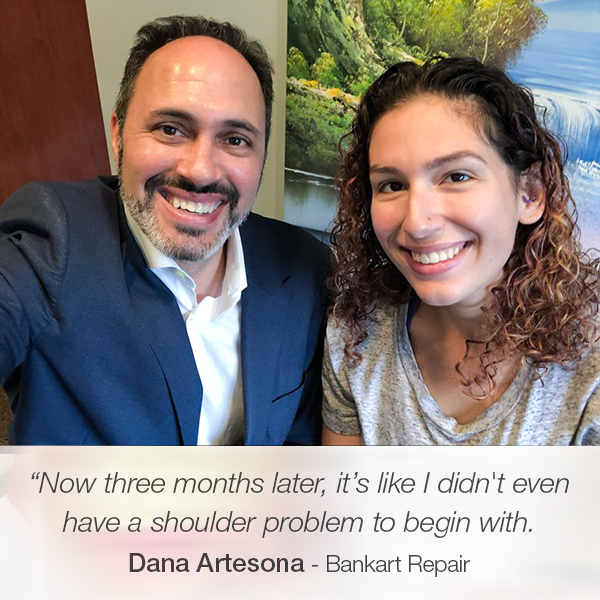 Dana Artesona presented typical symptoms of the
detached labrum
. She had difficulty moving her arm, she felt that her shoulder is not stable and can't support her arm movements, and she also experienced pain that troubled her for a long period. After her initial consultation with
Dr. Armin Tehrany
, one of the top
New York orthopedic and shoulder specialist
in his
Staten Island
office, Dana was confident that she came to the right place. She was pleasantly surprised by the professional demeanor and utmost care provided by Dr. Tehrany and every member of his team. From the moment she was scheduled for an
arthroscopic bankart repair
, to the moment she started feeling better than before her shoulder injury, Dana experienced a compassionate and friendly treatment provided by a skillful and competent orthopedic surgeon supported by a hard-working and knowledgeable team of orthopedic physician associates. Thrilled with the superb orthopedic care, Dana felt inspired to share her positive experience with a candid review on Google, and we are beyond words to express our gratitude that she trusted us with her shoulder health.
"Everything was amazing from the moment I walked in for a consult to the moment I walked out with my sling on. I went in with shoulder problems, unsure if I would need surgery, and sure enough, I did. When I walked in, I felt the confidence within the whole staff and knew I was in the right hands. I was so confident in the staff that I wasn't even nervous for my shoulder surgery, and it was my first surgery. I went home the same day, as expected, but the days following the surgery I would get calls at home asking how I was and how I was doing with my healing process and I was very appreciative of that. Now three months later, its like I didn't even have a shoulder problem to begin with. I will always be thankful for Dr. Tehrany and his team for fixing my shoulder."