Knee replacement,
also known as knee arthroplasty, is a complex knee procedure, performed to treat several knee conditions at once. Osteoarthritis, rheumatoid arthritis, post-traumatic arthritis, and trauma or severe knee injury are just a few of the knee conditions that require knee replacement. But, in some patients, these conditions can be addressed with an appropriate non-surgical treatment, helping the patient overcome all limitations in movement caused by the pain. And it takes an experienced, board-certified orthopedic surgeon to make such a conclusion. Donna Wurtenberg, a charming lady from New York, who suffered from excruciating knee pain and unpleasant stiffness, was told that she required an immediate knee replacement. Prior to her appointment at
Manhattan Orthopedic Care
, Donna was examined by two other doctors who strongly suggested proceeding with the complex knee surgery. But,
Dr. Armin Tehrany
's extensive knowledge and immense experience led him to provide a non-surgical solution to Donna's knee pain.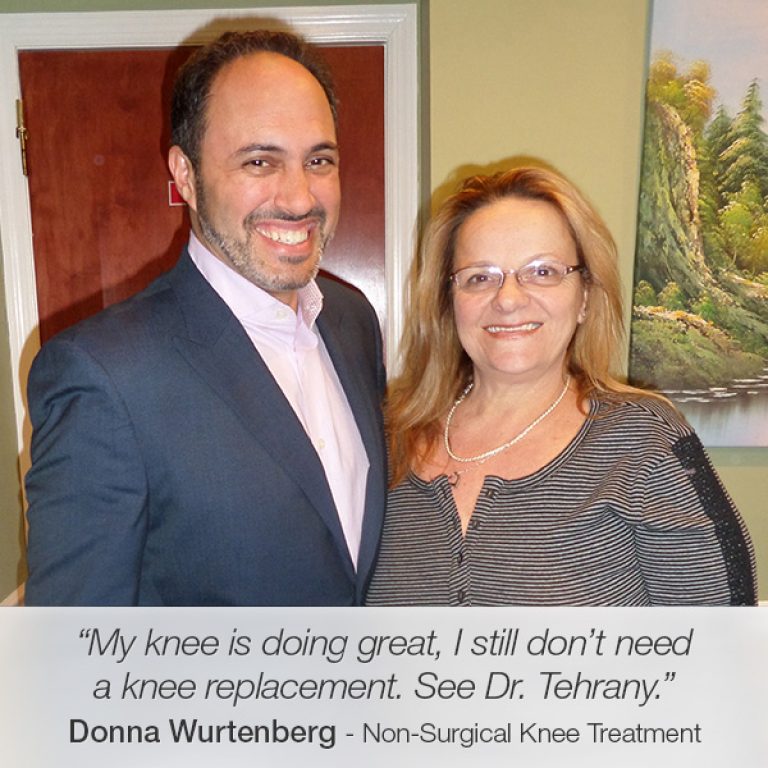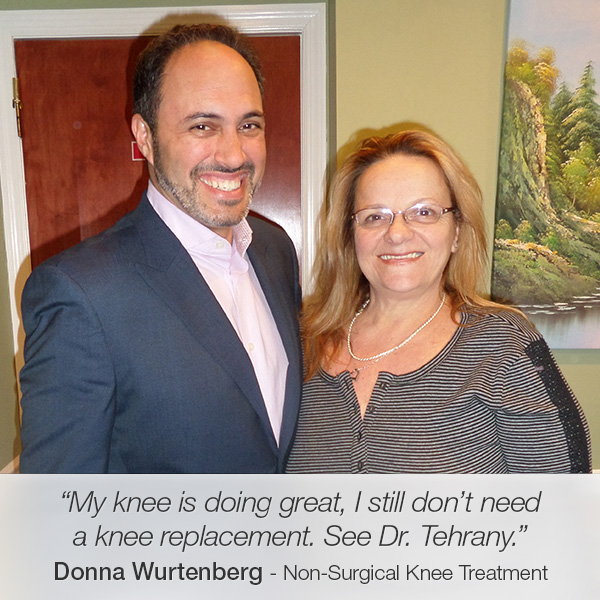 After carefully following Dr. Tehrany's instructions for improving her knee health, Donna started feeling much better. She was relieved she didn't need the knee replacement and she couldn't help hiding her joy. She was thrilled to share her positive experience with Dr. Armin Tehrany:
"Hi, my name is Donna Wurtenberg. I saw Dr. Tehrany in February 2011. I was told that I needed a knee replacement by two other doctors, and then my medical doctor told me to see Dr. Tehrany. When I saw Dr. Tehrany he advised me I didn't need a knee replacement. I just needed a clean-up and he advised me to lose weight. I took his advisement, I lost weight, and he did the clean-up. Now is 2015 and I'm in his office again. My knee is doing great, still don't need a knee replacement. I lost the weight and I would recommend that to anybody. See Dr. Tehrany!"
Donna's words are joy to us, and her happiness is our inspiration to continue investing all of our knowledge and experience in our patients' well-being and good spirit. Thank you Donna for the kindest words you shared!
This patient was treated at the Staten Island Office.