shoulder surgery
patient, described Manhattan Orthopedic Care's
orthopedic shoulder specialist Dr. Armin Tehrany
 after he diagnosed and repaired her
glenoid labrum tear
on the right shoulder.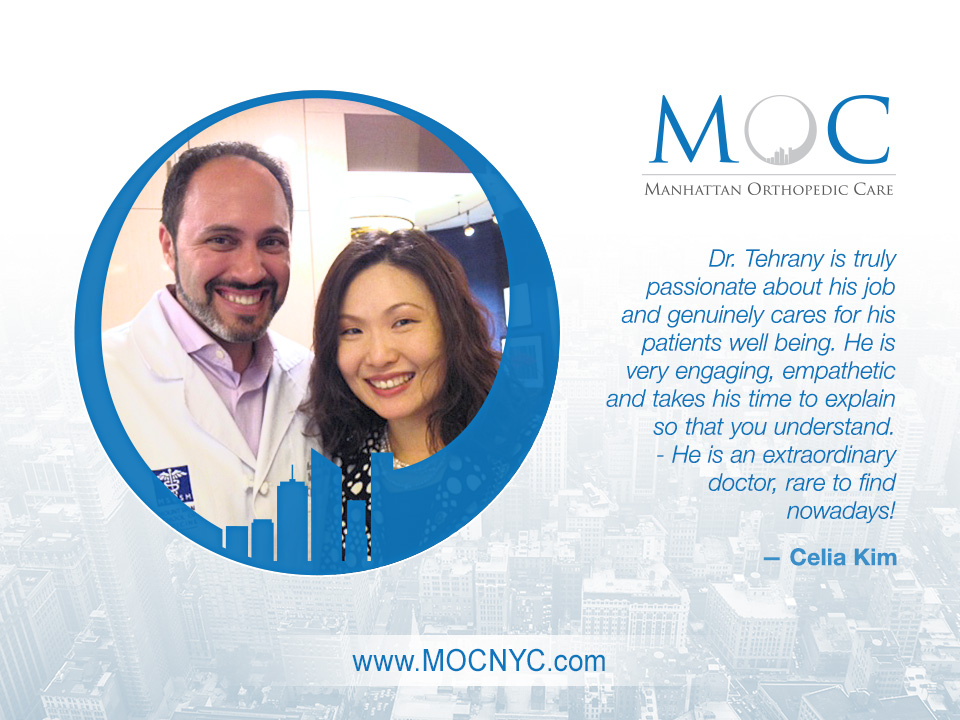 Truly satisfied with the results of her 
labrum tear repair
 and her experience with Dr. Tehrany and Manhattan Orthopedic Care, Mrs. Kim didn't hold back in praising him and his staff after the shoulder surgery.
"I suffered from a severe pain on my right shoulder and went to see Dr. Armin Tehrany for a diagnosis and found out that I had a glenoid labrum tear. I was very impressed from start. From the initial visit, then the labrum tear repair, then the post-operation and follow up appointments. Dr. Tehrany and his staff are very professional & efficient and their office is immaculate!", Mrs. Kim wrote in her patient testimonial.
Mrs. Kim and Dr. Tehrany had a sincere and open communication from the start about the shoulder surgery, the kind of communication every doctor and patient should have. Ever since they met for the first time, Dr. Tehrany's priority was to thoroughly inform Mrs. Kim about her shoulder condition, discuss her options, explain the flow of the glenoid labrum tear repair and the recovery process and, thus, review all aspects of her health situation, both medically and financially.
"During the initial visit, I was able to make an appointment right away and did not wait long to see him unlike other medical offices in NYC where you have to wait an hour. When I met Dr. Tehrany, I knew I made the right choice. Dr. Tehrany is truly passionate about his job and genuinely cares for his patients well being. He is very engaging, empathetic and takes his time to explain so that you understand. Instead of rushing to surgery, he offered different options I had. More importantly, he reviewed financial aspect of the shoulder surgery and recovery process so that I would not be surprised. I opted for a surgery and am going through physical therapy now. Even after surgery, his dedication for my well being continued. Thanks to Dr. Tehrany, I was able to match myself with a physical therapist who has helped me improve tremendously. I'm so glad that I met Dr. Tehrany and his team. I would highly recommend him. He is an extraordinary shoulder doctor, rare to find nowadays and very knowledgeable and compassionate!!"
Thank you, Mrs. Kim, for the kind words.
This patient was treated at the Manhattan Office.