When David came in to see Dr. Tehrany, he was hardly able to move without pain in his knee. Dr. Tehrany, a top knee surgeon in NYC, diagnosed David with an ACL injury, which required an ACL knee surgery. As we are committed to providing the perfect orthopedic care for our patients, we did our best to enable David to move lightly without any pain or struggle. We are moved by his kind words that express his happiness and satisfaction with the work of the Manhattan Orthopedic Care team.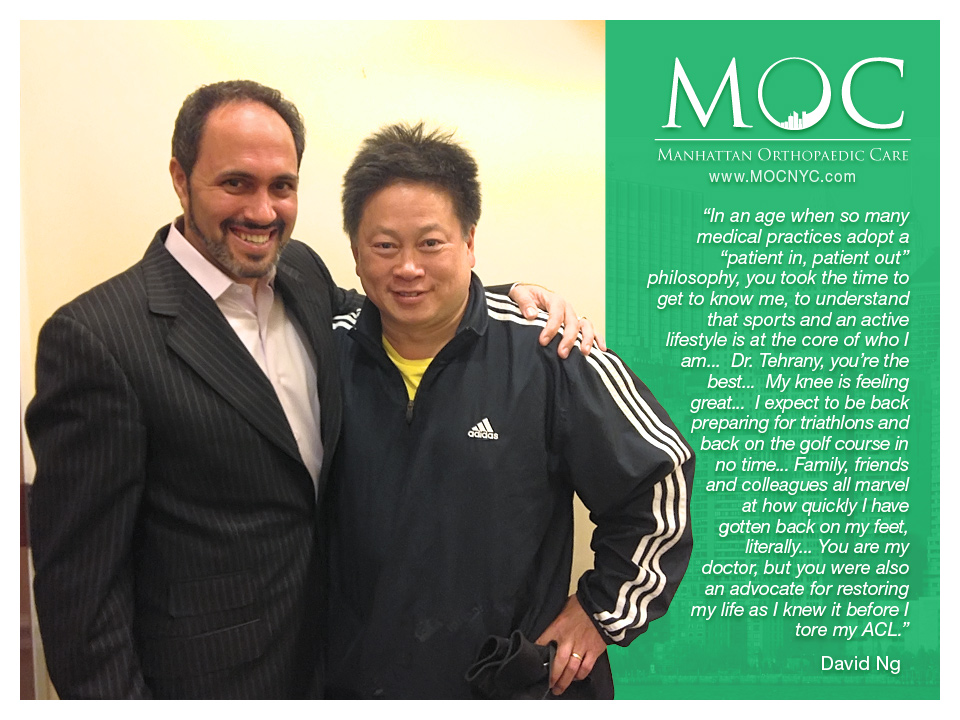 "Dr. Tehrany, you're the best. My knee is feeling great and the recovery is progressing extremely well. It's hard to believe that my ACL surgery was only a month ago. At the rate I'm going, I expect to be back preparing for triathlons and back on the golf course in no time at all. Family, friends and colleagues all marvel at how quickly I have gotten back on my feet, literally, after my ACL injury." David said in his testimonial.

"That is all because of you. In an age when so many medical practices adopt a "patient in, patient out" philosophy, you took the time to get to know me, to understand that sports and an active lifestyle is at the core of who I am. You are my doctor but you were also an advocate for restoring my life as I knew it before I tore my ACL."

"Thank you. I also want to commend you on assembling a wonderful support team. Everyone from the young doctors studying with you to your office staff to the folks at the surgical center treated me as if I were some kind of MVP who needed to get back into the game. From the moment I called to schedule that first appointment, the day of my ACL knee surgery and now through my post-op visits, they are always prompt, courteous, helpful, sympathetic and efficient. I have no doubt that you have infused them with your spirit and enthusiasm that every patient is a person first. Again, thank you for everything."
This patient was treated at the Staten Island Office.