The shoulder joint is one of the most active joints in our body. Its ability to move to a greater degree helps us tremendously in performing everyday activities such as reaching for objects, putting our clothes on, eating, exercising, and many more.
Moreover, flexible and healthy shoulders are extremely important as they help us increase the overall body strength. However, due to its unique ability of motion, the shoulder is particularly susceptible to injuries and developing severe shoulder conditions. Very often, the vast motion leads to a decrease in shoulder's stability which further results with increased risk of a shoulder injury.
Flavio Chauca had been experiencing uncomfortable recurrent shoulder instability for a long period of time. After suffering from a gruesome pain and limited range of motions, he decided to put a stop to his painful life.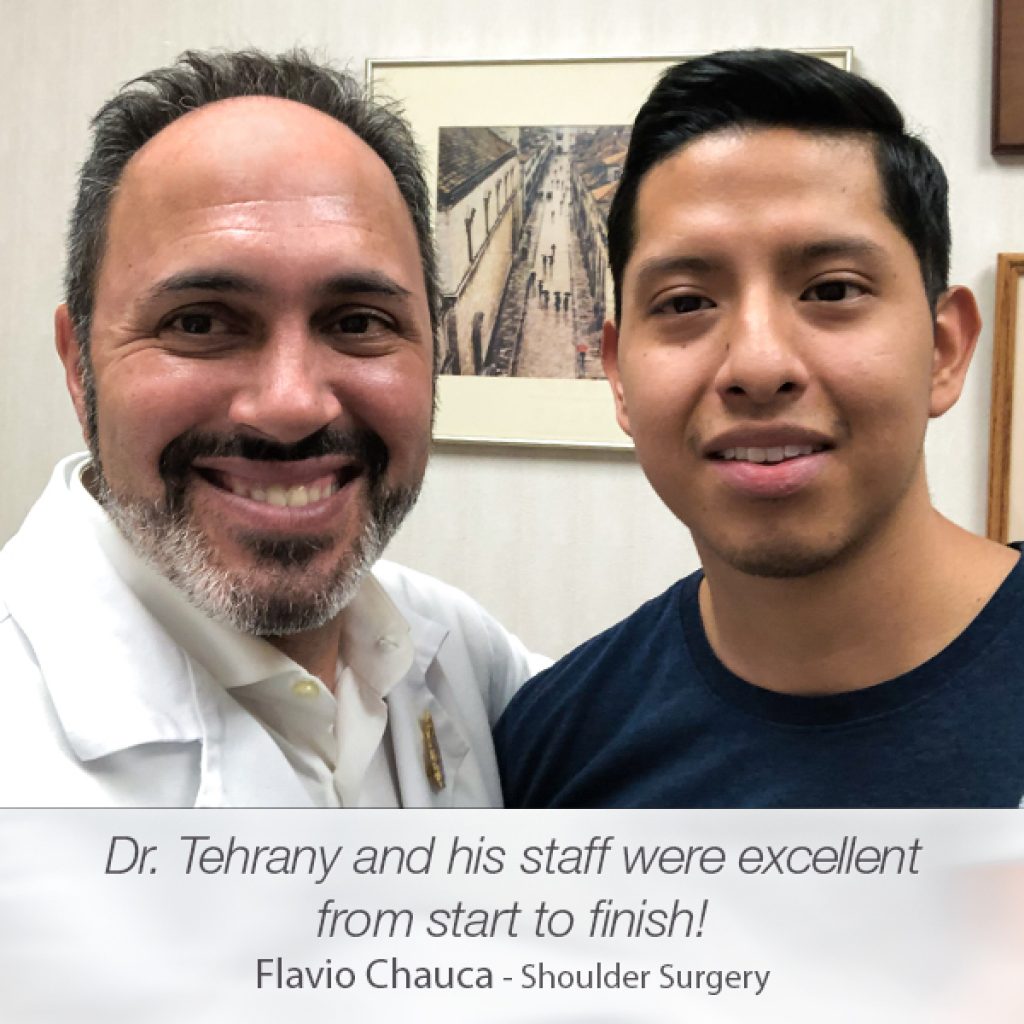 He reached out to us, and he had an appointment with Dr. Armin Tehrany, one of the top New York shoulder doctors. During the appointment, Dr. Tehrany gave Flavio enough time to describe the pain and discomfort in his shoulder. As an experienced and profoundly knowledgeable orthopedic doctor, Dr. Tehrany was able to easily recognize the symptoms and form diagnosis.
Due to the seriousness of the condition, Flavio and Dr. Tehrany together agreed to proceed with a shoulder surgery that was believed to restore the stability and strength to his shoulder.
However, as a result of the long-term problem, Dr. Tehrany had to perform several different procedures during the surgery in order to restore Flavio's shoulder. The procedures included arthroscopic infraspinatus tenodesis, anterior capsulorrhaphy and labral repair with three anchors, posterior capsulorrhaphy and labral repair with one anchor, subacromial decompression, and removal of loose bodies.
The surgery was successful and the outcome was outstanding. Six months after the shoulder surgery, Flavio was feeling better than ever. Thrilled to be back to a pain-free life, Flavio shared his words of gratitude on Google praising Dr. Tehrany and his team of devoted orthopedic physicians and associates.
"Dr. Tehrany and his staff were excellent from start to finish. I highly recommend him to anyone experiencing shoulder problems. After going over surgery details, I felt that it was best to get shoulder surgery done with him.

Six months later, I'm feeling better than ever! Dr. Tehrany is very knowledgeable and explained everything before surgery and after surgery."