meniscus tear
is a particularly common knee injury that can occur in people of all ages. The causes of meniscus tear include an injury or trauma to the knee, but this annoying knee condition can also occur as a result of the aging and degenerative process. There is a variety of treatment options available to those suffering a meniscus tear. At
Manhattan Orthopedic Care
, we always do a careful and thorough examination of the patient prior to recommending an adequate treatment. As an immensely experienced and profoundly knowledgeable orthopedic doctor,
Dr. Armin Tehrany
always recommends the most appropriate treatment based on the severity of the injury, patient's age and health status, and their everyday activity level. These aspects are extremely important because they play a vital role in patient's ability to heal completely and successfully. James Moore visited Manhattan Orthopedic Care with an agonizing pain in his knee that badly affected his daily activities and his normal life. After the exhaustive examination, Dr. Tehrany diagnosed James with a meniscus tear that required an immediate attention.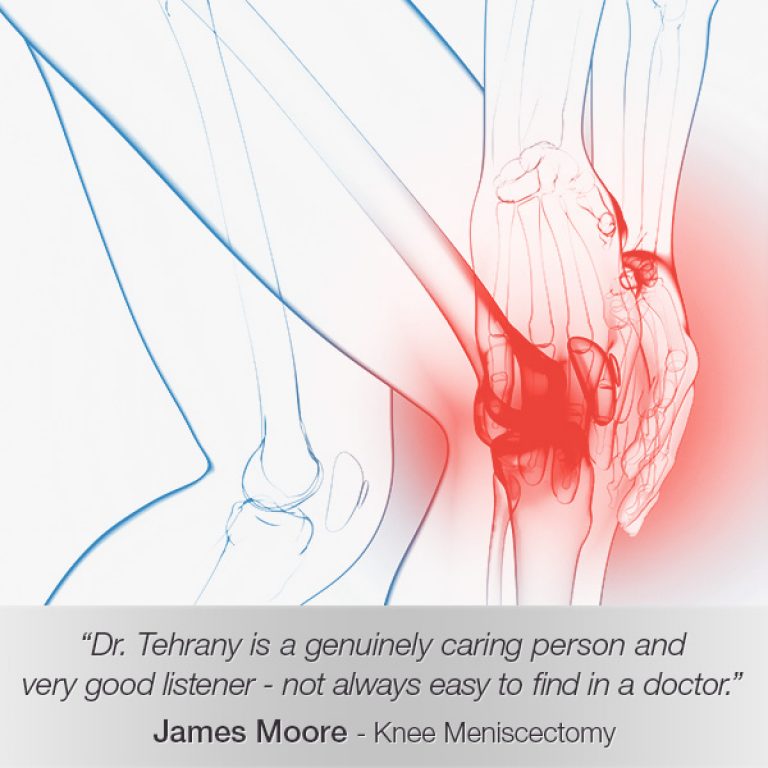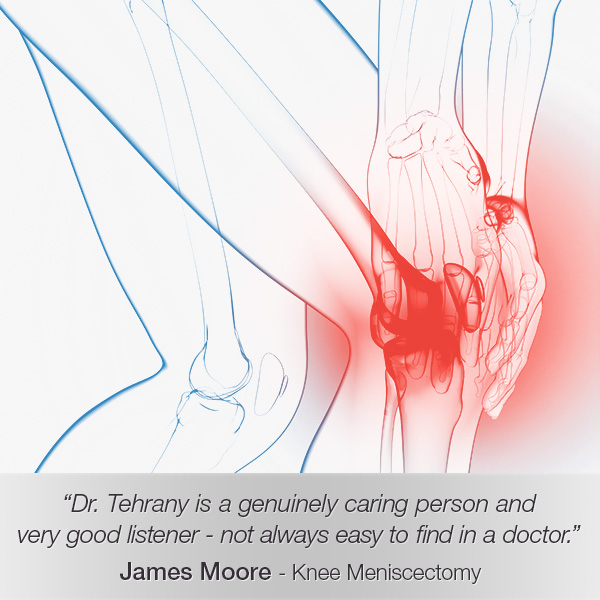 Based on his vast orthopedic experience, Dr. Tehrany recommended knee meniscectomy to repair James' knee.
Knee Meniscectomy
is a standard treatment provided to most patients that suffer from a partial or complete meniscus tear. The
knee meniscectomy
was performed arthroscopically. During the surgery, Dr. Tehrany removed as little of the torn meniscus as possible, and he smoothed the remaining meniscus edges into the stable rim. Right after the surgery, James begun the rehab process which included plenty of rest, slow walking, and a few selected exercises. His recovery was smooth and relatively quick, however, James needed a bit more time than usual to resume his daily activities. Satisfied with the surgery outcome, James shared his positive experience with the team at Manhattan Orthopedic Care, highlighting Dr. Tehrany's exceptional bedside manners that immensely helped James to feel comfortable and calm during the entire surgical process.
"It has been some time since my knee surgery (almost 2 years), and overall, there is less severe and persistent pain, and a general return to more normal life since Dr. Tehrany did the operation. The interaction with everyone in his office, and especially Dr. Tehrany himself, was always extremely professional, patient, kind, informative, efficient, and caring. Some of the personal/insurance billing was a bit confusing, and some of the post-care equipment and medications seemed superfluous and exorbitant (I continue to receive audit forms from my former insurance company about various elements related to this surgery) – but clearly this is a doctor and office whose clientele expects the best, spare no cost. I am grateful for Dr. Tehrany's care, and while his practice is obviously very business savvy, he is a genuinely caring person and very good listener – not always easy to find in a doctor."
This patient was treated at the Manhattan Office.