Knee arthroscopy is a simple, non-invasive procedure that enables orthopedic surgeons to diagnose and treat knee conditions. During knee arthroscopy, the surgeon makes minor cuts on the knee and inserts a tiny camera to deeply examine the knee joint. A monitor that is connected to the camera provides a detailed view of the knee joint. As a result, the surgeon is able to clearly understand the condition that the knee is in, and therefore, provide a proper treatment procedure.
Hannah Lee visited Manhattan Orthopedic Care due to a pain in her right knee. She was fortunate to have Dr. Armin Tehrany, one of the best orthopedic surgeons in NYC, examine her. She was evaluated for patellar subluxation and a potential meniscal tear. The MRI showed no evidence of disruption, distortion of meniscus' shape or tears. However, Dr. Tehrany, led by his impressive experience and profound knowledge, recognized the urgent need for knee arthroscopy, which was immediately scheduled.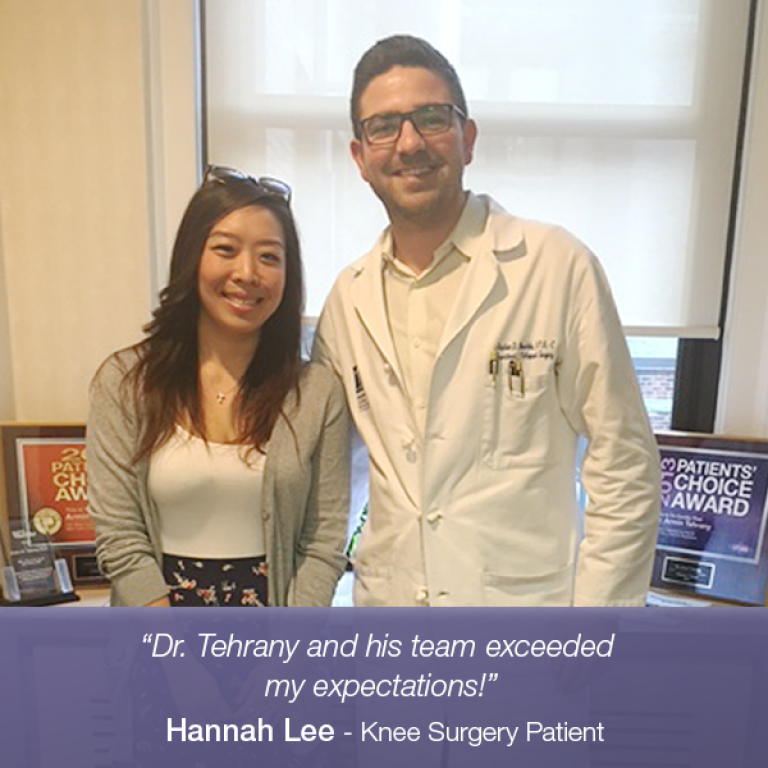 The surgery went amazingly well. Dr. Tehrany and his team treated Hannah with a superb care and professionalism, due to which Hannah experienced a smooth recovery.
Thankful for the outstanding treatment she was provided with, Hannah was inspired to share a positive review for Dr. Tehrany and the staff at Manhattan Orthopedic Care on Google+.
"Dr. Tehrany and the team were great at explaining my surgery and making me feel at ease. I was confident that they would help get me back to where I needed to be. They also were able to refer me to a great physical therapy clinic, and followed up with me on a regular basis to make sure my recovery was going well. They definitely exceeded my expectations and I highly recommend!"
Thank you, Hannah, you are a lovely lady and we are happy to have as one of our dear friends!
This patient was treated at the Manhattan Office.