Manhattan Orthopedic Care
so far, but Dianne Hutchinson has written one that truly moved us. She had
meniscus repair surgery
on both knees. We provided the best orthopedic care we can and made her stay very comfortable, for which she sent her impressions.  Her praise is an inspiration for us to continue providing the best possible care and help our patients enjoy life without any pain or complications.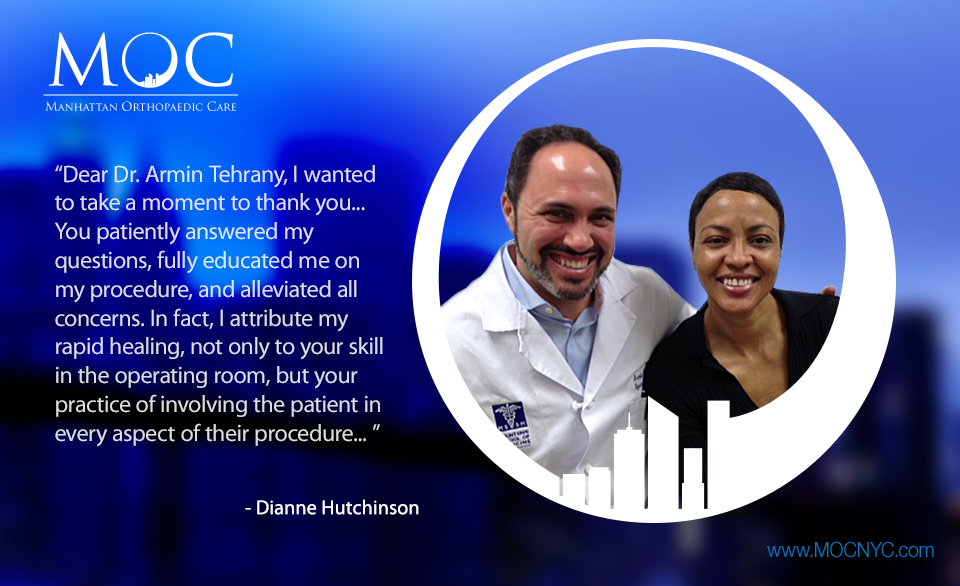 "Dear Dr. Armin Tehrany, I am usually not given to writing reviews, but I wanted to take a moment to thank you, the fantastic staff at Manhattan Orthopedic Care, as well as the staff of Surgicare of Manhattan for the wonderful and comprehensive care I have received. From my initial office visit, to my surgery (Knee Meniscectomy, meniscus repair surgery on my left knee, and recently on my right) and after-care, I have been so impressed with the professionalism, thoroughness, friendliness, care and commitment exhibited by you, and your staff members to your patients.", wrote Mrs. Hutchinson. "You patiently answered my questions, fully educated me on my procedure, and alleviated all concerns. In fact, I attribute my rapid healing, not only to your skill in the operating room, but your practice of involving the patient in every aspect of their procedure. Yours is a holistic approach; one that is not always present in medical offices, but one that sets you apart in this patient's eye. My knees are feeling good, and I am extremely grateful! Best to you, and your staff!"
Thank you, Mrs. Hutchinson, for the kind words. 🙂
This patient was treated at the Manhattan Office.