Beverly Gamble, a knee surgery patient at Manhattan Orthopedic Care, joined the army of our happy and satisfied friends after her first knee surgery. The second surgery only made us closer friends.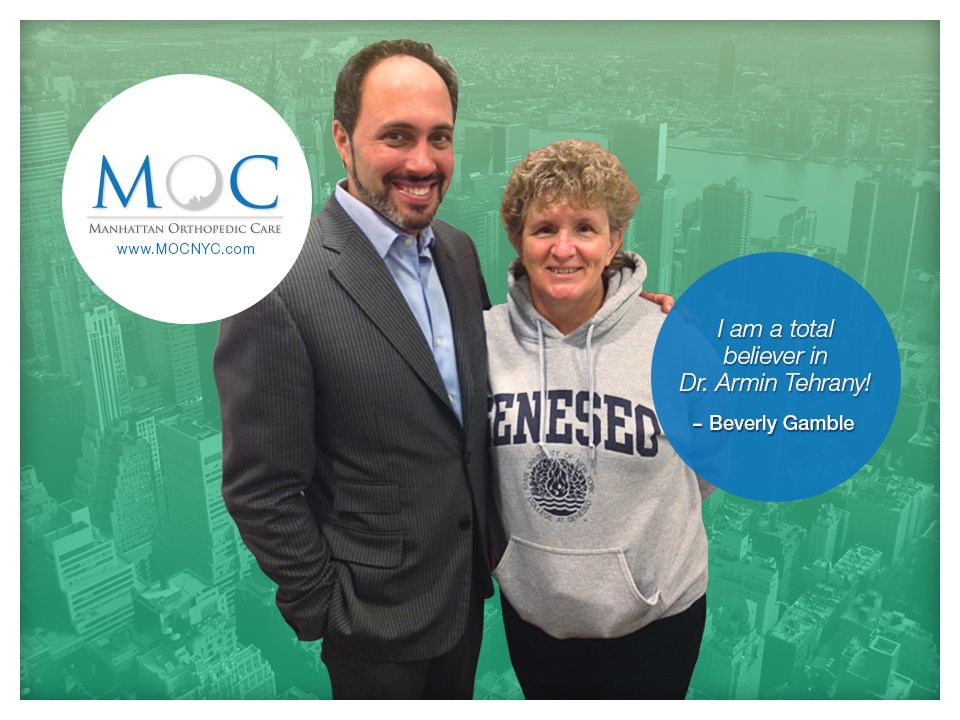 Friendly, interested and caring. These are the three words that Beverly Gamble used in her
Yelp review
for a knee surgery to describe her experience with
Manhattan Orthopedic Care board-certified physician Dr. Armin Tehrany
. Mrs. Gamble was introduced to Dr. Tehrany, by recommendations from other happy knee surgery and shoulder surgery patients, who told her that Dr. Tehrany is the only orthopedist who can help her regain her life back after two knee surgeries.
"I was recommended to Dr. Tehrany by several patients at my physical therapist's office, who all said that he was the only orthopedist that they would use. My first impression was that  Dr. Tehrany was friendly and very interested in the well being of his patients. He did a complete exam and reviewed all of my options. I told him what I needed to live a full life and he made his recommendation. He also explained all of the risks in plain English and what I needed to do to participate in my own recovery."
It's was not only Dr. Armin Tehrany, MOC's
knee specialist
, who showed the greatest of professional care to Mrs. Gable, but the whole MOC's staff followed up, trying to make her stay as comfortable as possible. From the surgeries done on time to the equipment delivered to her when needed, everything was done to make Mrs. Gamble be happy and start with her recovery and get stronger. As Mrs. Gamlbe said, "it's a well-oiled machine".
"I had my knee surgeries (both of them had to be done) performed at SurgiCare of Manhattan and have never been so impressed with a staff in my whole life. Everyone knew who I was and what I was there for. There were absolutely no glitches. My surgeries were performed on time and the equipment that I needed for recovery was delivered when it was supposed to be.  This is a well oiled machine.  In closing, I am a total believer in Dr. Armin Tehrany. I have had a great recovery and am back to all of my activities. I am still following Dr. T's advice and am proceeding with caution but I feel stronger then I have in years.  Go no further, Dr. Armin Tehrany is the answer."
This patient was treated at the Staten Island Office.