SLAP Tear
is an injury to the shoulder labrum, a ring of cartilage that surrounds the shoulder socket. The
SLAP Tear Repair
is a shoulder procedure performed to repair a tear of the biceps tendon at the point where it connects to the labrum. The injury to the superior labrum is typically caused by acute trauma or repetitive shoulder motion that places an immense pressure to the shoulder joint. In most patients, the SLAP tear occurs as a result of a fall on an outstretched arm, forceful pulling of the arm, and shoulder dislocation. In people over 40 years of age, the SLAP Tear can be a result of wearing down of the labrum which is a normal process of aging. Regardless of the cause, the SLAP Tear requires immediate medical attention in order to prevent additional severe complications.
Jonathan's SLAP Tear Repair experience
Last year, we had the honor of helping Jonathan Alexander who suffered a painful SLAP Tear. During his appointment with
Dr. Armin Tehrany
, a
top New York shoulder surgeon
and an Honorary NYPD Surgeon, Jonathan felt confident in Dr. Tehrany's knowledge and skills and accepted Dr. Tehrany's recommendation for an arthroscopic
SLAP Tear Repair
.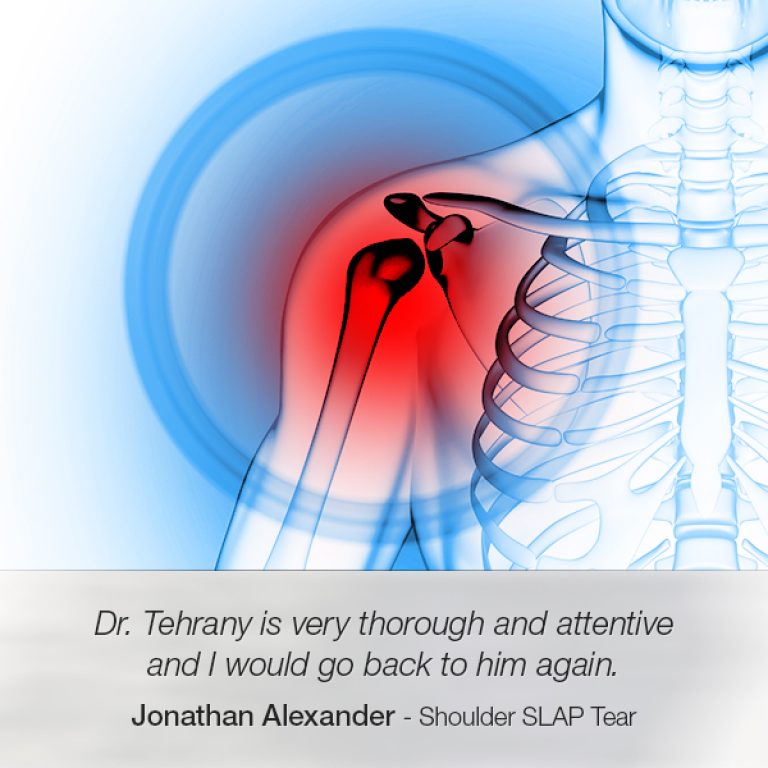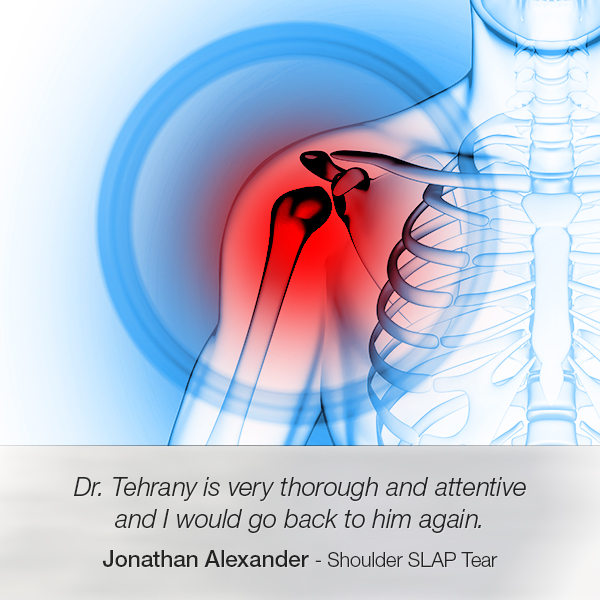 This procedure is far simpler than open shoulder surgery. Patients who undergo arthroscopic SLAP Tear Repair experience minor pain, fast recovery, and complete shoulder rotation. As Jonathan says, his recovery was flawless.  The amazingly dedicated team at Manhattan Orthopedic Care and his obedience to every recommendation provided by Dr. Tehrany helped speed up the process. Five months after the surgery, excited to be back to his fullest life in no time, Jonathan shared an endearing review on Google. His words left us smiling and feeling motivated to continue providing the best orthopedic care we can.
Dr. Tehrany repaired a SLAP tear in my right shoulder 5 months ago. Dr. Tehrany is very thorough and attentive and I would go back to him again. His team, both the medical and administrative staff, are also very helpful. Multiple times they have accommodated me with last minute changes to my appointments. I think it's also worth noting that my post-op experience was flawless. I had very little pain and was back to work within a few days.