Knee arthroscopy is a surgical procedure performed to diagnose and treat a wide range of knee problems. During the knee arthroscopy, the orthopedic surgeon inserts a small camera called arthroscope into the knee joint. The camera allows the surgeon to fully inspect the entire interior structures of the knee joint.
While most knee procedures require large incisions, the knee arthroscopy requires small, almost invisible incisions due to the thin surgical instruments used during the procedure. As a result, patients are able to leave the surgery center the same day and they experience less pain, less joint stiffness, and fast recovery time.
No matter how complex or simple the surgical procedure is, we always strive to exceed patients' expectations providing a comforting and compassionate environment that enables the surgical treatment to seamlessly smooth.
When Mrs. Gay Kratzer visited Manhattan Orthopedic Care, she was pleasantly surprised by the friendly demeanor she was given by every staff member. After her initial examination, Dr. Armin Tehrany recommended proceeding with knee arthroscopy in order to obtain a detailed visualization that will reveal the source of pain in Mrs. Kratzer's knee.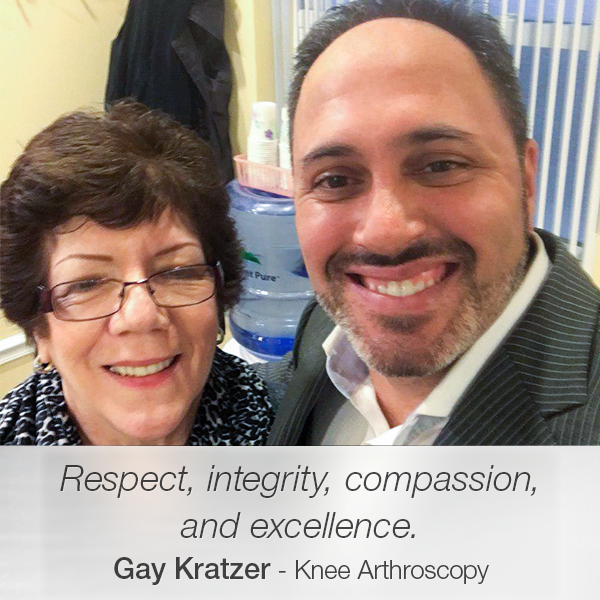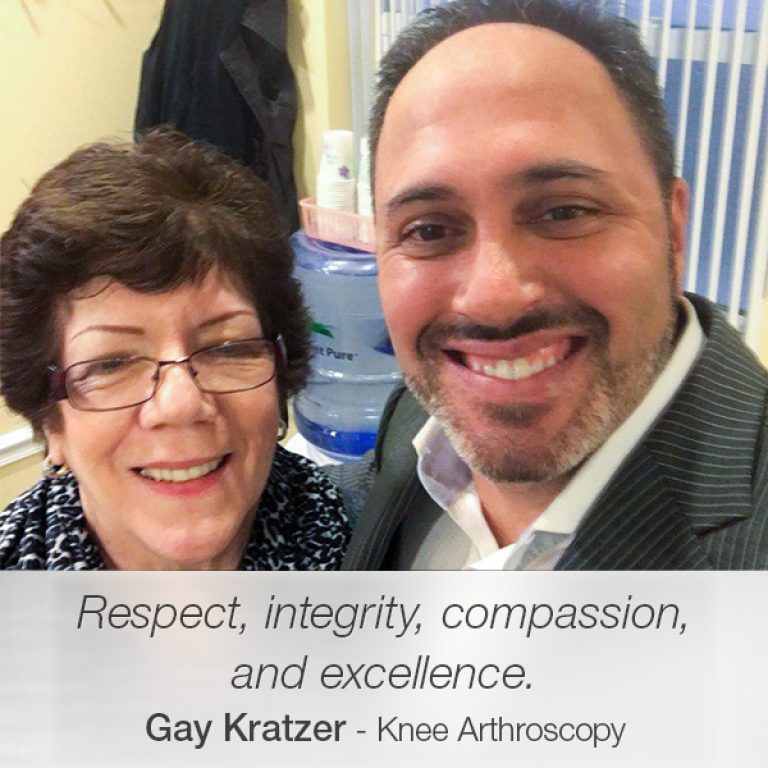 During the procedure, Dr. Tehrany was able to diagnose Mrs. Kratzer with a meniscal degeneration. He discovered a minimal painful tear of the free margin of the body in the meniscus which turned out to be the source of the tedious pain Mrs. Kratzer experienced.
As a remarkably skilled orthopedic surgeon, Dr. Tehrany performed the surgery and helped Mrs. Kratzer get back on her feet experiencing no pain and stiffness in her troubling knee. She was able to return to her full, unrestricted activities within a couple of days after the surgery.
Thrilled with the professional and positive care she experienced at Manhattan Orthopedic Care, Mrs. Kratzer wrote a candid review that truly motivated us to continue providing the superb orthopedic care that significantly improves the lives of our patients.
"Respect, integrity, compassion, and excellence!"