Manhattan Orthopedic Care
. He had an appointment with
Dr. Armin Tehrany
because of an agonizing pain in his knee. The extensive examination revealed that Justin had a
torn medial meniscus
and chronic re-tear in his right ACL.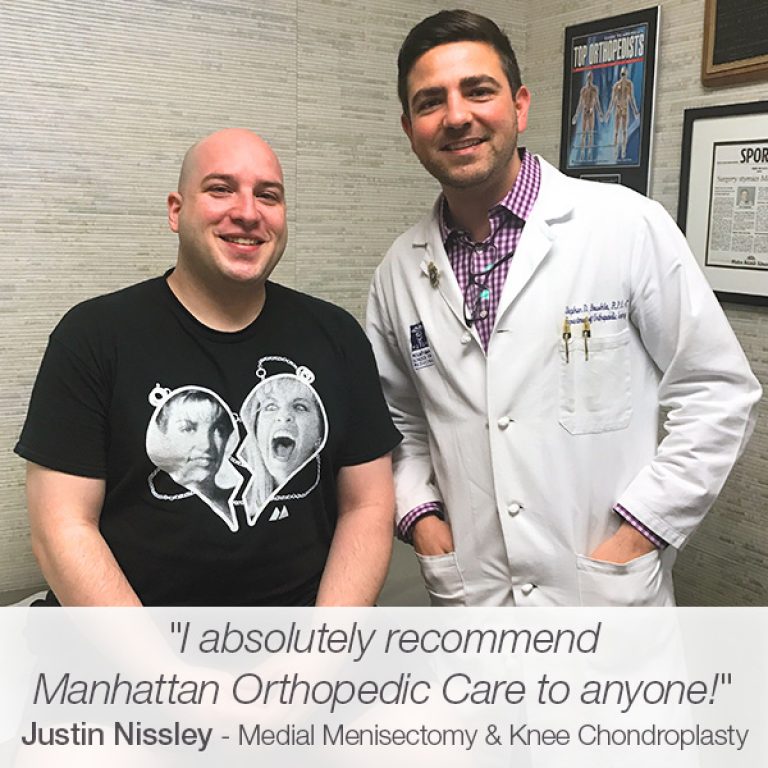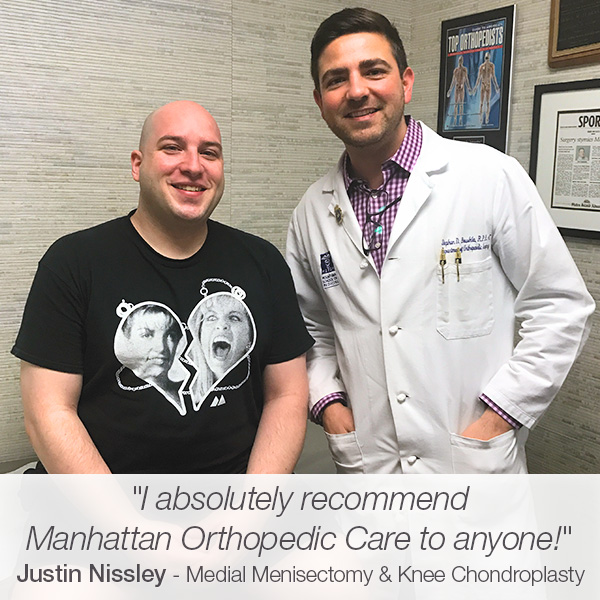 As a compassionate medical professional, Dr. Tehrany never misses the opportunity to thoroughly educate his patients on their orthopedic condition and the available treatment options. Led by his vast experience in knee treatment, Dr. Tehrany knew that Justin's knee had suffered more than what the scans revealed, so he recommended proceeding with a
diagnostic knee arthroscopy
. Prior to scheduling the
knee surgery
, Dr. Tehrany had a quiet conversation with Justin where he exhaustively explained the steps and the details of the knee surgery. The conversation helped Justin to feel comfortable with the decision to undergo the knee surgery, and more importantly, he felt confident that Dr. Tehrany was the right doctor to help him enjoy pain-free life again. Because of the candid communication and genuine care, Justin felt Dr. Tehrany was a greatly reliable knee doctor to improve his knee health. During the
knee arthroscopy
, Dr. Tehrany discovered chondromalacia of patella and a medial compartment that also required an immediate attention. At the beginning of the surgery, Dr. Tehrany performed partial medial meniscectomy and chondroplasty, and he also smoothed the remaining meniscus to a stable rim. He, then, continued with the patellar chondroplasty which was successfully completed. At the end, Dr. Tehrany addressed the re-tear of the ACL. The knee surgery was followed by a stable recovery that helped Justin regain his knee strength in no time. Thrilled with the surgery outcome, Justine was happy to share his positive experience with Dr. Tehrany and the entire team at Manhattan Orthopedic Care with a candid Google review.
"Dr. Tehrany and his staff are excellent. I had a really great experience having him do my knee surgery. He was helpful in my understanding of what needed to happen, and really helped allay my worries. I absolutely recommend them to anyone who can use his talents."
This patient was treated at the Manhattan Office.