Labrum tear
occurs as a result of a fall, a direct blow to the shoulder, or as a result of intense repetitive overhead motions. As a mild shoulder injury, labrum tear is typically treated with rest, anti-inflammatory medications, and physical therapy. However, in more severe cases, the best treatment is a combination of minimally invasive surgery to repair the labrum, physical therapy, and a good rest. Blair Pyle, a gym enthusiast, visited
Manhattan Orthopedic Care
because of the uncomfortable stiffness and the terrible pain in his shoulder. During his weightlifting training in the gym, he dislocated his shoulder a few times. As a result of the shoulder dislocation, Blair tore his
labrum
.
Dr. Armin Tehrany
diagnosed Blair with a labrum tear after a complete evaluation of both Blair's shoulder and the imaging tests. In order to repair the labrum, Dr. Tehrany recommended a simple
arthroscopic labrum repair
.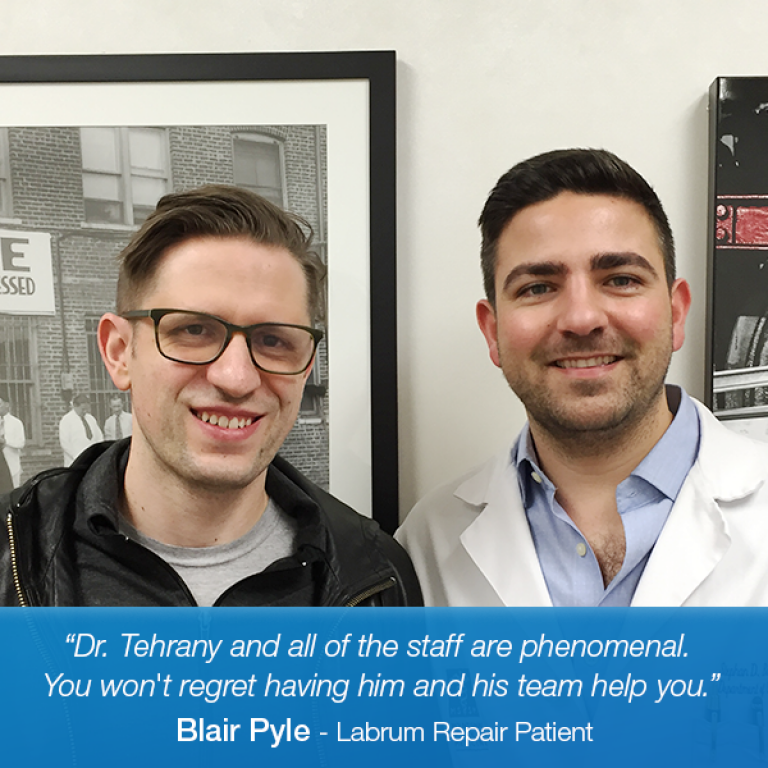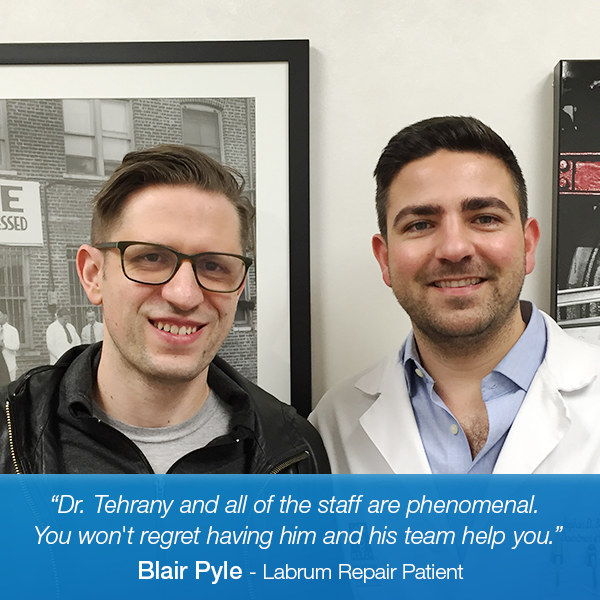 "Dr. Tehrany and all of the staff are phenomenal. Here are the details on my experience. I needed labrum repair on my right shoulder because I managed to dislocate it a few times over the years. I genetically have loose shoulders. Dr. Tehrany took interest in the issue right away, ordered the appropriate imaging tests, and discussed insurance and payment options. He was very open, honest, and straightforward with the whole process – including walking me through the procedure. I opted to go to his New Jersey Out-Patient Surgical Center. The office sent a car that took me there and back home with no issues."
As one of the best shoulder specialists in New York, Dr. Tehrany knew exactly what Blair's shoulder needed. After the surgery, Dr. Tehrany recommended a SPEAR physical therapy, which tremendously improved Blair's shoulder.
"The surgery went very well (this is now one-year post-operation). I am told that my recovery went exceedingly well and quickly compared to others. I don't know if this is my own biology or the amazing work of Dr. Tehrany and his staff, or both, but it was all very good. Post care required me to be in a shoulder brace for 4 weeks and I was in physical therapy for several months after. They recommended SPEAR physical therapy which were also really great. In terms of pain management, I was given pain pills which I didn't take many of. I opted for this odd ice contraption that I paid for. It did much better in managing the pain than the prescription pain pills. One year out I have no pain, and only had pain for the first maybe three months (I am having a difficult time remembering). After that, it only hurt if I slept on it wrong, or pushed too hard at the gym. It was maybe six months or longer before I was approved to start working out again. Work with Dr. Tehrany on this, because I can't remember the exact dates – and everyone is different."
Now that the shoulder agony is over, Blair truly enjoys his gym time since he is able to do the weightlifting the way he wants to do it. Prior to the surgery, he had a limited range of motions due to his bad shoulder which disturbed his physical activities in the gym.
"I don't play sports or anything, but I do a lot of weight training at the gym. I am 5'10" and prior to the surgery, I was about 143 pounds. I was fairly lean, and it was difficult for me to put on muscle mass because of my bad shoulder because I was limited in what I could do weight wise. Although, it has been very important for me to remain fit. Now, a year after surgery, I have been able to hit the gym hard and have also altered my diet to help gain more weight. I now am a healthy 160 and it would not have been possible for me without this shoulder surgery. I am grateful to the staff at Manhattan Orthopedic Care for repairing my shoulder so that I can continue to remain fit as I get older."
Blair shared his positive experience with Dr. Tehrany and the team at Manhattan Orthopedic Care and expressed his gratitude with a lovely review. Moreover, willing to help new patients achieve perfect results after their treatment, Blair also shared a couple of notes that highlight the amazing work Dr. Tehrany and his team do.
"A couple of notes. These are not complaints, but just things that a new patient should be aware of:

Dr. Tehrany is very nice. Though, to myself and my friend who accompanied me to my surgery, we both noticed he comes off as having a bit of an ego. The man did an amazing job and I think has the right to have a bit of an ego for the quality of his work. But if that sort of thing might normally turn you off, please don't let it. You won't regret having him and his team help you.
The office is very clean and modern. If you are expecting imaging equipment onsite, do not. Space is at a premium in Manhattan, and you will need to go elsewhere for MRIs.
This patient was treated at the Manhattan Office.