SLAP tear
caused by a trauma to the shoulder is a frequent cause of instability and pain, and a constant source of discomfort in performing day-to-day activities. The initial treatment of such an injury may include rest, anti-inflammatory medications, cortisone injections and physical therapy but, unfortunately, in some patients' cases, conservative treatments don't always succeed. After two years of severe pain, upon trying every available treatment, and thoroughly examining all other options,
Dr. Armin Tehrany
, our top New York orthopedic surgeon, and his patient Larissa Dutikow, a caring medical assistant by vocation, decided that the best way to proceed in treating her injury is a
SLAP repair surger
y.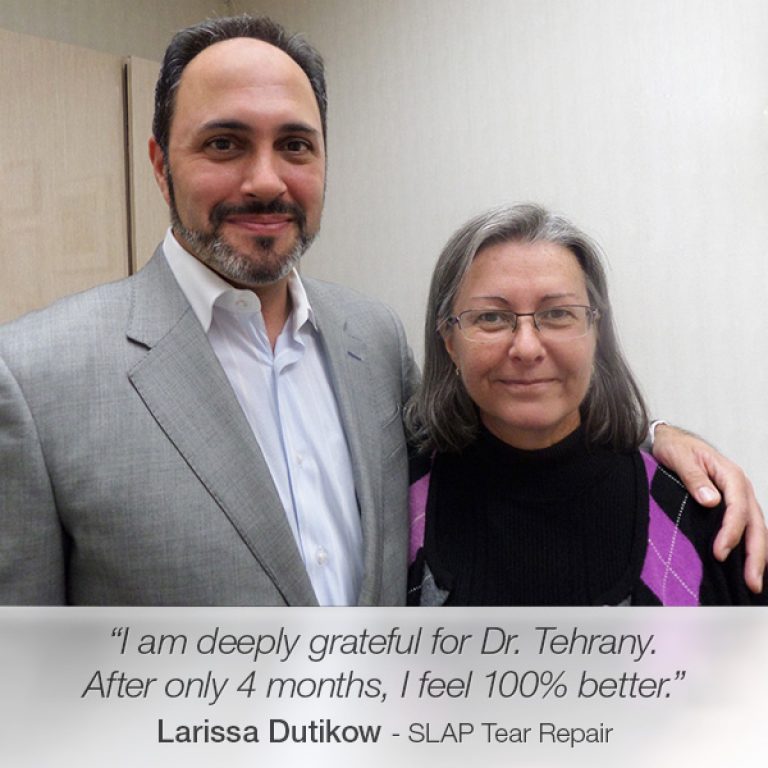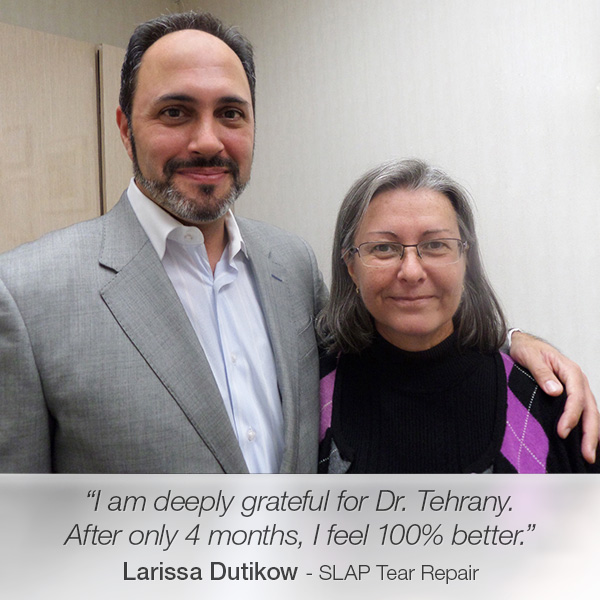 Dr. Tehrany caringly recommended a shoulder surgery to Larissa, led by his long-lasting experience and his thorough knowledge and understanding of the often unbearable symptoms of SLAP tear. With kindness and compassion, Dr. Tehrany and the orthopedic team at
Manhattan Orthopedic Car
e helped Larissa with her physical pain, in a time of her life when she and her family were going through the traumatic loss of her father. Larissa shared with us the joy of getting rid of the agonizing pain in the loveliest manner:
"I met Dr. Tehrany in April 2015, I had severe pain in my left shoulder. I lived with shoulder pain for 2 years and kept working. I was told I needed surgery for a SLAP tear and Dr. Tehrany explained everything in detail and I right away set up a date for surgery in June. I have an extreme amount of trust in Dr. Tehrany and his lovely staff who have all helped me and my family in a very traumatic event of losing my father at the time. I am deeply grateful not only for Dr. Tehrany but also his wonderful and caring staff for after only 4 months, I feel 100% better."
Thrilled to have helped this kind woman live a happy, pain-free life, Dr. Tehrany said:
"Larissa is a kind, motivated medical assistant that failed conservative treatment for her SLAP labral tear of her shoulder. I did a SLAP repair of her shoulder and she feels 100% better!!! She is a wonderful human being and I wish her the best."
We are thrilled to have helped Larissa with her SLAP tear in a difficult time of her life. A patient's words of gratitude give a truly remarkable meaning to our profession and are the best motivation for us to continue to provide the highest quality care and support to our patients.
This patient was treated at the Manhattan Office.