torn meniscus repair surgery
is the only solution.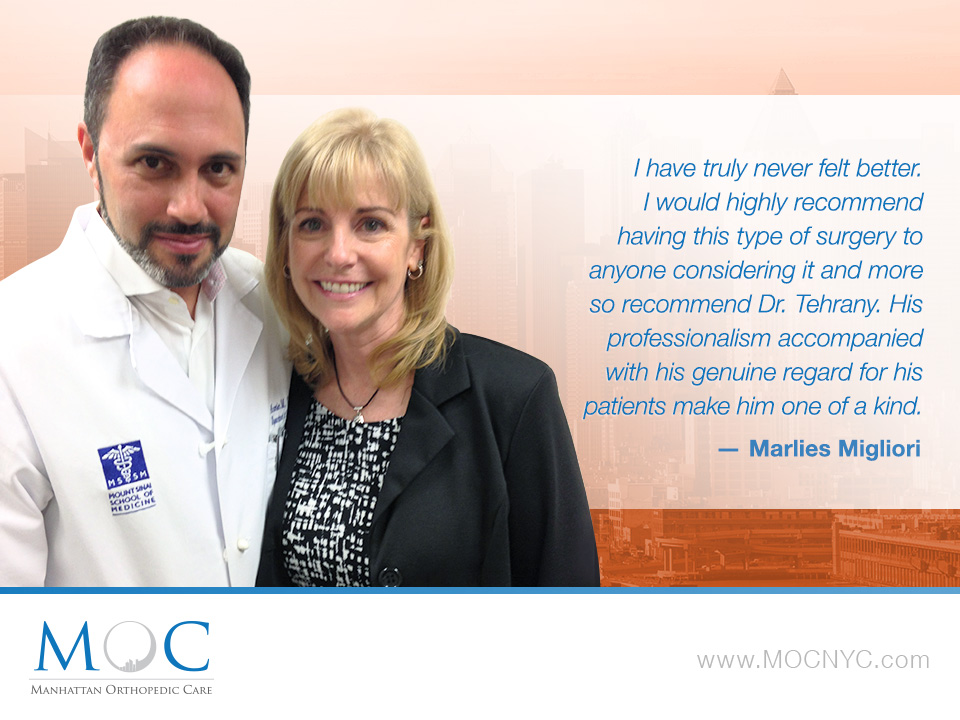 For an orthopedic knee specialist like
Dr. Armin Tehrany
, the
torn meniscus surgery
is a simple orthopedic procedure that helps patients regain their knee strength in no time. Dr. Armin Tehrany and his team were glad to have Marlies Migliori as a patient. She had a
meniscus surgery
11 years ago, and now she required revision, due to the terrible knee pain.
"Thrilled patient, originally from another state, that had her knee scoped years ago and needed a revision.  She never went to Post-OP Physical Therapy 11 years ago.  Just performed the revision she is doing fabulous!!!", says Dr. Armin Tehrany.
The torn meniscus repair surgery at
Manhattan Orthopedic Care
is performed arthroscopically, which enables patients to get back to their everyday activities a couple of days after the procedure. The recovery process is simple, smooth and carefully monitored by Dr. Armin Tehrany and his team.
"11 years ago I had a torn meniscus repair surgery on my left knee. I used crutches for 2 weeks and was out of work for 2 months. 6 weeks ago, Dr. Armin Tehrany performed the same surgery for me and I am amazed at the difference. I used a cane for 3 days, only needed 2 pain killers, went back to work in four days and feel like a new woman! Dr. Armin Tehrany, his office staff and the surgery center staff are fantastic. Every detail is handled by caring professionals.  I truly could not be happier with my results throughout the whole process! Thank you Dr. Tehrany! – Marlies Migliori"
This patient was treated at the Manhattan Office.