Knee meniscectomy is a minimally invasive arthroscopic surgery for torn meniscus cartilage. Depending on the severity of the meniscus tear, the knee meniscectomy is performed to either repair or remove the damaged meniscus.
The meniscus tear is an extremely common knee injury in athletic individuals, and oftentimes, the knee meniscectomy is the treatment that enables them to continue with their active lifestyle in the shortest amount of time.
When performed by an experienced and skilled orthopedic surgeon, the knee meniscectomy successfully restores the function and comfort to the knee, and enables the patient to continue with everyday activities in 4 to 6 weeks after the surgery.
Dr. Armin Tehrany, one of the best New York orthopedic surgeons and knee specialists, is specialized in minimally invasive arthroscopic surgeries, however, he strongly believes that patients deserve the treatment that provides superb results and comfort to the patient at the same time.
For that reason, as a caring professional, Dr. Tehrany thoroughly discusses the available treatment options with his patients comparing the results and effectiveness of each considerable option.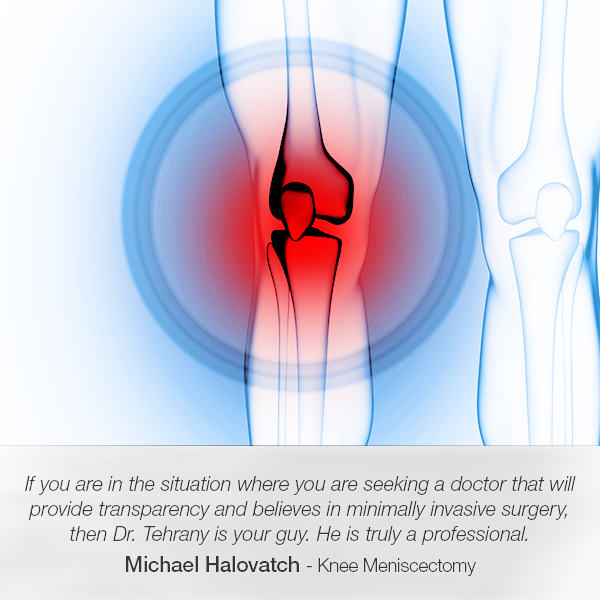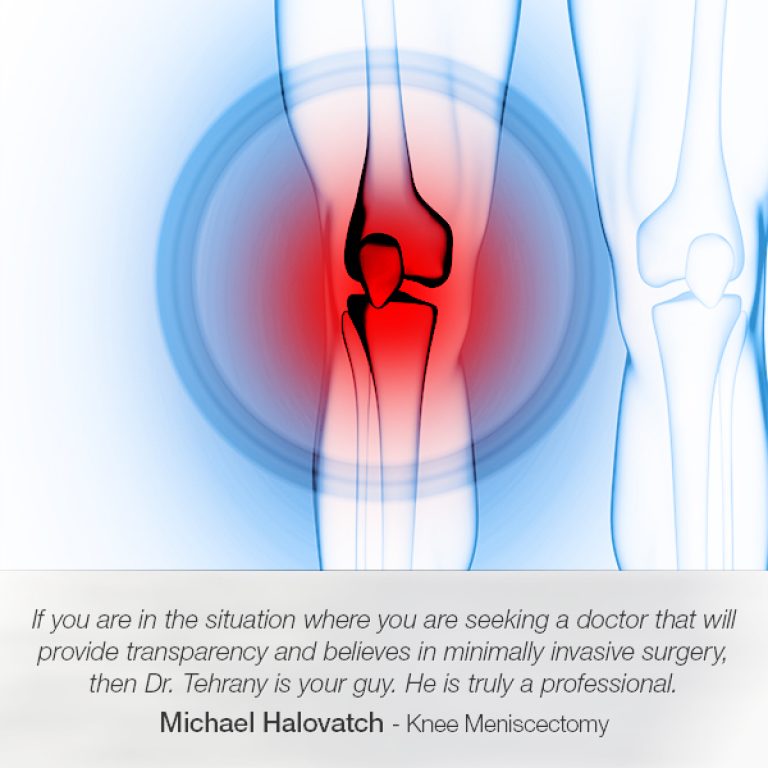 Before visiting Manhattan Orthopedic Care, Michael Halovatch had already received non-surgical treatment for his torn meniscus but unfortunately, the results were far from satisfactory. He was still experiencing terrible pain in his knee and he wasn't able to work with the same intensity as before injuring the knee.
Michael had an appointment with Dr. Tehrany and he was immediately impressed with Dr. Tehrany's professional demeanor.
He decided to proceed with the recommended knee meniscectomy because he strongly felt that Dr. Tehrany will perform the surgery with utmost attention and care. Not only that his expectations were met, but the care Michael was provided with was far beyond of what he looked for.
As a result of the outstanding experience he didn't expect to go through, Michael wrote a candid review and shared his gratitude to the entire MOC team that helped him recover sooner than he expected.
"I run a lot of long distance ultra-races, and have had tears in the past, but in January of 2017 I tore my right meniscus during a race and it wouldn't heal. I gave it 8 months of 'changing things up.' Yoga, strength work, stretching, etc.

I visited an orthopedist that I had a long-term relationship with, had an MRI, and he confirmed what I had. I gave it a few more months as my wife and I are very anti-medical procedures, preferring to let the body heal on its own.

I received 2 PRP injections as well, trying everything and anything to avoid surgery.

I continued to work out in a more modified fashion and was in pain but I dealt with it.

I was surviving, not thriving, so I decided to get a 2nd opinion. I did a lot of research online and that research led me to Dr. Armin Tehrany.

Mentally I was ready to get surgery as I just wanted this problem to go away, but I wanted to make sure the diagnosis was correct. Dr. Tehrany had a great personality from the first moment I met him.  He had great energy, was very transparent, and did a great job of laying out my options.  AT NO POINT DID HE PUSH ANY SURGICAL PROCEDURE ON ME. This is what I really valued.

On top of that, he let me know my financial options for any decision I made. I found this also comforting as many doctors I have visited in the past often shy away from this and then you are shocked in the mail with a large bill. I immediately knew I wanted Dr. Tehrany to conduct my surgery and he got me in very quickly (within 2 weeks and he would've done 1 week had I wanted it).

His outpatient facilities were top-notch and the procedure went better than I could have expected.  Within 48 hours I was receiving numerous phone calls on how I was doing. To come full circle, I still believe people should give their bodies every opportunity to heal on its own…don't rush things! But if you are in the situation where you are seeking a doctor that will provide transparency and believes in minimally invasive surgery, then Dr. Tehrany is your guy. He is truly a professional.

Good luck whoever reads this!"