Shoulder degenerative arthritis
is a condition commonly developed in older people or those who have suffered an injury or trauma to the shoulder. The
shoulder arthritis
occurs in the acromioclavicular joint, the point where the clavicle and the acromion connect. When the joint is affected by arthritis, it loses its mobility, and it affects the person's ability to perform the usual everyday activities. Unfortunately, the osteoarthritis often causes additional shoulder conditions such as
bone spurs
,
shoulder instability
, or
labrum tears.
The constant pain in the shoulder is the key symptom of the osteoarthritis. Even though the pain usually occurs while moving the arm and the shoulder, it can also occur during sleeping and resting, leading to sleepless and uncomfortably painful nights.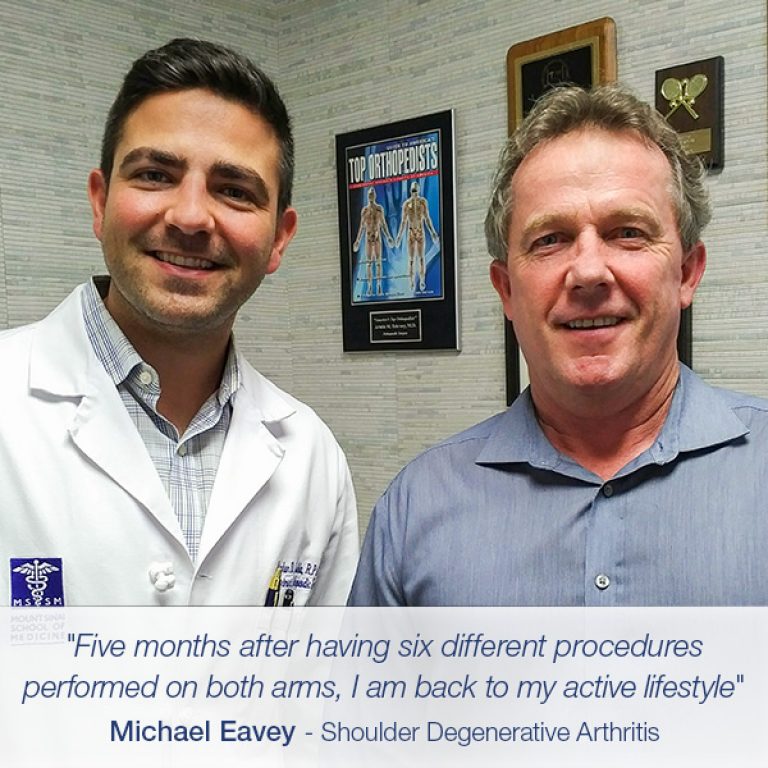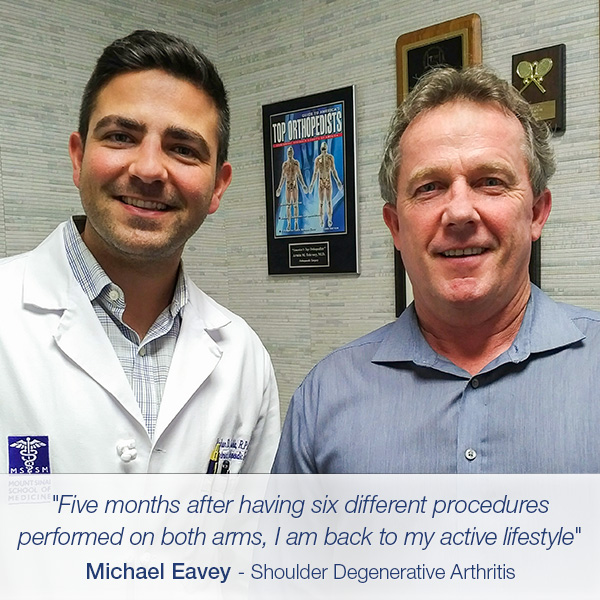 When Michael Eavey visited
Manhattan Orthopedic Care
, he had been tortured by a severe shoulder pain for over six years. After the long period of limited mobility and painfully sleepless nights, Michael decides to put a stop on the agony and get the proper treatment for his shoulder. He met
Dr. Armin Tehrany
for a consultation, and he immediately felt that he came to the right
shoulder docto
r.
"First let me say "Thank You" to Dr. Tehrany and his great team. Five months after having six different procedures performed on both arms, I am back to my active lifestyle, with a better range of motions than I have had in over six years, and now can sleep through the night without being awakened by painful shoulders every 30 to 40 minutes. Thank You, Dr. Tehrany and Team!!!"
Dr. Tehrany performed a thorough examination of Michael's shoulders, and after he carefully analyzed the MRI Scans and the X-Rays, he discovered that Michael had a degenerative shoulder arthritis. Unfortunately, due to the shoulder arthritis, Michael had also suffered bone spurs, torn rotator cuffs, and labrum fraying. As an orthopedic surgeon who selflessly devotes his efforts, skills, and knowledge to providing the most comfortable and most suitable treatment for each patient, Dr. Tehrany recommended a surgical treatment for both shoulders that will address all issues at once. Instead of going through six different procedures for both his shoulders, Michael had one procedure that repaired his osteoarthritis, bone spurs, rotator cuff tears and the frying labrum. Moreover, during the surgery, Dr. Tehrany had even successfully treated Michael's tendon inflammation.
"After years of trouble with both of my shoulders, I said enough. After several months of PT to improve my mobility pre-surgery, we moved on to the X-rays and MRI's which Identified everything from bone spurs, severe degenerative arthritis, torn rotator cuffs, labrum fraying and floating particles in both shoulders. Dr. Tehrany advised me on the best way forward. He helped me avoid multiple operations by doing six procedures on each shoulder during one sitting including taking care of my Shoulder tendonitis." I have talked to many people who have gone through only a fraction of what my shoulders required, and they were not as fortunate as myself on recovery time or results. I am confident this is a result of Dr. Tehrany, his team, and their expertise, as well as attention to detail and follow through."
Thank you, Michael, for your trust and kind words.
This patient was treated at the Manhattan Office.