Manhattan Orthopedic Care
because of terrible pain and stiffness in his shoulder that limited his range of arm motions and kept him away from his normal everyday activities.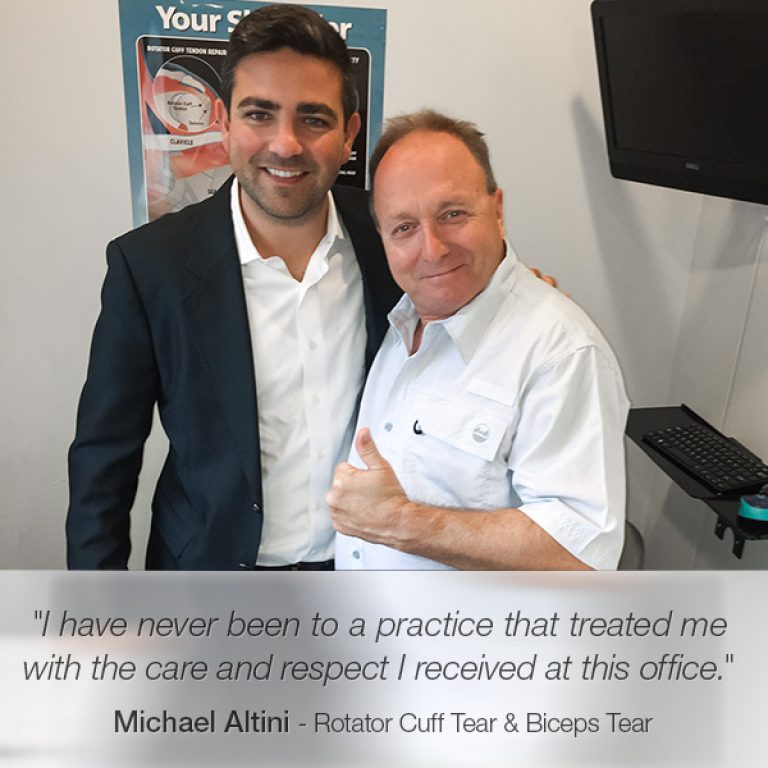 Michael had an appointment with
Dr. Armin Tehrany
, one of the top New York shoulder specialists, who thanks to his phenomenal diagnostic skills and profound orthopedic knowledge can easily recognize a painful and urgent condition in patients. During his initial examination, Michael learned that his shoulder suffered a multiple trauma caused by a
rotator cuff tear
,
biceps tear
in the shoulder, and
shoulder impingement syndrome
. As a compassionate and caring professional, prior to recommending the
shoulder surger
y, Dr. Tehrany thoroughly explained to Michael the condition his shoulder was in and provided detailed information on the available orthopedic treatments. Since Michael's shoulder required immediate attention, shoulder surgery was considered to be the most suitable treatment option at the moment. Dr. Tehrany and his team walked Michael through the details of the entire surgical process and helped him feel comfortable and confident with the surgery outcome. His surgery was immensely successful. Dr. Tehrany repaired the rotator cuff tear, as well as the biceps tear. He also performed shoulder impingement surgery to remove the bursa and trim back the acromion bone that allows for normal pain-free motion. Satisfied with the surgical outcome and the spotless attention and care Dr. Tehrany and his team provided, Michael wrote a short yet genuine review on Google.
"I have never been to a practice that treated you with the care and respect I received at this office. They put the care and caring. I would recommend them to everyone."
This patient was treated at the Staten Island Office.