ACL Reconstruction
is a procedure to repair damage to the anterior cruciate ligament. The ACL connects the front top of the tibia (the lower leg bone), to the rear bottom of the femur (the thigh bone). As a result of knee's continuous activity, the ACL is one of the most commonly injured ligaments in the knee joint, and it can severely impact a person's life.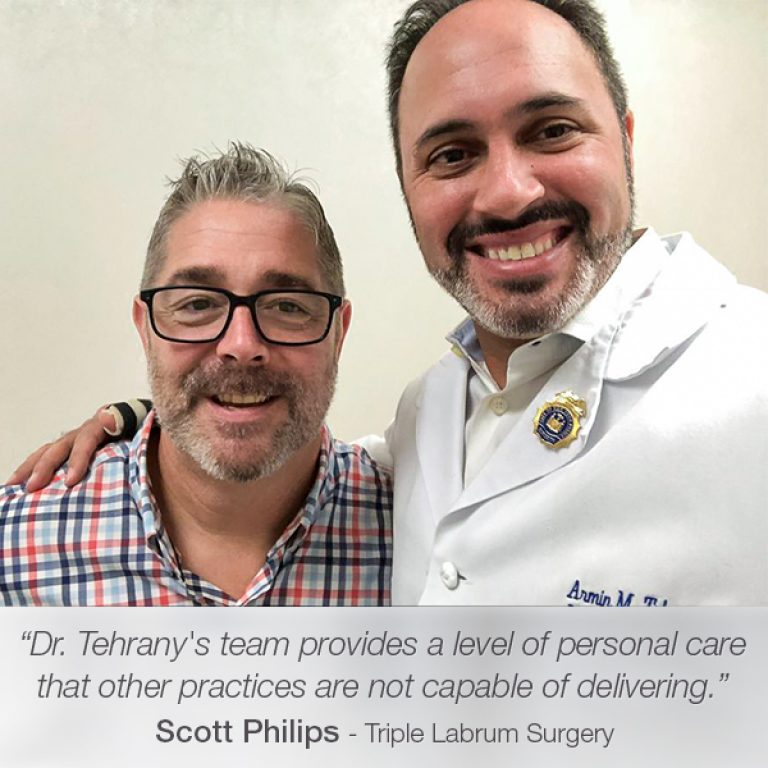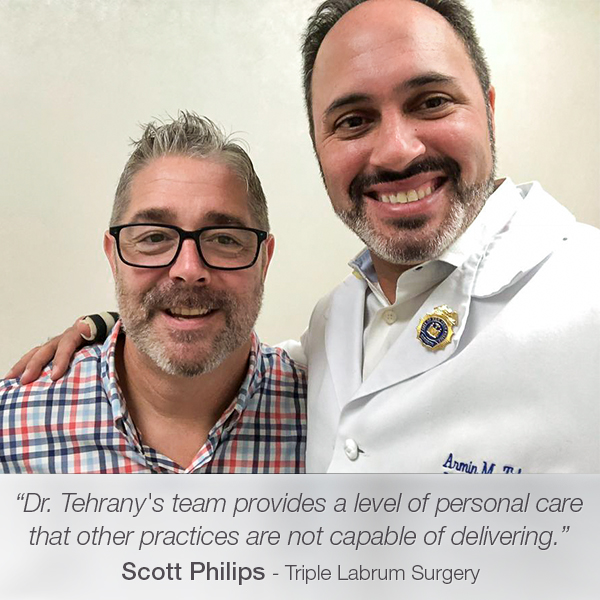 Scott Philips visited
Manhattan Orthopedic Care
due to pain and instability in his knee. Naturally, Scott was annoyed by the pain and overwhelmed by the fact that his knee required a surgical treatment to repair the
ACL tear
.
Dr. Armin Tehrany
, a knee surgeon with five-star reviews his friendly and supportive demeanor, together with his team created a hospitable environment for Scott to calmly go through the surgical procedure. Elated with the surgery outcome and surprised that the team exceed his expectations, Scott decided to share his experience with a review that cordially carries his gratitude and post-surgery exuberance 🙂
"Dr. Tehrany replaced my torn ACL and repaired my MCL. I chose b/t Dr. Tehrany & a highly recommended HSS surgeon that 6 months previously replaced a torn ACL for a close friend. I chose Dr. Tehrany because his practice was more intimate and the surgery, the operating facilities, and the forthcoming recovery all appeared bespoke and personalized with a staff and supporting organizations focused on my personal needs and recovery. I am elated with the results that Dr. Tehrany and his team delivered. My surgery was as positive an experience as surgery could/can be. The facilities were fantastic and there were no long wait times. My scars are incredibly small versus my expectations. Overall, the experience was better than anticipated in terms of the quality of the medical care and the follow-on support. Dr. Tehrany's team provides a level of personal care that other practices are not capable of delivering due to their respective size. Now, I'm not sure if all/any of this can be attributed to Dr. Tehrany and his team, but my recovery has been UNBELIEVABLY FAST. Today is 2 weeks post-surgery to the day. I walked from Grand Central to my office without crutches simply using the knee brace. My knee flexes to 105 degrees. I am not in pain. I am sleeping through the night sans brace as of last night. My dedicated Physical Therapist claims my recovery is "ahead of schedule." By comparison, my close friend who went to HSS for her ACL/MCL didn't reach this stage of recovery until week 5 post operation. Is my more rapid recovery because I chose to go with Dr. Tehrany and his team or is it luck or some other circumstance? I don't know. But, my good friend is an accomplished tri-athlete who took her post-surgery PT and recovery activities seriously – and I'm in a heck of a lot better shape than she was in a similar post-surgery period. For those who are looking for a bespoke and personal care plan I unequivocally recommend Dr. Armin Tehrany and his outstanding Team for your ACL needs."