knee injuries
while playing basketball. Knee injuries are especially common among recreational basketball players. The sudden stops, high jumps, and the impulsive changes in direction put an immense pressure on players' knees, making them prone to injuries.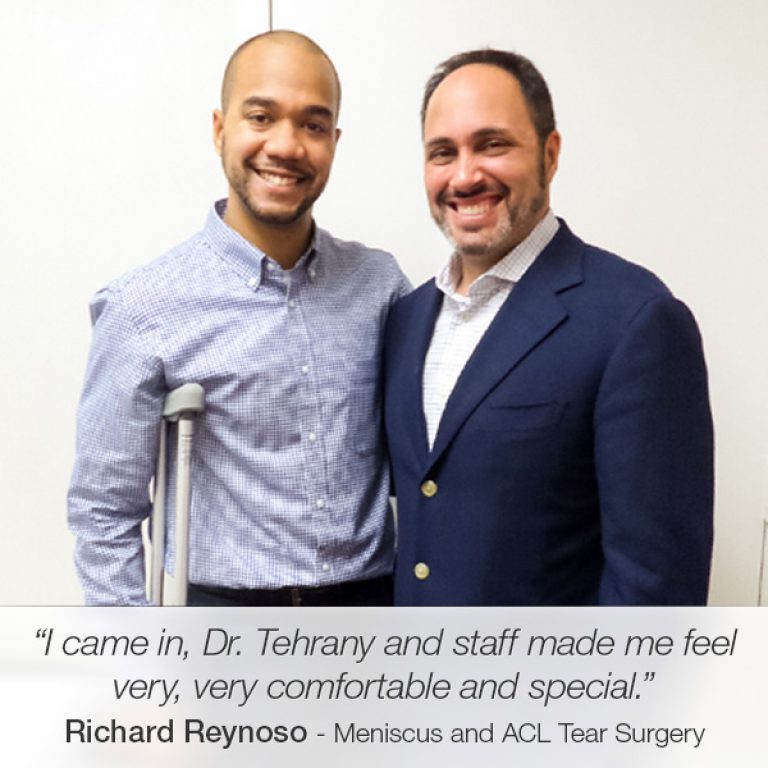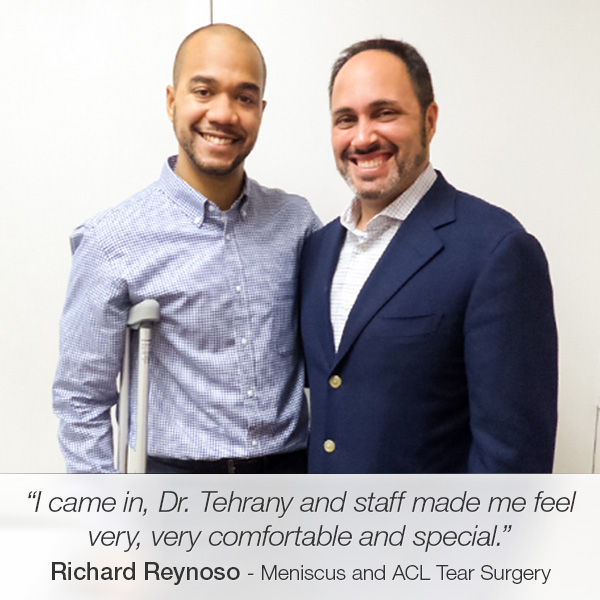 Richard Reynoso is one of the basketball enthusiasts who, unfortunately, tore his ACL and his meniscus while playing. The painful discomfort in the knee brought Richard to Manhattan Orthopedic Care, where he had his appointment with
Dr. Armin Tehrany
. After the first examination, Richard was scheduled for an MRI, which confirmed Dr. Tehrany's concern about the urgent need for 
knee surgery
. After the surgery, which repaired the
meniscal tears
and the
ACL tear
, Richard was recommended to a physical therapist who made the recovery process smoother and more comfortable. Six months in and fully satisfied with the pace of recovery, Richard was thrilled to share his positive experience in a video testimonial.
"Hi, My name is Richard. I came into the office about seven and half months ago. I suffered an ACL and meniscus tear during basketball. I looked up Dr. Tehrany on the internet, and to be honest, I saw great reviews. I came in, they made me feel very, very comfortable and special. I got the MRI back, saw that I needed a surgery. I went to the center, the procedure was flawless. The post-op executions was flawless as well. They recommended me to a great physical therapist, who I've been going to for the last six months. Post-op – they have been great, I've been coming here every month to check in. They let me know that everything is going to be ok, they gave me the procedure to move on forward with my life, and hopefully soon I will be playing basketball again."
Meniscus tears
and
ACL tear
are among the most common knee injuries that occur while playing basketball. They usually happen when the knee is overstretched, or when a sudden and rapid change in direction is made. Having in mind that there are plenty of basketball enthusiasts like Richard out there, we wrote an
educational and informative blog post
that summarizes the most common basketball knee injuries. In addition to that, the article highlights Dr. Tehrany's exceptionally important tips on preventing knee injuries while practicing this sport. So, if you too are a fan of a good game of basketball, make sure that you read the article
HERE
!
This patient was treated at the Manhattan Office.