Manhattan Orthopedic Care
because of terrible shoulder pain caused by a severe
SLAP Tear
. Unfortunately, the
SLAP tear surgery
revealed that the injury was worse than what the MRI had previously shown, and it required a more complicated procedure. Thanks to Dr. Tehrany's extensive experience in
shoulder surgery
, he was able to immediately find a solution for Shimona's injury. Although the surgery turned to be a complex one, it went very well. The
SLAP tear surgery
was followed by a challenging recovery, but throughout the whole process,
Dr. Tehrany
was constantly ensuring Shimona that she was going to be OK, helping her to feel comfortable and at ease.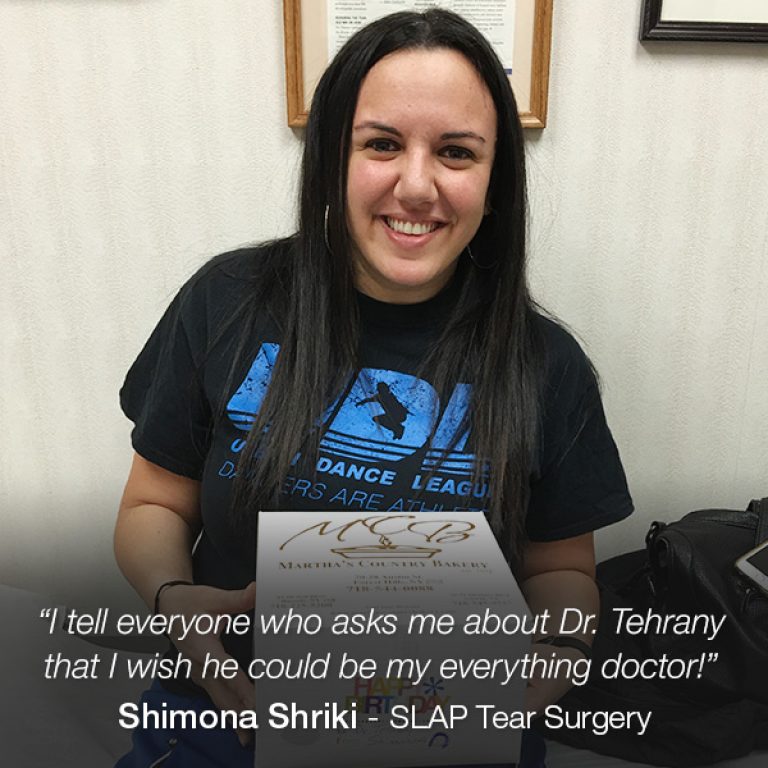 Today, Shimona feels a lot better, and she is almost back to her favorite sports activities and her dancing. She expressed her gratitude to Dr. Tehrany and his team with an endearing testimonial and review on Yelp.
"I can't believe that one year has passed since my shoulder surgery. Due to my injury, 2015 was probably one of the most difficult years of my life. Being a dancer and an athlete since I was a child made it very difficult for me to not have those things in my life. However, being lucky enough to find Dr. Tehrany was one of the only things that helped me get through it. From the first time I stepped into his office, I knew that I had found the right doctor. His kind personality made me feel at ease and comfortable. The professionalism and care that both he and his staff showed me in both his office and the surgery center was the absolute best I have ever experienced. Having surgery is the last thing that anyone wants to do, but thanks to Dr. Tehrany it was an experience I can look back on and say thank god for him. Going into surgery, I knew I had a large SLAP tear, but when I woke up, he told me that the damage was way worse than the MRI had shown. Dr. Tehrany sat down next to my bed and assured me that although it was a difficult and unexpected procedure, he was able to fix it and I was going to be OK. Recovery was not easy, but because of him, I knew that I was going to be OK…and I am. I am so grateful for him taking such good care of me, and for making a really difficult time in my life a little less difficult. I actually shot some hoops a few weeks ago with one of my students and my shoulder felt completely normal! As a result of my successful shoulder surgery and the trust I have developed for Dr. Tehrany, I ended up having knee surgery 3 weeks ago. I am currently in physical therapy and my knee is feeling a little better every day. In just a few weeks I will be doing my other knee and because of Dr. Tehrany, I am not at all scared. I tell everyone who asks me about Dr. Tehrany that I wish he could be my everything doctor! – Shimona Shriki"
Impressed by Shimona's strength, courage, and trust she developed to go under both shoulder and knee surgeries, Dr. Tehrany couldn't help but share his impressions:
"Shimona Shriki had a SLAP tear that was missed on the MRI that we picked up through MR arthrogram. The SLAP was an unusual Type 4 that most surgeons would not be able to fix well, but we were successful in fixing it. We have a group of surgical videos and pictures. The patient is a lovely young lady whose mother brought a Purim basket to the operating room for me!!! What a great story to teach people to see the right specialist for the right imaging test (MRA vs MRI)."
This patient was treated at the Manhattan Office.