orthopedic care
plan, there is still one thing they all have in common: the need for support, compassion, and protection from an
orthopedic surgeon
. In everything we do, we always have those three pillars of the perfect health care in mind. And when a patient leaves our surgery center with a smile, like Linda did, we know our primary goal is achieved.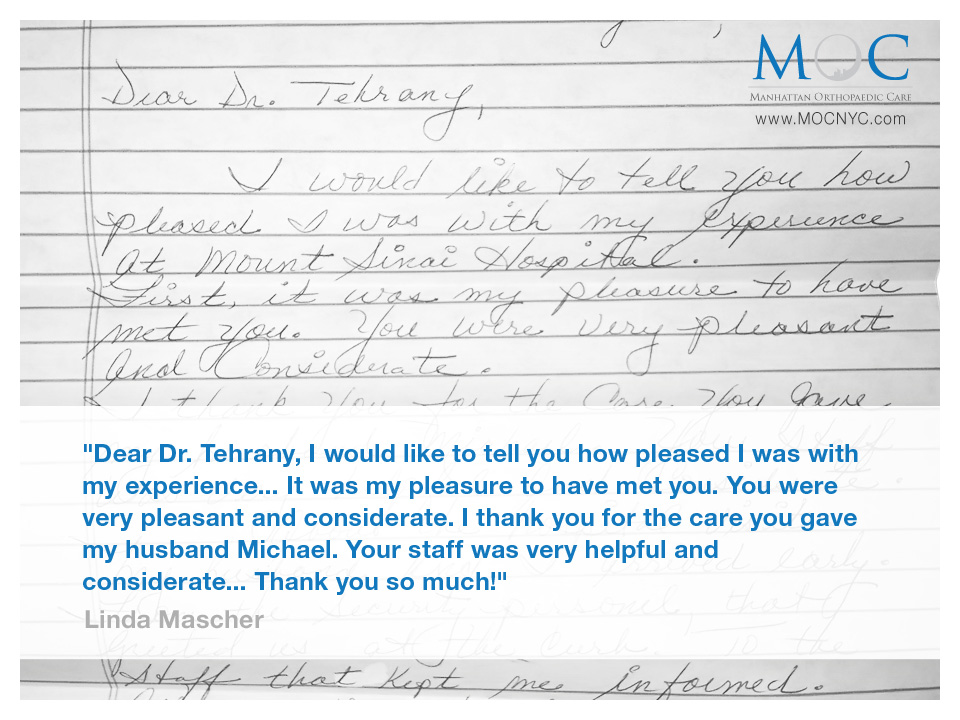 We were extremely happy to receive this handwritten letter from Linda Macher, whose husband was treated by our
orthopedic surgeon and doctor, Dr. Armin Tehrany
. Her positive experience with Dr. Armin Tehrany and the complete staff at
Manhattan Orthopedic Care
inspired her to write these sincere words.
"Dear Dr. Tehrany I would like to tell you how pleased I was with my experience at Mount Sinai Hospital. First, it was my pleasure to have met you. You were very pleasant and considerate. I thank you for the care you gave my husband Michael. Your staff was very helpful and passionate. About the hospital visit my husband and I arrived early. From the security personnel, that greeted us at the door. To the staff that kept me informed. All were very helpful. My experience there was stress free and quite pleasant, considering. I was also impressed by those beeps to summon me. I wasn't afraid to leave the waiting area. Wouldn't miss seeing you after the surgery. Thank you so much, Sincerely, Linda Macher"
We are more than happy to see that Mr. and Mrs. Macher felt truly comfortable at Manhattan Orthopedic Care & Mount Sinai Hospital.  This is our mission!
This patient was treated at the Staten Island Office.