Rotator cuff tear is especially common among adults, mostly because of the repetitive stressful motions that wear the shoulder off. As a result of the tear, patients experience an agonizing pain in the shoulder, followed by a limited range of motions.
At Manhattan Orthopedic Care, we have successfully treated and helped many patients who suffered a rotator cuff tear. But one particular patient filled our hearts with joy with her enthusiastic smile and honest gratitude after her rotator cuff surgery.
When Theresa Bowman visited Manhattan Orthopedic Care, we were all immediately charmed by her positive attitude, in spite of the dreadful shoulder pain she experienced.
After thorough evaluation and careful consideration of all treatments available, Dr. Armin Tehrany, one of the best shoulder specialists in New York, recommended a surgical repair of the rotator cuff. Unfortunately, the tests Theresa took during the preparation phase revealed an underlying illness that required an immediate attention. Due to the newly discovered health condition, Dr. Tehrany postponed Theresa's rotator cuff surgery until it was completely safe to proceed.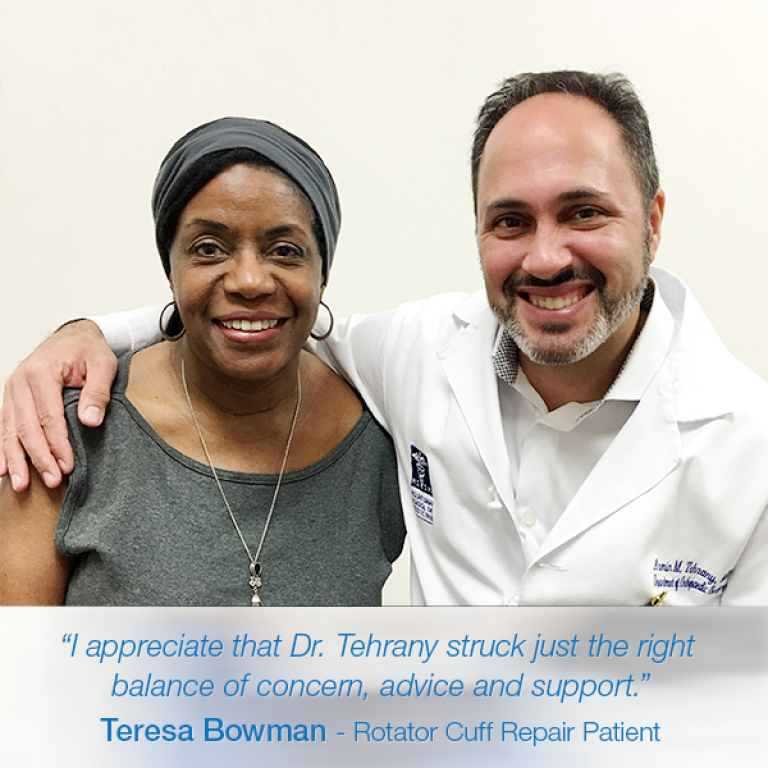 During the entire healing process, Dr. Tehrany and his team compassionately comforted Theresa, providing the advice and the support Theresa needed during the traumatic and difficult period she went through. Dr. Tehrany unreservedly answered every question Theresa had about her condition, which helped her to clearly understand every step required for a successful rotator cuff repair, and ultimately, helped her to feel comfortable and at peace.
After Teresa was 100% better and ready for the rotator cuff surgery, Dr. Tehrany smoothly performed the surgery as previously planned. Both surgery and physical therapy were flawlessly completed, and Teresa was able to calmly focus on getting her strength back.
Exuberant to enjoy a pain-free life once again, Theresa expressed her sincere gratitude with a lovely review on Google and Yelp.
"I was referred to Dr. Tehrany for surgery to repair a right shoulder rotator cuff tear. My surgery was delayed by the discovery (during pre-testing) of an underlying illness that needed to be addressed before I could be cleared for surgery. During this period and after, I found Dr. Tehrany and his staff to be helpful, patient and compassionate. It was a very stressful time for me and I appreciate that Dr. Tehrany struck just the right balance of concern, advice and support. Ultimately, my shoulder surgery was also very successful.  I had minimal scarring and by following Dr. Tehrany's prescription with regards to physical therapy, now six months later, I have a return of very good range of motion and strength. I recommend MOC and Dr. Tehrany without reservation"