At Manhattan Orthopedic Care, our physicians give their best to help our patients enjoy their lives without confinement. Tim came to us with a concern about his injured shoulder. He had a tear in the posterior inferior glenoid labrum, with focal cartilage loss. But, we managed to take care of it, clean the shoulder and enable Tim to continue with his lifestyle as he wants it thanks to shoulder surgery. Thank you, Tim, for being an excellent patient.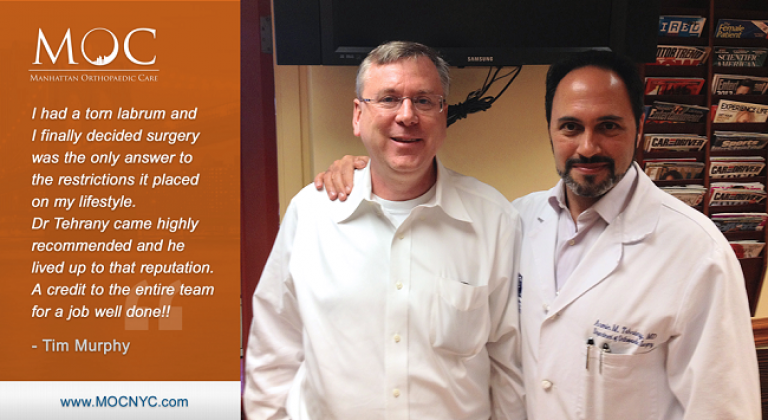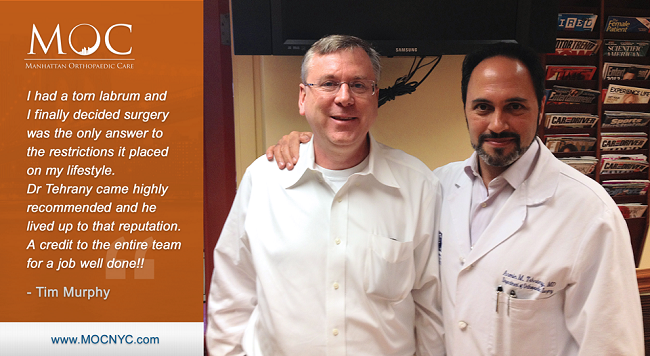 "The concern and professionalism of the the entire team helped me enormously through the recovery period. I had a torn labrum and I finally decided surgery was the only answer to the restrictions it placed on my lifestyle. Dr Tehrany came highly recommended and he lived up to that reputation. His staff in the office are extremely helpful and a credit to the entire team. I am well into a good recovery after 5 months and looking forward to some golf in the spring after a 3 year absence. Thank you Dr. Tehrany and all his staff for a job well done!!" – said Tim Murphy after his shoulder surgery.
This patient was treated at the Manhattan Office.