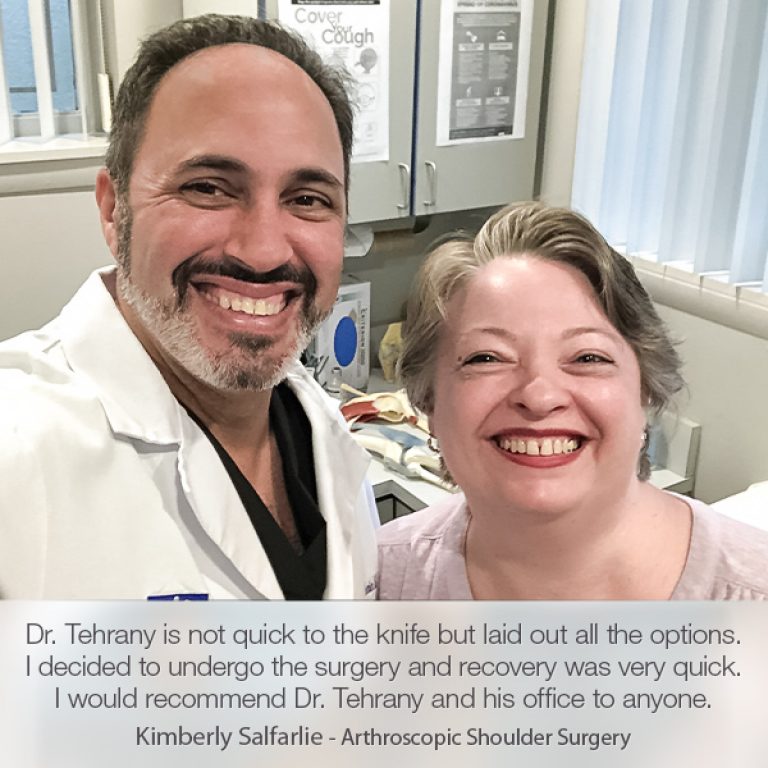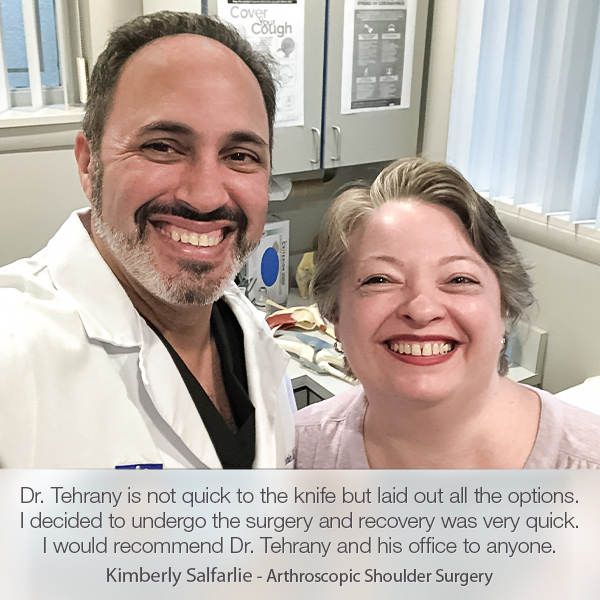 Dr. Armin Tehrnay
specializes in minimally invasive
arthroscopic procedures
. Throughout his career, he has successfully helped thousands of patients with arthroscopic shoulder surgeries. Kimberly Salfarlie is one of his latest patients who underwent a
rthroscopic shoulder surgery
. She first met Dr. Tehrany for a pain in her right shoulder a couple of years ago.
"I found Dr. Tehrany by accident, and I am VERY glad I did. I had been having some weakness and pain in my right shoulder for quite a while and FINALLY decided to get it looked at. He was great! He was very knowledgeable and very, very easy to talk to."
After a detailed examination, Dr. Tehrany recommended proceeding with shoulder surgery. Even though she was scared by the surgery, Kimberly decided to trust Dr. Tehrany and his team and had the shoulder surgery.
"We decided that surgery was needed, and the recovery was much better than I anticipated (and also better than what I heard from others in PT that did not have Tehrany)."
Two years later, Kimberly experienced uncomfortable pain in her left shoulder. Satisfied with the treatment and the results from her first surgery, she immediately called Dr. Tehrany for her newly developed problem. This time, during the examination, Dr. Tehrany discovered several problems that have been causing pain. Kimberly had left
shoulder bursitis
with AC joint arthrosis plus anterior labral tear with partial subscapularis tendon tear. Once again, Dr. Tehrany opted for arthroscopic shoulder surgery. The
shoulder arthroscopy
was the perfect solution because it allowed Dr. Tehrany to treat several issues at once without opening Kimberly's shoulder. Moreover, the shoulder arthroscopy allowed Dr. Tehrany to diagnose the shoulder in detail further. During the shoulder arthroscopy, Dr. Tehrany performed left shoulder arthroscopic subacromial decompression, distal clavicle excision, labrum debridement, and subscapularis tendon debridement.
"Well, two years later, my left shoulder was bothering me, and I did not hesitate to call for a consultation. As another person said, he is not quick to the knife but laid out all the options. I decided to undergo surgery, and again, recovery was VERY VERY quick."
The recovery was extremely smooth. There was no swelling, the pain was substantially reduced, the scaring was minimal, almost invisible, and Kimberly was able to start her daily activities in a matter of days after the surgery.
"I would recommend Dr. Tehrany and his office to anyone who has asked – and I have :)"
This patient was treated at the Manhattan Office.