SLAP Tear
is a painful shoulder condition that occurs where the biceps tendon that is attached to the labrum becomes partially or completely torn. As a result of the aging process, the labrum wears down and becomes highly susceptible to tears; however, in many patients, the SLAP tears occur as a result of trauma to the shoulder. The SLAP tear is exceptionally common in people who perform repetitive arm motions, such as throwing or lifting.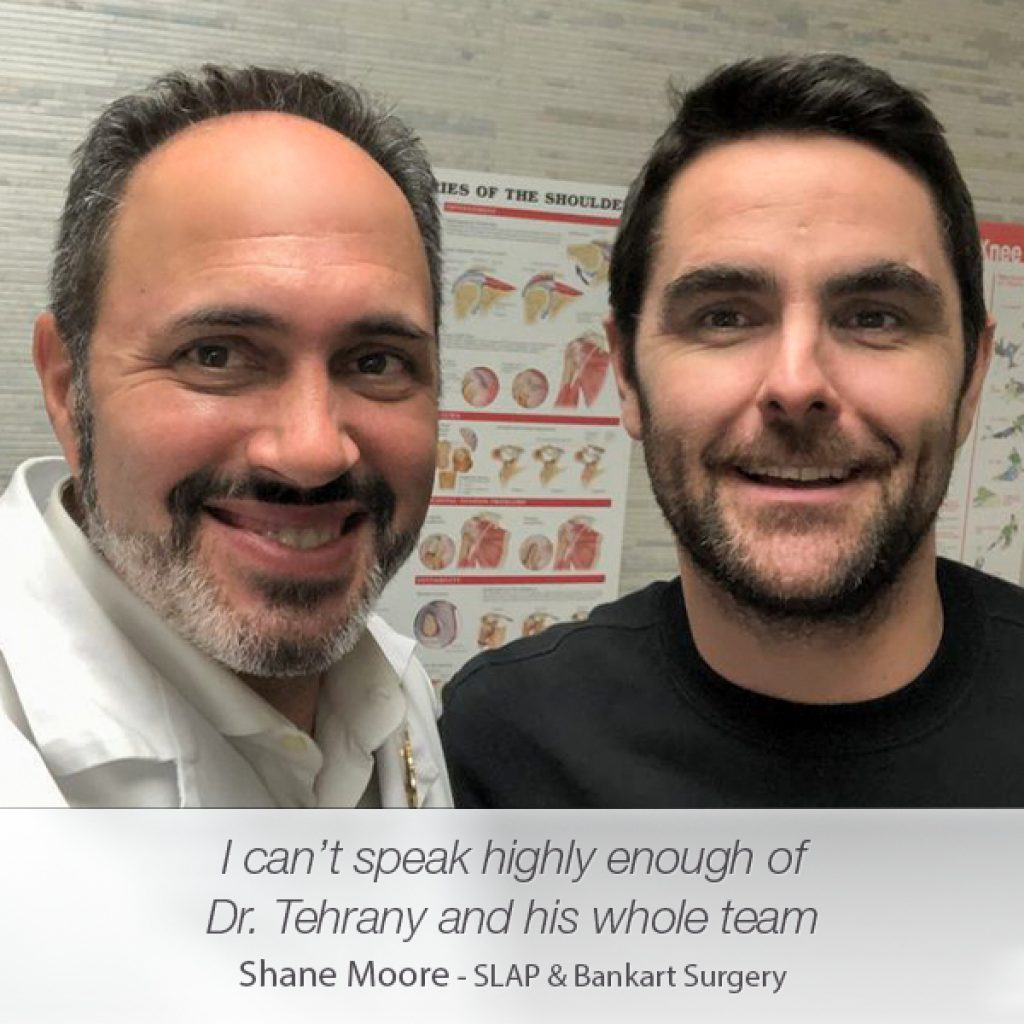 When Shane Moore had his first appointment at
Manhattan Orthopedic Care
, he presented the
most common symptoms of SLAP Tear
: loss of strength in his shoulder, dull pain in the joint, extreme shoulder discomfort that was the reason for numerous sleepless nights, and loss of shoulder stability. During the appointment,
Dr. Armin Tehrany
, one of the top New York shoulder specialists, diagnosed Shane with a SLAP Tear, and carefully explained all available treatment options in details. Since the condition was slightly more complex, Dr. Tehrany recommended that they proceed with a surgical procedure to thoroughly address the shoulder issue. During the surgery, Dr. Tehrany performed
arthroscopic SLAP Tear repair
, to repair the tear of the biceps tendon, and
Arthroscopic Bankart Repair
, to address the detached labrum. The shoulder surgery was successful, and shortly after, Shane started with physical therapy that helped him regain the strength in his shoulder. Now, seven months after the SLAP Tear Surgery, Shane is feeling strong as if nothing ever happened. Grateful for the unreserved support and the outstanding orthopedic care the entire team at Manhattan Orthopedic Care provided, he wrote a cordial review on Google that motivated us to continue providing the best orthopedic care.
"I can't speak highly enough of Dr. Tehrany and his whole team, they were incredible from my first visit to last, giving detailed information about surgery and billing, and I never waited for any appointment for more than a few minutes. I had SLAP and Bankart surgery less than seven months ago, as a carpenter, I've no restrictions at work and feel pretty much at 100%. Thanks, guys."
This patient was treated at the Manhattan Office.