Lateral Release Knee Surgery is a minimally invasive procedure performed arthroscopically. The goal of the procedure is to correct the partial kneecap dislocation that causes pain and discomfort in the knee.
The Lateral Release Knee Surgery is designed to loosen or tighten the ligaments on the side of the patella. When the side ligament begins to tighten, the patella starts to tilt laterally, and as a result, the knee joint is under abnormal pressure.
Physical therapy and nonsurgical treatments are commonly recommended for lateral release. However, the lateral release surgery is an extremely effective solution for pain relief in patients where nonsurgical treatments failed to restore normal kneecap alignment.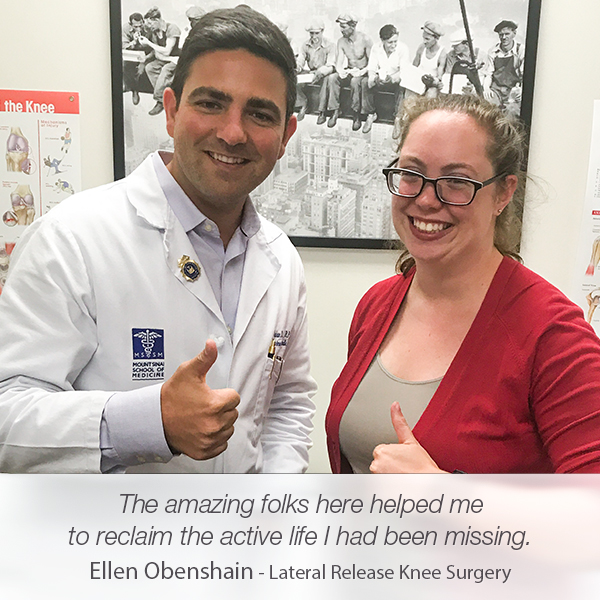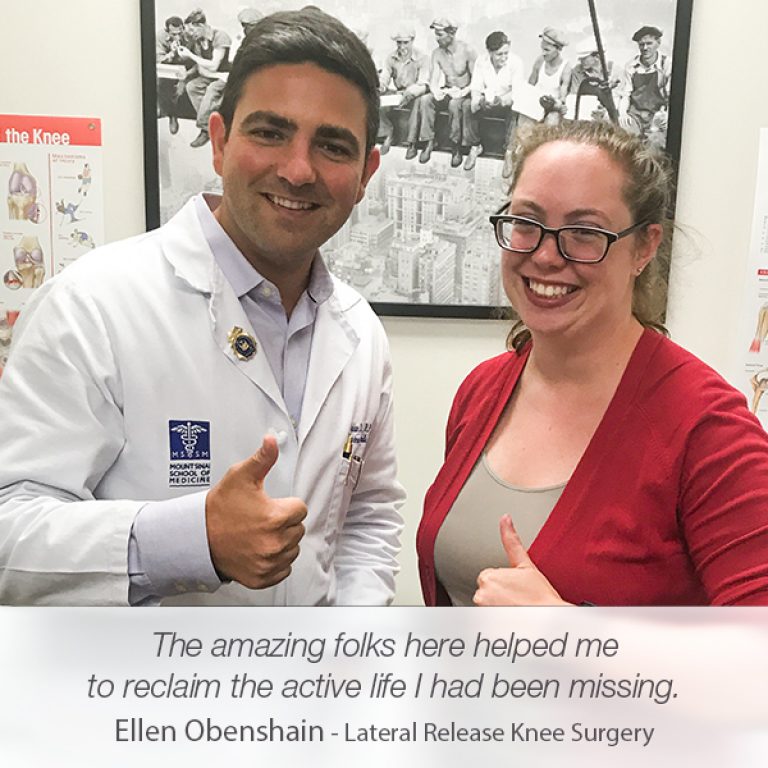 Ellen visited Manhattan Orthopedic Care because she had a terrible difficulty walking due to tiresome knee pain. Once a happily active person, Ellen had been desperately spending days wondering if she would be able to walk without a limp once again.
After she met Dr. Armin Tehrany, one of the top New York knee surgeons, she immediately felt that her knee was finally in the hands of a professional. The profound knowledge and expert skills Dr. Tehrany demonstrated during her initial examination, made her feel comfortable and at peace since she felt confident that her life will soon be pain-free again.
The challenging aspect of the lateral release is to ensure that the ligaments are loosened sufficiently enough to correct the misalignment while avoiding knee instability and further complications due to the loosening process.
As a highly experienced knee surgeon, Dr. Tehrany successfully performed the lateral release in Ellen. After the surgery, Ellen began experiencing immediate pain relief, and she was almost back to her normal everyday life. Shortly after her recovery, she was able to enjoy the active sports life she missed because of the knee pain.
Grateful for the superb care and the professional approach by everyone at Manhattan Orthopedic Care, Ellen wrote a short yet lovely review on Google:
I came here thinking I would never be able to walk without a limp. The amazing folks here helped me to reclaim the pain-free, active life I had been missing. Thanks to them, I get to be 26 again!