SLAP Tear
is one of the most common shoulder injuries among people who are performing a variety of repetitive overhead motions every day. Athletes involved in sports that require these types of movements are particularly susceptible to developing
SLAP tears
. Depending on the severity of the tear, both surgical and non-surgical treatments can be significantly effective. However, when the SLAP Tear is not the only condition affecting the shoulder, surgical management is often more effective than conservative management.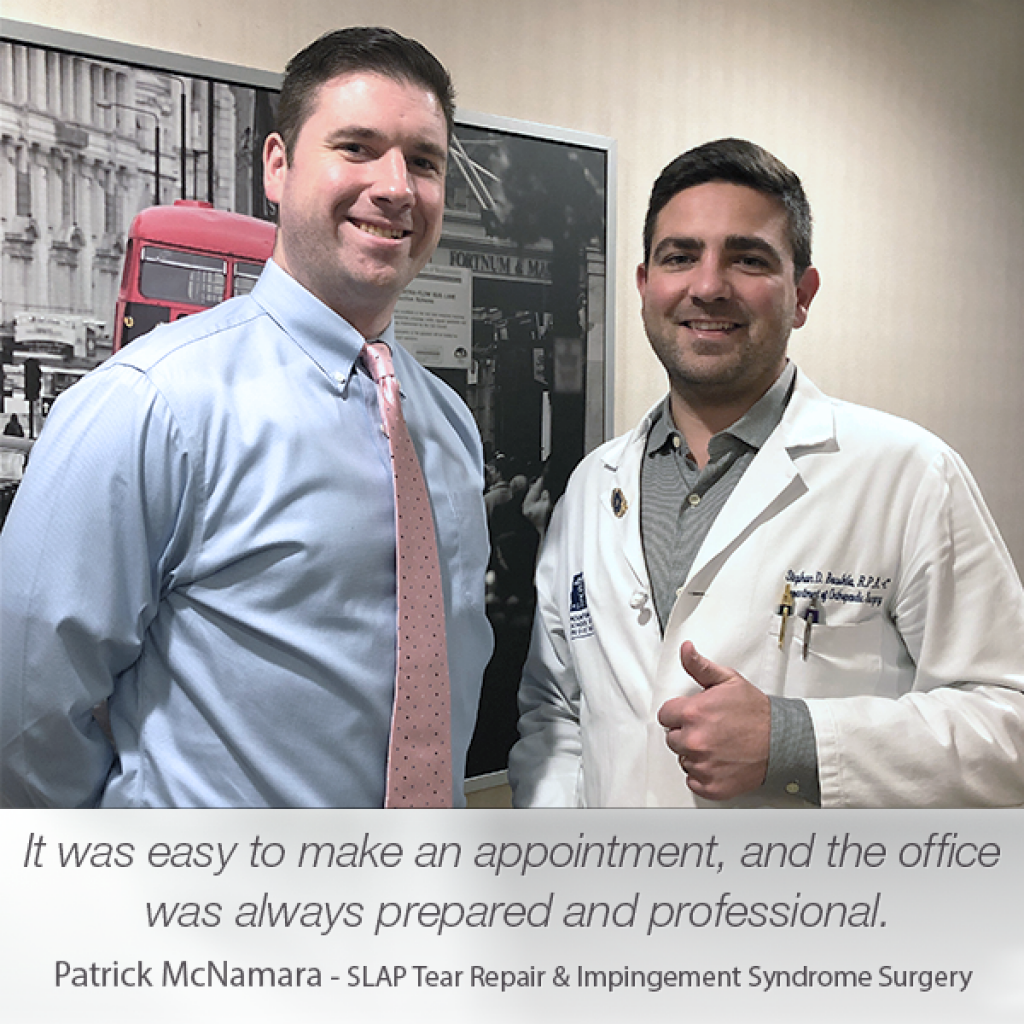 Patrick had suffered both SLAP Tear and
Shoulder Impingement Syndrome
. Similar to the
SLAP tear
,
Shoulder Impingement Syndrome
occurs in people who are actively involved in activities with repetitive overhead motions daily. The difference is in the point where they occur. The SLAP Tear occurs at the point where the biceps tendon attaches to the labrum, and the Shoulder Impingement Syndrome occurs when the rotator cuff tendon and the bursa are contacted by two bones of the shoulder. When Patrick visited Manhattan Orthopedic Care, he was in an exhaustive pain that caused an immense discomfort in his life. He also lost the strength in his shoulder, his shoulder felt unstable, and he was barely able to perform everyday activities. After a thorough and detailed examination, Dr. Armin Tehrany recommended proceeding with a combination of two shoulder surgeries. He performed arthroscopic biceps tenodesis to address the SLAP Tear, and
Shoulder Impingement Surgery
to treat the shoulder impingement syndrome. Moreover, Dr. Tehrany also performed
Distal Clavicle Excision
to alleviate the AC joint arthritis in the shoulder. Before the surgery, Dr. Tehrany explained every step of the surgery and carefully created a recovery plan for Patrick to bring him back to a pain-free life in no time. Excited that the entire experience was pleasant and stress-free, Patrick wrote a candid review on Google where he expressed his heartfelt gratitude to our entire team.
"I had a superb experience with Dr. Tehrany, the physician's assistants, and his office staff. Every aspect of the examination, diagnosis, treatment plan, procedure, recovery, and rehabilitation were explained in detail, and all of my questions were fully answered. It was easy to make an appointment, and the office was always prepared and professional. I was initially referred by a colleague who had a similar procedure and would not hesitate to return if I ever needed further orthopedic care. I could not imagine a better experience and result."
Thank you, Patrick, for trusting and allowing us to restore the quality of your life.
This patient was treated at the Manhattan Office.