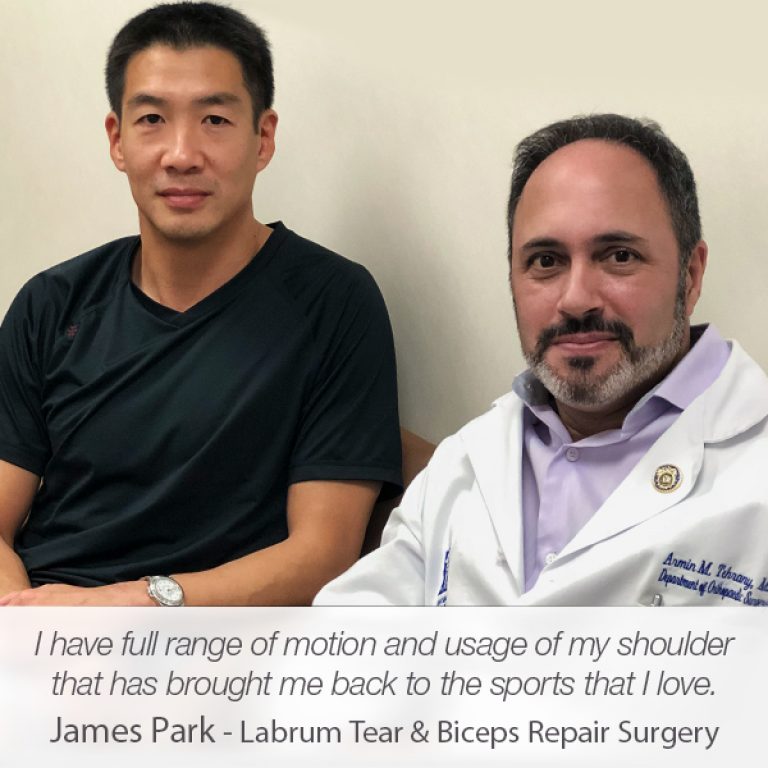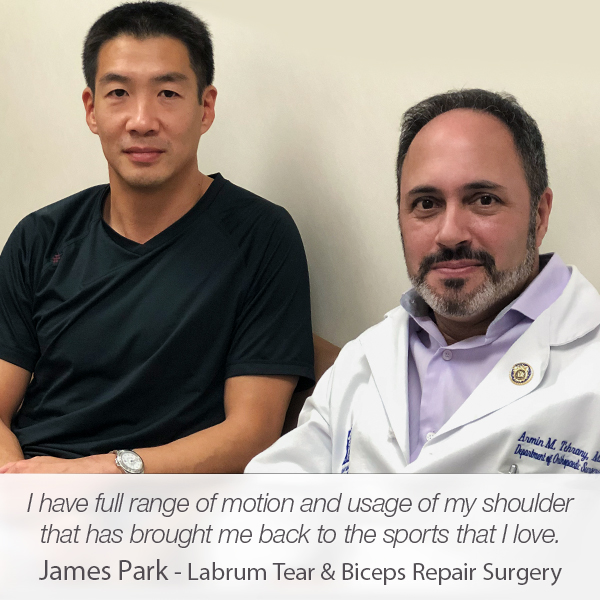 Looking for the best orthopedic doctor, he came across Dr. Tehrany's name. After he read the impressive stories of the patients, James felt hugely comfortable proceeding with shoulder treatment at Manhattan Orthopedic Care. Moreover, after he analyzed Dr. Tehrany's credentials and learned about his acknowledgments and achievements, James was sure that his shoulder was in the hands of an expert. During the appointment,
Dr. Armin Tehrany
, one of the best shoulder specialists in New York, diagnosed James with a multi-circumferential labral tear of the left shoulder with arthritis. Since James was an active person and missed the days filled with sports activities, Dr. Tehrany recommended proceeding with shoulder surgery to fix James' shoulder permanently. During the surgery, Dr. Tehrany discovered several more issues that remained hidden in the scans. Determined to restore James' shoulder and improve his life, Dr. Tehrany decided to perform several procedures during the surgery. The surgical procedure included
arthroscopic biceps tenodesis, SLAP repair, subacromial decompression, extensive debridement of chondromalacia glenoid and humerus, and removal of loose bodies.
As a carrying professional, Dr. Tehrany closely monitored James' progress during his recovery period. He supported James throughout physical therapy and provided superb care for his shoulder. Both surgery and physical therapy were hugely successful. Nine weeks after the surgery, James started climbing rock again. He felt energized, healthy, and had no pain in the shoulder. Moreover, he even competed in the Jiu-Jitsu World Championships in his age division and won the gold medal. We couldn't be more proud of James' success. He is an inspiring example of a person who knows the importance of taking good physical health care, as wells as a person who is determined to make his dreams a reality.
This patient was treated at the Manhattan Office.