Knee meniscectomy
is a minimally-invasive outpatient procedure to remove all or part of a damaged meniscus. It is one of the most effective treatments for meniscus tears. During
knee meniscectomy
, the knee surgeon can better see the inside of the knee and precisely diagnose the severity of the damage. The meniscectomy can be partial or complete. In partial meniscectomy, the surgeon removes or cleans only the damaged portion of the meniscus. In total meniscectomy, the surgeon removes the entire meniscus. As a knee surgeon specialized in arthroscopic treatments,
Dr. Armin Tehrany
has successfully helped numerous patients with knee problems. Throughout his surgical career, he has performed countless knee meniscectomies.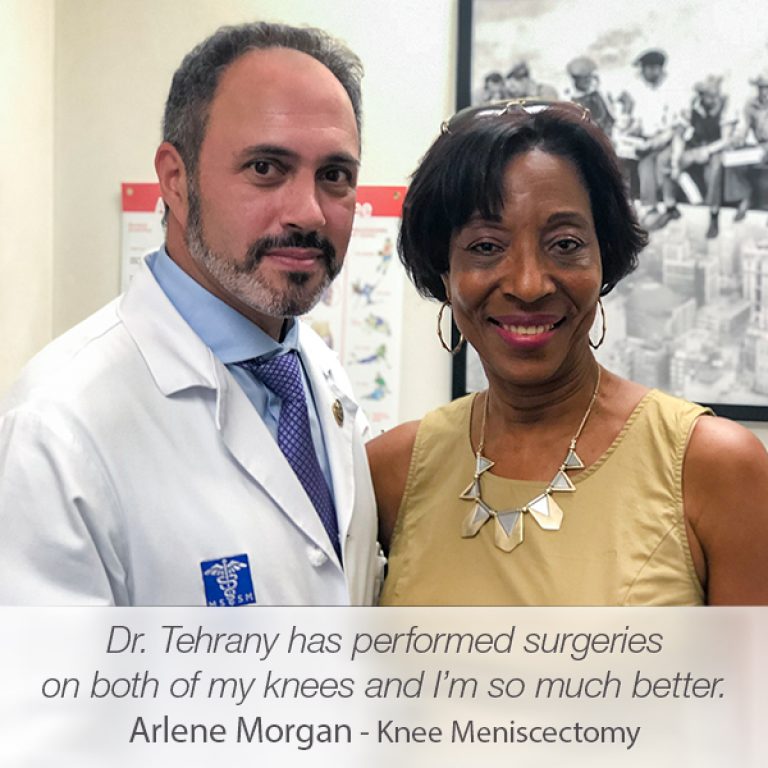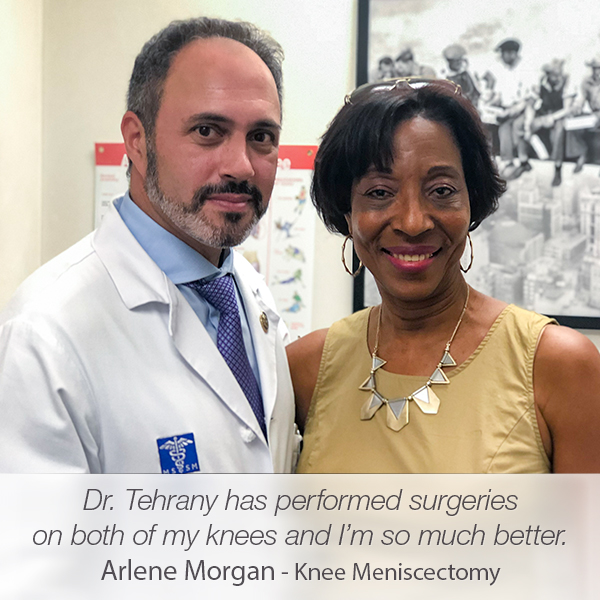 Arlene Morgan is one of the knee meniscectomy patients. She has been a patient of Dr. Tehrany for over ten years because she had painful problems with both her knees. When she visited Manhattan Orthopedic Care the first time, she was surprised by the professional and friendly demeanor presented by everyone in the office. Thrilled with the results from her first
knee surgery
, Arlene had no doubts about who to go to when her other knee started presenting symptoms of a meniscus tear. After Dr. Tehrany examined her knee, he diagnosed her with a torn lateral and medial meniscus. However, the surgery revealed more issues than the scans showed. Arlene's postoperative diagnosis also included synovitis, osteophyte of the medial tibial plateau, and chondromalacia. Once again, Arlene received the superb
orthopedic care
that Dr. Tehrany and his team provided. Her recovery was impeccable, and her knee was back to its full strength in no time. Grateful for the unconditional support and care she received, Arlene wrote a lovely review on Google that has sincerely touched us.
I have been a patient of Dr. Tehrany for over ten years and I can say he is very good at what he does. He has performed surgeries on both of my knees and I am so much better. This is a big Shout Out to Dr. Tehrany, he is the best, thanks very much.
This patient was treated at the Manhattan Office.