Manhattan Orthopedic Care
, we always go a mile further in providing the best and most suitable treatment for every patient. No matter how complexity and severe the injury or condition we are treating are, we always make sure that the patient feels comfortable with the treatment plan. One of the challenges that we had was Kristeens's complex shoulder injury. A year before she had her appointment with
Dr. Armin Tehrany
, she suffered an AC Separation of the third degree. She recovered quickly, however, her second injury turned out to be a complex one, that according to the surgeons in her hometown, required two different surgeries. Luckily, Kristeen found
Dr. Armin Tehrany, one of the best shoulder surgeons in New York
. During her examination, Dr. Tehrany carefully explained the severity of her multiple injuries. She had AC separation, pan-labral tear, and greater tuberosity fracture. Fortunately, Dr. Tehrany and his amazing team were able to offer a solution that could treat all of her injuries at once. They performed several different shoulder surgeries at once, including AC reconstruction using Dog Bone and allograft,both posterior and anterior Bankart repair, SLAP repair, and Bursectomy. Happy that she would go through the surgical process only once, Kristeen agreed with the recommended treatment. Moreover, she was thrilled that Dr. Tehrany offered using Telemedicine to video-chat with her and her physical therapist at her hometown to guide them through the recovery period. Moreover, Kristeen was able to compete in the Empire State Winter Games, and her team won the bronze medal!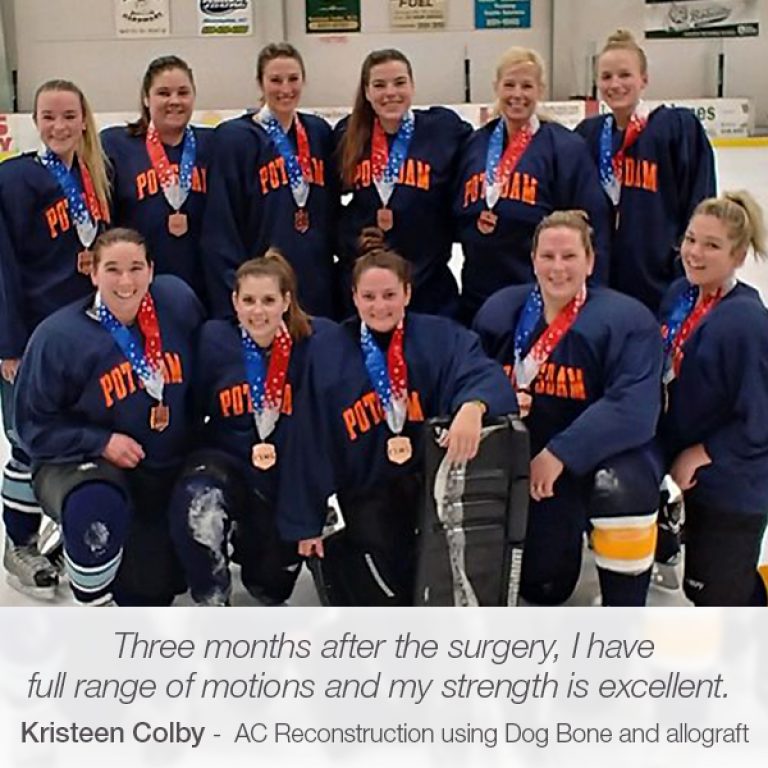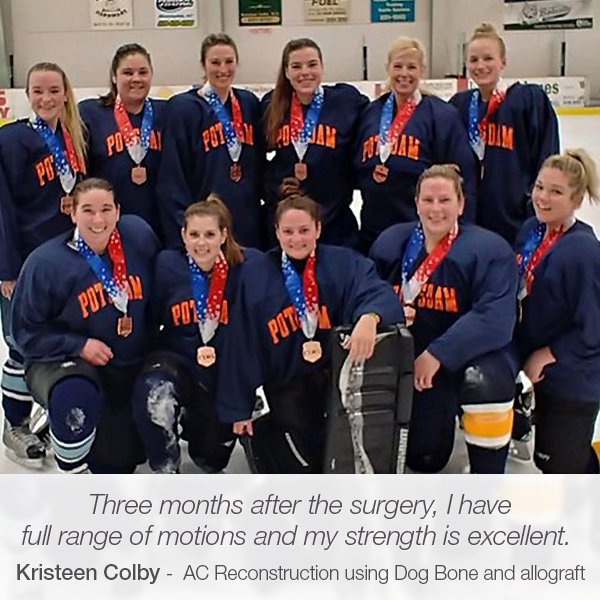 Happy and grateful that the MOC team offered and provided more than she hoped for, Kristeen did a video testimonial that shows how great Kristeen is doing only three months after the complex surgery.
Dr. Tehrany

: Hi, Dr. Tehrany here with my patient Kristeen Colby who is from Upstate New York. She was a specifically complicated case, and she is from a bit far away, and she had to do a lot of traveling to get here and find us. I thought she could tell you in her own words what she had done and I'll interject when I need to. 

Kristeen

: I had two back-to-back injuries a year apart. I'm a rugby player from Lake Placid, New York. MY first fall was an AC separation of the third degree. I recovered pretty quickly after that, maybe two weeks. But then the following year, I fell and hit the hard ground, and because of the unstable shoulder, it just blew apart. The end of the clavicle fractured off, half of the rotator cuff ripped off, the greater tuberosity and the humeral head, and a triple labral tear. 

At the time, I just used KT tape, taped it up, tried to rehab it, go to the PT, but it wasn't healing on its own. I even had Platelet Rich Plasma injections, cortisone injections, more PT, but it didn't work. 

A year later, I came for a specialist appointment from Lake Placid to Manhattan. They were able to offer me surgery all at once to fix everything which was a little unsure in my hometown, if they could do everything at once, or they'd have to do two different surgeries which I can't afford to be out of work because I'm also a PA and I work in an ER, I needed to get back to work. 

I came down, had all the surgery at once. I was in a sling for a month and had a full range of motion after I was out of the sling. I was able to video-chat with my physical therapist at home with these guys at the same time to save me ten hours of driving for the follow-up appointment and guide my physical therapist and me, and then, another month later do it again.

This is three months later, we are in the office…

Dr. Tehrany

: Show them your motion. Tell them what you are doing. 

Kristeen: Full range of motion, one month out, and my strength is excellent. Dr. Tehrany

: We are really happy with how this went, and we are practically happy about the fact that with her being so far away, we were able to use Telemedicine to be able to communicate with her. And the fear that you had remember when you told me you were concerned that the surgeons at your state might do two surgeries, and we knew we could do it with one.
This patient was treated at the Manhattan Office.